Peach Jam: What We Learned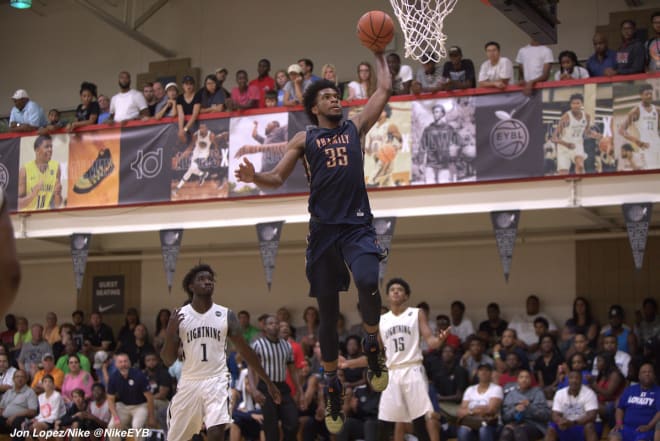 NORTH AUGUSTA, S.C. – What we learned from our time at Nike's premier event, the Peach Jam.

STATUS OF BAGLEY BEST DESCRIBED AS UP IN THE AIR
The only things that we know for sure about Marvin Bagley III at this point are that he's taking a visit to Duke and that he's the No. 1 player in the class of 2018.
Will he remain in the class of 2018? When will he set other visits to places like Arizona, Kansas, Kentucky, USC or UCLA? Those things we don't know just yet.
As we discussed over the weekend, Bagley III has been rumored to be mulling a move to 2017 for some time now. However, he's certainly ready for college basketball and it would make sense as a move for him to get to the NBA a year earlier. It's something that we've discussed with his father in the past so when reports spread over the weekend, we checked with Bagley's father again and he made it clear that no decision had been made regarding his son's future.
Doing some checking around at the Peach Jam, it sounds like those recruiting Bagley are also unsure of his plans. The one thing that does seem to be emerging as a school of thought is that he may prefer to be closer to his family and if that's the case, then it bodes well for USC and UCLA.
But, this is one guy that nobody should be making any assumptions about until he makes a move or his family makes a statement.

JONES SOLIDIFIED STATUS AS TOP PG IN 2018
In last week's update to the 2018 Rivals150, Tre Jones climbed to the top of the point guard heap. His play at the Peach Jam backed up that move.
While averaging 23 points, 4.6 assists and five rebounds per game, Jones led his Howard Pulley squad to the quarterfinals of what is one of grassroots basketball's top events.
At this rate he appears to be on the same trajectory as his older brother Tyus Jones. He has a different style than his big brother (Tyus waited for you to make a mistake and capitalized on it, Tre forces the issue), Tre looks to have a legitimate chance to one day play in the NBA like him.
On the college front, Duke continues to be considered the leader – while Jones maintains that he is open – as Minnesota, Ohio State, USC and UCLA continue to give chase.
SPEAKING OF POINT GUARDS
We've always been pretty bullish on Cole Anthony as a prospect, but his Peach Jam performance with the PSA Cardinals only made it more clear to us that he is currently the top point guard in the class of 2019.
The son of former NBA player Greg Anthony, he hits the floor with a level of confidence, athleticism and skill that is tough to deal with. He doesn't back down from anybody, he attacks the rim with abandon, he creates for others and he can be every bit as good on the defensive end as he is offensively when he locks in on that end.
At the Peach Jam, Anthony was good for 25.6 points, 4.6 rebounds, 5.6 assists and 2.2 steals per game. It's tough to get a read on his recruitment because he doesn't yet speak about specific schools. We know that UCLA, Oregon, Wake Forest and some others have offered. Arizona, Duke, Kansas, Kentucky, North Carolina and many more have now taken looks and the big-time offers should be flowing soon.

GREEN MAKING CASE FOR NO. 1 IN 2020
We won't rank the class of 2020 until at least the end of August and it's important to point out that the first ranking is just a basic guideline to start. But, shooting guard Jalen Green will undoubtedly start things out as a five-star prospect and though forward Isaiah Todd has been considered the favorite to start out at No. 1, Green has made a strong case for strong consideration himself.
Shooting guards don't often get ranked No. 1, but at this point it's hard to imagine many at any position in 2020 who are better than Green.
He's an electric athlete, he creates space easily off the dribble and he's got a fluid, structurally sound jump shot. His shot selection is a little lacking at times, but it's because of confidence in his ability to score and not because he's a ballhog.
At a minimum, he'll likely land in the top three when those rankings start and the likes of Arizona, Florida State, USC, Villanova, Connecticut, Oklahoma State and others have already offered scholarships.

BIG STAGE STILL LEADS TO BALLOONING RECRUITMENTS
There aren't many stages in high school basketball bigger than the Peach Jam and as usual, some more under-the-radar prospects came through with big performances to see their recruitments take off. Standing out this year as the three who took best advantage of the opportunity were point guard James Akinjo, big man Dimon Carrigan and wing Jericole Hellems.
Akinjo narrowly missed the most recent Rivals150 and did enter the event with high major offers from California and Connecticut. But, after leading the Oakland Soldiers to a title while scoring nearly 19 points a game and dishing out 5.5 assists, earning MVP honors, it was expected that the offers would start rolling in. So far it looks like UNLV, Pittsburgh and Iowa State have made the leap and more should be following.
Shot-blocking machine Carrigan did make the most recent rankings and his spot looks pretty secure at this point. He cleans the glass, intimidates as a rim protector and has better offense than what is perceived. Carrigan already has visits set up for Houston and Connecticut and also entered Peach Jam with offers from VCU, Washington, Wichita State, DePaul, Georgia Tech and Miami. He's now added Texas, Syracuse and Clemson.
Finally, we have Hellems. The wing from St. Louis who has a solid frame and developed mid-range game did get a winter offer from Indiana – Tulsa also deserves credit for handing out a winter offer – but with Tom Crean fired since then, Hellems entered Peach Jam with no high major offer. After averaging more than 25 points and nearly eight rebounds per game during pool play, Hellems saw his recruitment explode like no other player at the Peach Jam. He has offers from Arkansas, Boston College, Missouri, Ole Miss, Wake Forest, Kansas State and Georgia Tech, to name a few.