Q&A with five-star big man Isaiah Stewart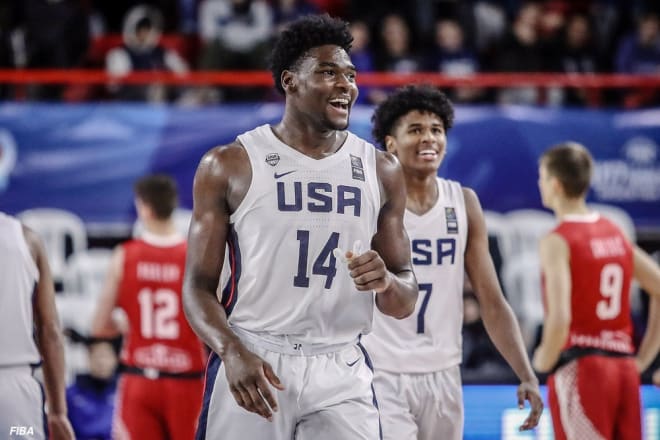 Corey Evans (CE): Where are things right now with your recruitment and, furthermore, your timeline for your decision?
Isaiah Stewart (IS): Nothing much is going on. I am in no rush. I still have to take my final visit first before I make my decision.
CE: When do you want to visit Duke? That is the school you want to use that last visit on, right?
IS: I haven't made up my mind just yet on when I will visit there. But it will be to Duke later on this month, hopefully.
CE: So that pushes you back to a late signing. Is that correct?
IS: Yeah, pretty much.
CE: So that is the plan for now, not to sign this week?
IS: That is right. There is no decision coming this week.
CE: So, let's talk about the schools that you have been to. What is the appeal with Washington?
IS: They don't have a basketball team out there, just a football team. So, we can be the only show in town and it is just really nice out there.
CE: What is that relationship like with you and Hop (Mike Hopkins)?
IS: It is great. Me and coach Hop go way back all of the way to me being in the eighth grade. At first, he was the main guy that was recruiting me at Syracuse, and as you can see, he went out to Washington.
CE: People don't see UW as a factor for you. What intrigues you about going away from home and being a trend-setter, in a way?
IS: They are definitely someone that I am looking hard at. It is a place with good people and fans and I just feel like if I were to go there, it would be a place that the fans could really embrace.
CE: Closer to home is Syracuse. What was that visit for you like?
IS: It was nice to come home, but also get away to see Syracuse a little more than I have had in the past. It is the hometown team, and it always nice to go back there. Coach (Jim) Boeheim has said that I could be like Carmelo Anthony, to go there and bring them a national championship.
CE: Does that intrigue you at all?
IS: Yeah, it definitely does.
CE: How about Michigan State. What has their sell been with you?
IS: Me and Michigan State, they have been recruiting me hard from the start and it is definitely a great place there, as well. I feel like it is a place that I can go and feel at home with coach Izz (Tom Izzo). He is a great coach and is just a great coaching staff in general.
CE: Kentucky was one of your first visits. What was that visit like?
IS: It was good. That visit, Kentucky came in pretty late, but I got the chance to go down there and see how they do things and see what they are all about.
CE: What are they about, in your mind?
IS: It is sort of like a powerhouse, with all of the players that went there in the past and how they have gotten guys to the league. I feel like it is a place that usually, whenever you talk about Kentucky and you are a highly ranked player, it is something that you just have to look at.
CE: Lastly, Duke will get your final visit. So why Duke and what stands out to you about them?
IS: It is Duke. Coach K and what he has done in the past just speaks for itself. You see what they are doing this year and with them probably losing Zion (Williamson), RJ (Barrett) and Cam (Reddish), there is definitely a chance there and a need.
CE: Are Indiana and Villanova still in the picture?
IS: No, as you can see they got Jeremiah Robinson-Earl, so I haven't spoken with them and we haven't talked much for a while but I just haven't really said much about it.
CE: Indiana is out then, too?
IS: Indiana, yeah they're out. I haven't talked to them in a while, either.
CE: Have a lot of schools tried to recruit you and Vernon Carey to play together in college? I know Michigan State and Duke are both targeting each of you.
IS: I know some schools have spoken on it, but I am not sure what he is doing with his recruitment. I heard he could be close to committing, so it will be interesting to see what school he picks. I feel like whatever school he picks, if they are recruiting me, they are probably still going to recruit me even if they do get him.
CE: When do you feel you want to make a decision then?
IS: I am not totally sure yet.