NBPA Top 100: The Bossi Awards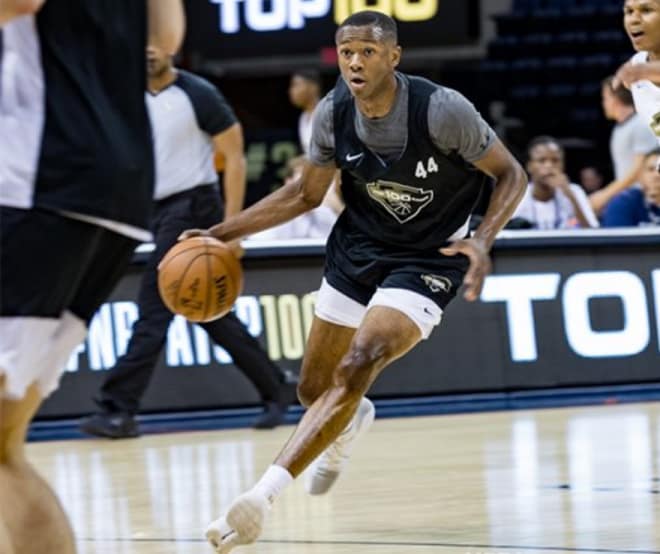 TOP PERFORMER
Why him? Talk about coming up big at the right time. Scottie Lewis needed a big time performance to vindicate his lofty national ranking and he came up with one. What I really love is that Lewis admitted he hadn't played up to par during the spring and took getting cut at USA Basketball's 18U trials to heart. A lot of kids say they are in the gym working, Lewis' results proved it.
What was most interesting was that he had the ball in his hands much more than during his junior year or during the spring and he looked way more comfortable. He's a big time athlete with incredible energy, gets to the rim and is an elite defender.
In the mix: Final seven of Duke, Florida, Harvard, Kentucky, St. John's, Stanford and Villanova.

TOP PROSPECT
Why him? Greg Brown has always been an impressive bundle of size, athleticism and energy. Now the skill level, confidence and production are starting to match all of those raw, physical tools.
Because of his size and versatility, Brown can play and defend multiple positions and fits the protoype of the modern wing. He's not yet a knock down shooter, but the confidence in his shot is growing and he's not afraid to take open shots like a non shooter would be. Brown is taking big steps forward and for my money he was the best prospect in Charlottesville.

In the mix: Cal, Kansas, TCU, Texas, Rutgers, Texas A&M, Cincinnati, Florida, Memphis and Oklahoma are among his early offers.

BACKING UP THE HYPE
Why him? This was the Precious Achiuwa that has had college coaches raving about his potential and earned a top 10 ranking. He was focused, he was active and he was productive.
A few times during the winter and spring, the 6-foot-9 Achiuwa settled for jumpers and made things easier on defenders. At Top 100 Camp, Achiuwa was applying pressure and playing with a motor. He took everything to the rim, was a beast on the glass and looked like the top 10 player that he is ranked as.

In the mix: UConn and St. John's could be ahead of the pack, Louisville, Oregon, Syracuse, Seton Hall, UCLA and others are in the mix.

MR. WINDEX
Why him? The better question would be why not him? Seriously, Tshiebwe is one of the most aggressive rebounders that I have seen in the high school ranks during nearly 20 years in the recruiting business. The speed and aggression with which he attacks loose rebounds is something else and that activity is translating more and more to the offensive end.

In the mix: West Virginia looks to be the leader with Pitt, Illinois, Kansas, Penn State, Virginia, Rutgers and some more giving chase.

THE HUMAN ERASER
Why him? It's an absolute joke how quick Isaiah Jackson is off the floor and how incredible his timing and feel for blocking shots is. He's not exactly short at 6-foot-8, but you don't usually associate elite rim protectors with guys who aren't a little bigger. But make no mistake about it, Jackson is an elite rim protector and as good a straight up shot blocker as I have ever scouted at that age. The offense is coming and he'll be an elite rebounder and rim runner before it's all said and done. Jackson is big time.

In the mix: Florida State, Iowa, Marquette, Creighton, Mississippi State and others have dropped early offers and he'll surely be a major target of home state Michigan and Michigan State.

SPENCER DINWIDDIE SPECIAL
Why him? First a little background, Spencer Dinwiddie was a guy that we always liked even though he wasn't hugely productive on the summer circuit and lacked strength. But he was skilled, he had a body to grow into and now he's in the NBA. Not saying that Donovan Williams is bound for the NBA, but he found his way into the rankings on a long term hedge and he's paying dividends sooner. He's got good size, is a slick ball handler, has tremendous length and has put himself in line for a nice bump in the 2019 rankings.

In the mix: SMU, Texas, Houston, Arizona State and others are in the mix.

THE ULTIMATE WARRIOR
Why him? I really wish that Jahmius Ramsey could enter the basketball court like the Ultimate Warrior used to enter the wrestling ring. The guy has an energy, toughness and swag about him that is all his own and he gives off energy to those who play with him and even those who watch him. It's just fun to watch a guy compete the way that he does.
I felt the same way watching Marcus Smart in high school and though they aren't totally similar players, many of the things that helped Smart become a college star and soon to be mega paid NBA player are what allow Ramsey to stand out.

In the mix: Indiana, Kansas, Louisville, Florida, Illinois, Maryland, Virginia, Oregon, Virginia Tech, Texas A&M and Kansas State among others.

THE SBD BIG MAN
Why him? SBD, silent but deadly. That's Walker Kessler. A fluid big man who can run like a wing, has shooting touch and a big frame to build on. He's not loud, he doesn't run his mouth and he doesn't get people buzzing right away. But, keep watching him operate in silence while making things happen and your appreciation will grow quickly. He's ascended way up the class rankings in 2020 without a bunch of buzz, but it's time to start paying a bit more attention. He was one of the best shooters in camp, regardless of position.

In the mix: Georgia, Vanderbilt, Xavier, Texas A&M and others.

HOLDING THEIR OWN
Why them? Ok, so there weren't a lot of 2021 prospects in camp but the few who were in Charlottesville really held their own. Especially Patrick Baldwin and Terrence Clarke. They both look like locks to make the top five of first edition of our 2021 rankings after the summer and they are in position to contend for the top spot.
Baldwin is super skilled and can flat out shoot the ball from distance. Many of the things that stood out with Michael Porter Jr. at the same age stand out with Baldwin. Clarke is more of a handler, creator and slasher but his jumper is on point as well. These guys are monster prospects.

MR. TNT
Why him? Had 2020 combo guard Jaden Springer been around for more than the first day (he left for USA Basketball's 17U trials) he could have competed with Jalen Lecque, but there's not much question that Lecque was the most explosive athlete in attendance.
The jump shot and decision making as he transitions to the point guard remain works in progress, but there aren't many who can stay in front of him and nobody is more explosive at the rim.

In the mix: Kentucky, Kansas, Louisville, Indiana, NC State, Tennessee, Oregon, Georgetown, Clemson, Providence, St. John's and many, many more.

SNEAKY GOOD PRODUCER
Why him? You have to credit Donta Scott. The combo forward from Philadelphia fell out of the 2019 Rivals150 after the winter. He didn't complain, he didn't hit social media to talk about being disrespected, he just hit the floor and balled.
Scott had a good spring, was good at the Pangos All-American Camp and backed all that up with a strong showing at Top 100. He doesn't wow with athleticism, he's not freaky strong but he seems to do a little bit of everything and is a crafty, tough and productive player. He could fit anywhere from the A-10 to the Big East or Big Ten.

In the mix: Penn State, Georgetown, Temple, St. Joseph's and others are in the mix.