Early Signing Period: USC leads 2019 team recruiting race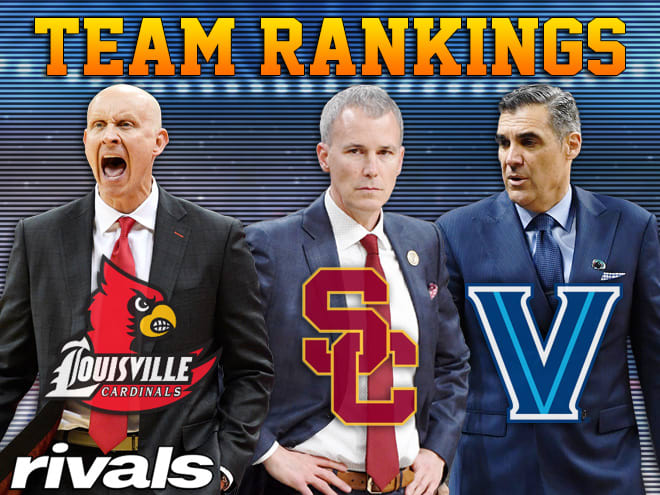 As the Early Signing Period tips off for the class of 2019, Andy Enfield and the USC Trojans hold the top spot in the 2019 team rankings, but whether or not they can go the distance remains to be seen.

– The Trojans' class features a pair of SoCal-bred five-star big men in Isaiah Mobley (who is the son of assistant coach Eric Mobley) and Onyeka Okongwu. The local talent theme continues with versatile and skilled wing Max Agbonkpolo and tough-as-nails two-guard Drake London, who is actually expected to sign a football scholarship with the Trojans. The lone member of the Trojans' class from outside of the region is Georgia point guard Kyle Sturdivant.
– Ranked second, Jay Wright and the Villanova Wildcats are starting to reap the benefits of two national championships in the last three years. Wright has landed five-star prospects in the past, but this is the first time he's landed more than one, as both power forward Jeremiah Robinson-Earl and shooting guard Bryan Antoine have joined. It's also notable that the Wildcats beat traditional bluebloods for Robinson-Earl (Kansas) and Antoine (Duke). The class is rounded out by four-star guard Justin Moore and four-star big man Eric Dixon.
– In just his first year at Louisville, Chris Mack is doing what he can to help erase the pain of a couple of years of negative off-the-floor headlines by hauling in the third-ranked class. The headliner is top 35 wing Samuell Williamson, who has size and skill. Irish big man Aidan Igiehon is expected to make an immediate impact in a class that features three more four-star prospects: Jae'Lyn Withers, David Johnson and Josh Nickelberry.
– Rounding out the current top five are Florida and Arizona, which have each landed a pair of five-star prospects. The Gators' class is headlined by shooting guard Scottie Lewis and point guard Tre Mann. Like Louisville, Arizona's class is helping to erase negative headlines from the last year. Hopes are high for shooting guard Josh Green and homegrown point guard Nico Mannion.
– While the top of the 2019 team rankings currently features programs that we don't always see at the top of the heap, there are others lurking. Particularly Kentucky (No. 6), Duke (No. 13), North Carolina (No. 16) and Michigan State (No. 17). They are among a handful of programs involved with the bulk of the remaining 17 five-star and top 50 prospects, and could make substantial jumps between now and next spring.