McDonald's Takeaways: Atlanta tournaments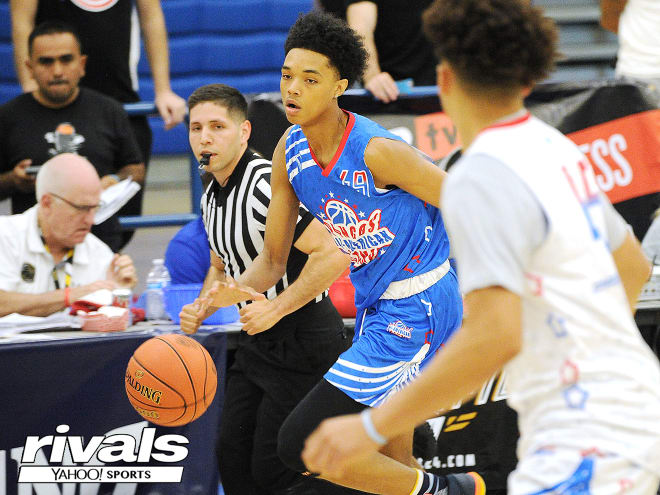 The second of three evaluation periods in July for college basketball coaches is always a busy one in the Atlanta area. Between the On The Radar Hoops Super 6 and HoopSeen's Best of the South, many of the top prospects in the country have made their way to the capital of the Peach State for the weekend, and we've seen some standout performances through two days.
MORE: Bossi from Summer Jam | Evans from adidas Summer Championships
BJ BOSTON BREAKS 50-POINT MARK
In the final game of the Best of the South on Thursday night, the hometown AOT edged EAB out of Nashville in a thriller of a game by a score of 82-81. The star of the game without question was five-star wing BJ Boston, who went off for 52 points.

The No. 14 player in the 2020 class scored it in a variety of ways. He connected on five triples from downtown. He put the ball on the floor and got to the rim, and also showed off the pull-up jumper. He leaked out in transition a few times for highlight reel dunks. He's firmly placed himself in the conversation as one of the best long-term shooting guard prospects in the country.
Oklahoma State is the most recent offer for Boston earlier this week. The Cowboys join an offer list that includes high-major programs all over the country. Last month, the Georgia native spent time on the campuses of Alabama, Duke, Georgia and Georgia Tech. Kansas and Ohio State were among the schools to offer during June.
FIVE-STAR MATCHUP LIVES UP TO EXPECTATIONS
On The Radar Hoops' Super 6 opened up on Wednesday night with a matchup of B-Maze Elite vs CP3, which matched up five-star 2019 wing Wendell Moore with five-star 2020 guard Jaden Springer. A lot of times matchups like this don't live up to the hype. Moore and Springer both brought their "A" game and mostly matched up with each other, and it made for an exciting game.

Early on, B-Maze Elite and Springer jumped out to a comfortable lead and it was in large part due to Springer's play. As competitive of a player as there is the 2020 class, the North Carolina native let his defensive ability take over and it turned into a lot of easy offense in transition, whether it be his own offense or setting up a teammate.
In the second half, Moore and CP3 flexed their muscles a bit and had an impressive comeback win. Moore used his physically imposing body and athleticism to fight his way to the basket for some tough finishes, but he was probably at his best driving and kicking to teammates. NC State's Kevin Keatts was sitting courtside with an assistant. Assistant coaches from Florida State, Georgia, Iowa State, North Carolina and Tennessee were also in attendance.
PATRICK WILLIAMS A POPULAR TARGET
Team United's Patrick Williams has steadily risen up the rankings in the 2019 class up to No. 61 overall, and he continues to add increased attention from college coaches. At the Super Six, he's probably been the most closely watched prospect in the building with high-major coaches.

In his opener on Wednesday night against Showtime Hoops, he had Keatts and Buzz Williams watching him along with assistants from Florida State, Georgia, Maryland and Tennessee. His Thursday morning matchup with Team South Carolina once again had Keatts courtside along with assistants from Arizona, Louisville, Miami and Virginia.
The 6-foot-7 small forward gets so much done on the court. He's a more-than-capable shooter from three-point range. He's very skilled attacking the basket and finishing in traffic. He's a high-level athlete who defends and rebounds his position very well. He's the type of player that can fit into any type of system because there isn't really a whole in his game.
DEVIN BUTTS KEEPS IT ROLLING
Not many prospects will go for nine three-pointers in one game this summer. The list of those who will do it twice is much shorter, but go ahead put Devin Butts' name on that list of those who have done it. And that's why he's slowly becoming a prospect that has high-major coaches excited.

Last Sunday, Butts connected had his first three-pointer explosion against B-Maze Elite and subsequently added offers from programs such as Houston, VCU, Wichita State and Xavier. Word went around about his shooting prowess, which led to Auburn, Florida State, Georgia and Georgia Tech dispatching assistants to keep tabs on him Wednesday night.
Butts struggled with his shot in both games Wednesday, but that wasn't the case on Thursday afternoon at the Best of the South. He once again exploded for 34 points with his three-point barrage. He'll continue to be somebody college coaches looking for a shooter watch closely. Georgia State head coach Ron Hunter watched him Wednesday night and the Panthers have had a staff member at all four of his games so far this weekend.
COACH WATCH
It's been a pretty convenient start to the recruiting period for Alabama's Avery Johnson. The Crimson Tide have two commitments in the 2019 class with Diante Smith and Juwan Gary, and the two played each other Wednesday night at the Super 6. He's been spotted courtside with an assistant every time his commits have taken the court.
Four-star 2020 wing Keon Johnson was a breakout performer last month at the NBA Top 100 camp, and is now a popular target for college coaches. Tennessee, Vanderbilt and Virginia all had assistants watching him on Thursday night against AOT. Auburn, Georgia Tech and Tennessee had assistant coaches watching a matchup between the Georgia Stars 16's and Atlanta Xpress 16's. Auburn has shown increasing interest in Georgia Stars wing Naheim Alleyne. Georgia Tech has an offer out to Georgia Stars point guard Christian Wright.