Corey Evans' adidas blog: Thursday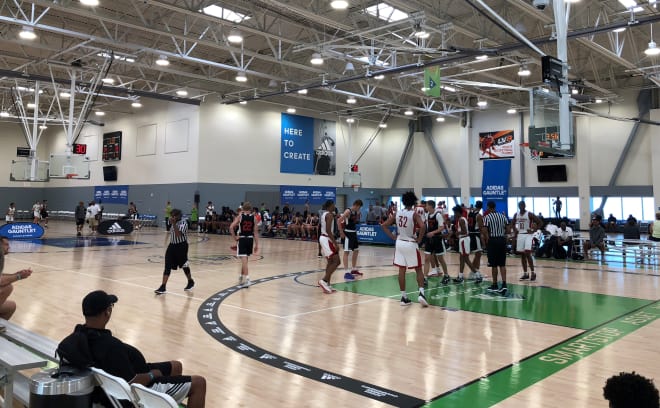 KILLER NIGHTCAP SESSION
What a way to end the night!? The sidelines were jam-packed with fans and scouts alike. Coaches crammed the baseline. The show they saw was more than worthwhile as Josh Green, Nico Mannion, Drake London and Ziaire Williams, the headliners of the Thursday night session, each displayed why they are such highly thought of prospects.
Head coaches from Michigan, USC, Kentucky, Kansas, Utah, and Grand Canyon, along with assistants from Stanford, Virginia Tech, Kansas State, Arizona, and Villanova were among those that saw BTI pull away with the win thanks to the tremendous play down the stretch of Ziaire Williams.
How good is Williams? Really good when we are talking about his down the road potential. He still goes through lapses of inconsistency but whenever it was crunch time and a big play was needed, Williams got it done. He is a more than worthy top-50 prospect that has an even higher ceiling than that.
His teammate, Drake London, wasn't too bad himself. A major athlete that will attempt to play both football and basketball in college, London won't have much trouble fitting in under Andy Enfield's watch.
While the duo were the main culprits in the win, Josh Green did all he could to carry the load on the other end. A much underrated passer that can create for others and himself, Green continues to add consistency to his jump shot but his relentless mentality as an open floor athlete and ball hawking defender has pushed his stock solely into the five star realm.
Mannion is as tough as they come at the lead guard spot. He is a winner. Point blank. Someone has to go down in defeat and while his team did just that, he was not deserving of such.
While we know where London is headed to for college, nothing is concrete with Williams, Green and Mannion. The trio each are priority prospects nationally and after their showing on Thursday evening, it will be difficult to refute such a claim moving ahead.
STAR-STUDDED AFFAIR 
In what was arguably the top game of the second evaluation period, it was a heavy-hitting affair both on the floor and with who was spotted on the baseline. Thirty percent of the starting lineup was made up of five-star prospects, and toss in three other four-stars and what you had was one of the more impressive displays of high school talent that you're going to find this month.
Trendon Watford. Kira Lewis. Chandler Lawson. Cameron Matthews. Josh Green. Nico Mannion. That is a special contingent of talent that will not only alter the national title picture in the coming years but also will go on to grace the NBA hardwood.
Who was in the house on Thursday evening? Try John Calipari, Coach K, Andy Enfield, Bill Self, Ben Howland, Herb Sendek, Dan Majerle, Tad Boyle, Larry Krystkowiak, Dave Rose, Mark Pope, Lorenzo Romar and assistants from such programs as Villanova, Arizona, Kansas State, Florida State, UCLA and Gonzaga.
The third-ranked prospect in the 2019 class, James Wiseman, decided to sit the evening out, as Watford and Lewis received little playing time, too. This all led to a dominant showing from West Coast Elite.
Josh Green competed with abandon, playing both ends of the floor equally hard, and when the speed of the game picked up so did his production.
Nico Mannion is special. Not many are ingrained with the DNA that the five-star guard possesses. He sees the game and makes the right play. Athletic, tough and smart; it doesn't get much better.
In the end, it was Oscar Lopez that was the most impressive. He made shots. He created for others. He defended. He made smart plays. Up until now, Lopez had been a heavily coveted mid-major prospect; tomorrow, the ceiling on his recruitment could be blown off. He took the heightened platform and ran away with it. Kudos to Lopez.
LONGEVITY IS KEY FOR USC
Andy Enfield has celebrated many wins on the recruiting trail lately, but the best might be still to come with Evan Mobley. The super sophomore was fabulous on Thursday, and while he is far from where he needs to be from a physical standpoint, the talent and raw abilities continue to show themselves.
The younger brother of Isaiah Mobley, a five-star junior who has already committed to USC, Evan Mobley's upside is staggering. He fits today's game like a glove because he can score over either shoulder and also step out and extend the defense with the perimeter jumper. However, he is best served on the defensive end, thanks to his length, quick feet and instincts, all of which he uses in defending each spot in the frontcourt.
While he has yet to make his verbal commitment official, it would be one of the biggest upsets in recent time if he were to not suit up for the Trojans one day. With his dad, Eric Mobley, now on staff at the Pac-12 program, and his brother headed that way a year from now, Enfield is set to finish with a top-10 class in 2019 and follow it up with arguably the best frontcourt prospect in the 2020 class. USC may no longer be known just for the pigskin.
MATT HURT IS MR. BLUEBLOOD
Is there a better definition for a blueblood target than Matt Hurt this summer? The top-five forward has been one of the more talked about and well-targeted prospects since he stepped onto a high school playing floor three years ago, and the interest has only increased in recent months.
For the second straight night, Duke's Coach K, UNC's Roy Williams, Memphis' Penny Hardaway and Indiana's Archie Miller were in attendance to watch the super-skilled and more than above average shot-maker who can convert from each level on the court. However, those coaches were not alone, as Kansas, Kentucky, Minnesota and Ohio State each dispatched an assistant coach of their own.
Where he will land is a total question mark. At one point in time, the best bet would have been Kansas or UNC, but it looks as if there is still some time to go before a clear-cut favorite emerges in the race for the uberly-talented prospect.
TRENDON WATFORD IN NO RUSH
There doesn't seem to be an end near for Trendon Watford when it comes to choosing a college to attend in the fall of 2019. One of the most versatile forwards in America, Watford told Rivals.com that he plans on waiting the college process out until the spring, a timetable that has been a consistent theme with most five-star prospects in recent time.
Down to a final eight, Watford was watched on Thursday by head coaches from Memphis and Indiana, along with assistants from Florida State, LSU, Vanderbilt, Kansas, Alabama and TCU.
No visits have been planned just yet, but Watford did say that once his July becomes complete that he would sit down and begin to schedule trips to a few of those on his list.
Much of the talk lately has centered around Memphis and the fact that he is playing for Mike Miller's former travel program and alongside top Tigers targets James Wiseman and Chandler Lawson will not diffuse such talk. However, this recruitment is far from over, and Watford remains a priority for each of the eight involved.
MARCUS WATSON DRAWS A CROWD
As he enters his last month of travel ball play, it is a total guessing game where Marcus Watson might be leaning. The four-star wing out of Georgia is one of the more powerfully built high school prospects that you're going to find, and add in his shot-making prowess and explosiveness at the basket and there is a reason why programs on both sides of the nation remain entrenched with his recruitment.
On Thursday afternoon, head coaches from Oregon, Ole Miss, Auburn, Georgia, Georgia Tech and Texas A&M, along with assistants form Virginia Tech, Vanderbilt, Clemson, Oklahoma State and Florida State checked out Watson.
Selecting a favorite at this time remains difficult, but Watson has made a handful of visits to the local Georgia Tech program, and Oregon hosted him for an unofficial visit in the spring. I would expect for a more cut list in the coming weeks and it being peppered by ACC and SEC programs.
TALENT ABOARD FOR ITPS
In its first year of adidas sponsorship, the ITPS program has made major noise this summer. While its 17-under unit is led by top-50 center Oscar Tshiebwe there is more on the way. David Early, Isiah Warfield and Donovan Johnson have the chance to be highly pursued in the coming years as the crop of rising juniors displayed their primary strengths on Thursday morning.
Early, one of the more unique wings in the 2020 class, looks like he should be recruited on the football gridiron rather than the hardwood. Strong and bulky, Early has a much underrated feel for the game as he can create for others but also has major range on his jump shots.
Warfield, a good looking off guard from the suburbs of Pittsburgh, could evolve into a power conference target for some of the regional programs. He can defend different positions, make shots and shows a frame that should only improve as he ages.
Johnson, the younger brother of UNC forward Cam Johnson, is further ahead with his game and physical development compared to his older sibling. His IQ for the game is intense and so is his ability to adapt to today's positionless game of basketball.
Altogether, coaches from Virginia, Butler, Michigan, Duquesne, Penn State, Iowa State, South Carolina, Harvard, Ohio, Lehigh, Texas and George Washington watched the trio of intriguing class of 2020 prospects.
KEON EDWARDS BEGINS THE DAY THE RIGHT WAY
Assistants from Texas, Virginia Tech, Virginia and Old Dominion settled in for the first session of the day between the 15-under units for Team Knight and Team Faith. While there will be much time before a more comprehensive Class of 2021 Rivals150 is published, it would be safe to assume that Keon Edwards will be safely on the list.
Standing easily above 6-foot-7, Edwards is the next prospect out of Texas to be highly recruited. While he is just an infant in this stage of his development, the upside and talent is impressive. He can run the high-ball screen set, is a fluid athlete at the basket and once he becomes accustomed to his body he will evolve into a versatile defender.
Edwards made three 3-point jumpers and also made a few very athletic plays. Expect the best programs from the South to pursue him in the years ahead, with blueblood interest more than warranted.