Five-star Jeremy Roach growing into his own and gathering interest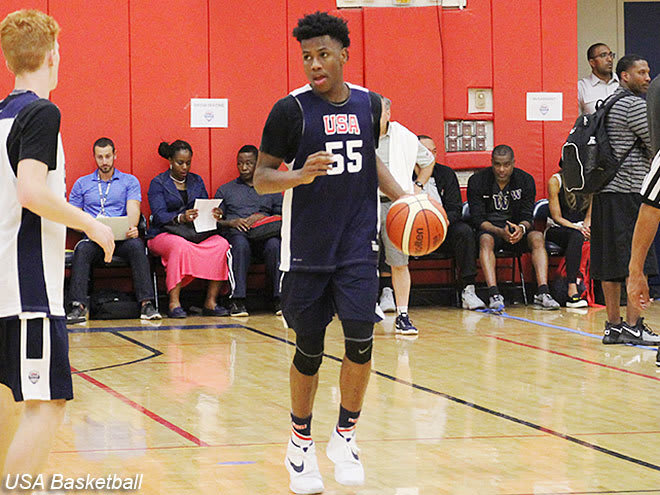 HYATTSVILLE, Md. – Jeremy Roach has already cemented his standing as one of the top guards in the 2020 class. During his time at last weekend's Metro Challenge 60, the five-star sophomore proved that he has even more room for growth, and some of the top college programs have already become involved.
Roach, who has grown close to an inch since the fall, has already won a gold medal with the United States under-17 team squad and has completed two years as a starter for the vaunted Paul VI Catholic (Va.) High School program, where he earned all- conference honors this past season.
Not ready to turn his full attention to his college recruitment, Roach did say that Kentucky, Virginia, Virginia Tech, Villanova, Miami, Maryland and a handful of others have already shown heavy attention.
IN HIS OWN WORDS 
Kentucky: "He (John Calipari) is really straightforward with me. He gets you better and gets you prepared for the next level. There is a big family culture there, and that is going to be one of the top schools always."
Villanova: "They have a solid group of 10 or 11 guys. They all bring energy, they all bring defense and they just play together, which is something that I really like."
Maryland: "The thought of playing close to home is definitely there. I haven't decided on my top schools yet, but I am definitely a priority for them. They are just saying that they are close to home, my family can come and watch me, and I would be the main guy. They have been showing me a lot of love."
Virginia: "I like how they play and I like coach (Tony) Bennett. He coaches all the guys real tough. Their defense is one of the best in the country."
Virginia Tech: "I like V-Tech. It is kind of close to me. I like coach Buzz (Williams) and how he coaches. He is all about the mental side of the game, which is something I really like."
WHAT'S NEXT? 
Roach is in no rush to move forward with his college recruitment. His last visit was to Kentucky in the fall, and he will direct his attention to his junior travel ball season as he suits up for Team Takeover on the Nike EYBL circuit.
RIVALS' REACTION 
Roach is a maestro with the basketball, and he has already mastered the ability to dominate off of the high pick-and-roll. He has gotten bigger and stronger since the fall and his jumper - the one perceived slight with his game - has improved, too, leaving little room to criticize.
His resume is already one of the best in America in his graduating 2020 class, and some of the top programs are expected to enter the picture in the coming months. Virginia Tech, Maryland, Villanova, Miami and Virginia are just a few of the offers on the table and while Kentucky has not offered yet, its diligent attention with the five-star sophomore isn't likely to wane.