McDonald's AA Game: Ranking the week's top performers
Recruiting wrap: Committed to North Carolina.

His week in Atlanta: Little showed up with a purpose, and he maintained laser-like focus all week long. He has used every tool he has to his best advantage and when those tools include size, athleticism, versatility and one of the better jump shots of anybody in attendance, you have one heck of a player. Even at No. 5 in the country, he's a bit underrated at this point.


*****
Recruiting wrap: Committed to Duke.

His week in Atlanta: The class of 2018's top-ranked player and the pride of Canada, Barrett started things off a little quiet, but his performance improved over the week. By the time the lights came on for the game, Barrett was an absolute killer. He didn't shoot his jumper well, but did everything else, from handling the ball to defending to creating for others.


*****
Recruiting wrap: Down to a final three of Indiana, Kansas and Vanderbilt.

His week in Atlanta: Langford looked like the most gifted pure scorer in attendance. Seriously, everything on the offensive end comes easily for him. He made people pay from deep, played above the rim, rebounded and showed that he has the tools to be a big-time defender down the road.

*****
Recruiting wrap: Has taken visits to California, Louisiana Lafayette, St. John's and UCLA. Arizona, Gonzaga, Nevada, Oregon and Stanford are also under consideration.

His week in Atlanta: Brown was the most consistent of the big men during practices and then he came up huge in the game with 26 points. He showed great size, improved strength and a mature and well-rounded post game, along with the ability to score with either hand. It's going to be tough to keep him out of the top 10 of the final rankings.

*****
Recruiting wrap: Committed to Syracuse, Bazley announced Thursday that he was going to play in the G League instead of going to college.

His week in Atlanta: Because he lacks strength, there were a few times when Bazley was quiet. But from beginning to end his performance was solid, and he may have as much long-term upside as anybody who played in the game. He can handle, is outstanding in transition and was arguably the most versatile defender in Atlanta.

*****
Recruiting wrap: Committed to Kentucky.

His week in Atlanta: One of the best pure scorers in attendance, Johnson was a steady performer on the offensive end all week long. Because he scores so well and from so many different areas of the floor, his defense gets a bit overlooked. He was one of only a few players who truly committed to playing defense all week long, and it showed in the game when he came up with a huge defensive stop on Barrett to help secure the West's win.


*****
Recruiting wrap: Committed to Duke.

His week in Atlanta: It's time to talk seriously about switching Williamson's position to power forward, because he was most successful when lined up on the block. He's got a really nice feel in the post that, combined with his otherworldly athleticism and power, makes him a really tough cover. The jumper wasn't falling, and he went left with pretty much everything when playing outside of the paint.

*****
Recruiting wrap: Committed to Kansas.

His week in Atlanta: One NBA scout compared Grimes to a scoop of vanilla ice cream, saying that he's not always flashy or the most exciting, but he generally gets the job done. Grimes is sneaky athletic, can score at the rim from mid-range and from deep and is an excellent passer.


*****
Recruiting wrap: Committed to North Carolina.

His week in Atlanta: Though he didn't go off for a huge night in the game, White was easily the best and most consistent jump shooter throughout the week. The all-time leading scorer in the state of North Carolina showed supreme confidence in his jumper, and his ability to play fast without being out of control really stood out.

*****
Recruiting wrap: Committed to Duke.

His week in Atlanta: Relative to expectations and talent, it wasn't quite the week Reddish may have been hoping for. He's usually a very reliable pull-up jump shooter, but it just wasn't falling for him in Atlanta. It wasn't all bad, though. Reddish proved to be one of the best playmakers and there's no denying how natural he is handling the ball.

*****
Recruiting wrap: Committed to LSU.

His week in Atlanta: How Reid is able to make a body as big as his do some of the things that it does is a mystery. He's equal parts hulking and nimble, and when he decided to play power basketball in the post there wasn't much stopping him. He will probably need to lean up a little at LSU and his effort was spotty at times in Atlanta, but he's a potential impact player in Baton Rouge.

*****
Recruiting wrap: Considering Duke, Georgetown, Kentucky, North Carolina, Vanderbilt and Wake Forest, among others.

His week in Atlanta: One of only three players in the McDonald's Game who hasn't yet committed, Montgomery was the target of many recruiting pitches. He wants to be a face-up guy, but where he was most productive was playing from 12 feet and in, where his size and touch were serious weapons.

THE REST OF THE FIELD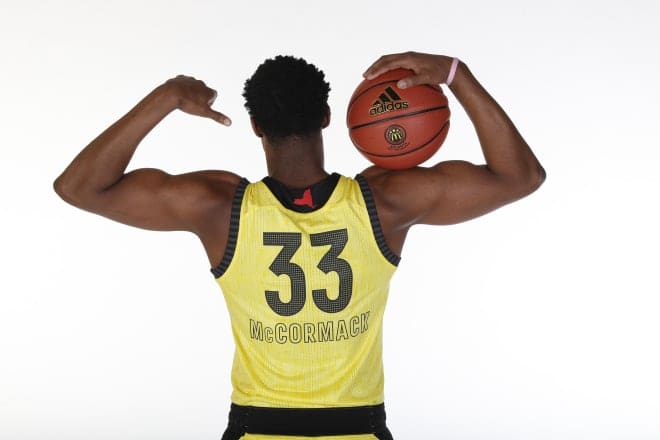 Moses Brown, center, committed to UCLA.
Because he lacks strength, Brown didn't always finish well. But, for a guy whose motor and toughness have been questioned, he played with as much effort and willingness to mix it up as any of the bigs in attendance.

Devon Dotson, point guard, committed to Kansas.
Dotson is tough, confident and doesn't mind a little trash talk. He backed it up and did a nice job driving to the rim, making plays for others and scoring when the opportunities were there. As his jump shot comes along from behind the three-point line he'll be really dangerous.

Darius Garland, point guard, committed to Vanderbilt.
Garland was likely the best playmaker throughout the week, and he's very shifty off the dribble. All that kept him out of the top 12 list was some struggles shooting the ball and finishing in traffic. He's going to need to live in the weight room at Vanderbilt.

Tre Jones, point guard, committed to Duke.

The Duke-bound point guard was nursing a hip injury and missed the first two days of action. Once he hit the floor he played solid, but didn't create any separation between himself and the other floor generals.

David McCormack, center, committed to Kansas.
Talk about reliable. This kid always had effort, always played with toughness and didn't spend any time trying to play on the perimeter. He's got massive hands, couldn't be moved off the block and Bill Self is going to love him. McCormack really came up big during the actual game. If hoops doesn't work out, he's got a future as a heavyweight boxer.

Reggie Perry, power forward, committed to Mississippi State.
Perry was thinking offense all week and was generally pretty successful. He has strength, but moved well in the open floor and didn't back down from anybody.

Jalen Smith, power forward, committed to Maryland.
"Sticks" is still skinny, but he's definitely added strength to his upper body and his game is coming along rapidly. He's a legitimate threat as a pick-and-pop jump shooter, protects the rim and doesn't lack toughness. Smith will help right away in College Park.

Immanuel Quickley, point guard, committed to Kentucky.
Of all of the guards in attendance, Quickley played the most like a traditional, throwback point guard. He was pass-first all week long, and in an All-Star setting it was nice to see somebody looking to be a vocal leader.

Jahvon Quinerly, point guard, committed to Villanova.
There will be big expectations at Nova next year with Jalen Brunson likely leaving for the NBA, and Quinerly will meet them head on. His lack of size hurt him as a finisher around the rim during the week, but his pull-up jumper looked good.

Bol Bol (Oregon), Louis King (Oregon), Simisola Shittu (Vanderbilt)- DNP, injury.