Keldon Johnson completes dominant weekend at the Nike EYBL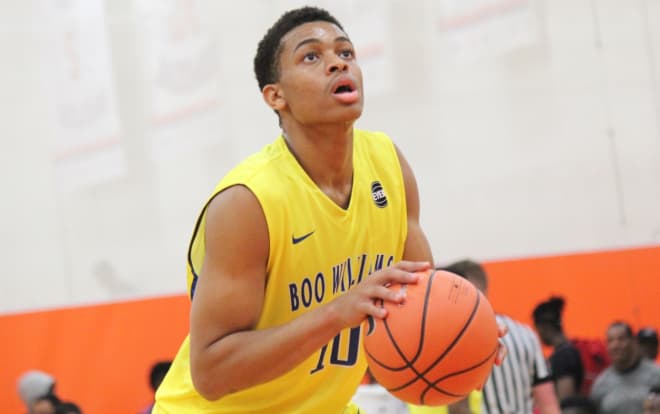 HAMPTON, Virginia – The first session of the Nike EYBL finished up on Sunday as the Boo Williams Summer League bunch ended the day with a captivating performance from Keldon Johnson. The top-50 wing protected his home turf, leading the standouts from Sunday's action in Hampton, Virginia.
Recruitment: Oregon, Maryland and Texas
His day: Johnson didn't stop the onslaught of his opposition on Sunday, finishing with 27 points and six rebounds while pushing his Boo Williams team to an undefeated record during its four-game session over the weekend. Not many put the ball through the basket like the top-50 wing, a rising senior that may lead the Nike EYBL in foul shots attempted this summer.
On Texas: "They talk to me a lot; almost three or four times a week. Me and Shaka (Smart) talk a lot. We have a great relationship. They offered me first in the ninth grade and they have been at my games a lot ever since."
Prediction: Maryland has a great catch-up card thanks to the recent hiring of Kevin Broadus, a former assistant that recruited his brother, Kaleb Johnson, to Georgetown. However, Texas has invested too much into this one for the Longhorns to miss out.
Recruitment: Louisville, Auburn, Ohio State, Florida State, Georgia and Georgia Tech
His day: One of the more talented wings in the 2019 class, Elias King was superb on Sunday scoring off the bounce and showing solid toughness and athleticism at the basket. He greatly supported his case as a priority recruit and one that should receive offers from both sides of the nation.
On Louisville: "I grew up in Louisville. I moved from Atlanta in the third grade and they just preach defense. They do not play around. If you are a freshman and do not play defense, Rick Pitino will not play you the whole year."
Prediction: The Cardinals have done a fine job of getting the top-50 recruit on campus early on which should only make it that much easier when he commits to Pitino in the coming years.
Recruitment: Louisville, Kansas, Florida, Florida State, Miami and many others
His day: Williams had his second straight game with more than 20 points and 18 rebounds. One of the most consistent producers, the IMG Academy product doesn't have the ideal size for the power forward position but he does have the motor, physical tenacity and instincts that make him a five-star recruit.
Quote: "It is the same thing right now. Everyone is coming to me right now but I am just enjoying my junior year and, most of all, just having fun."
Prediction: There is not one school that is standing out for Williams just yet as he hasn't been able to find the energy to focus on his recruitment. One has to believe that the top three in-state schools – Florida, FSU and Miami – will be among those left standing at the end of the day.
Recruitment: Butler, Texas A&M, Florida, Clemson, Georgia, Georgia Tech, Tennessee, Alabama and Auburn
His day: Richardson is one of the top shooters in America and on Sunday, he was up to his usual tricks. The southpaw led his E1T1 team from start to finish for an impressive win over Team Penny, displaying improved playmaking abilities, quickness and toughness with the ball in his hands.
Quote: "I am really close with (Georgia guard) JJ Frazier. I grew up with him. He grew up like 15 minutes away from me. He did well at the program and they really put the ball in their guards' hands; I love that."
Prediction: Auburn has done a phenomenal job of going into the Peach State and nabbing a few of its top prospects. The Tigers remain in it until the very end but Georgia wins out, securing a high-end four-star recruit this fall.
Recruitment: LSU, UCLA, Alabama and a slew of others
His day: Built to play the game of basketball, Williams is a man of many tricks on his talented Houston Hoops squad. His box score numbers won't jump out at you but his versatility and willingness to do the miscellaneous make him a priority, Southeast recruit. It is only a matter of time before the majority of the South and East Coast programs become infatuated with Williams.
Quote: "It is going good. It is getting bigger more and more as the spring and summer progresses. I am hearing lately form Alabama, LSU, UCLA a little bit, Thad Matta a little from Ohio State, St. John's, and schools like that."
Prediction: Will Wade recently kept the commitment of his former high school teammate, Galen Alexander, and the new LSU head coach will make sure that the top-50 guard follows him to Baton Rouge a year later.