Coby White impresses during day one from the Nike EYBL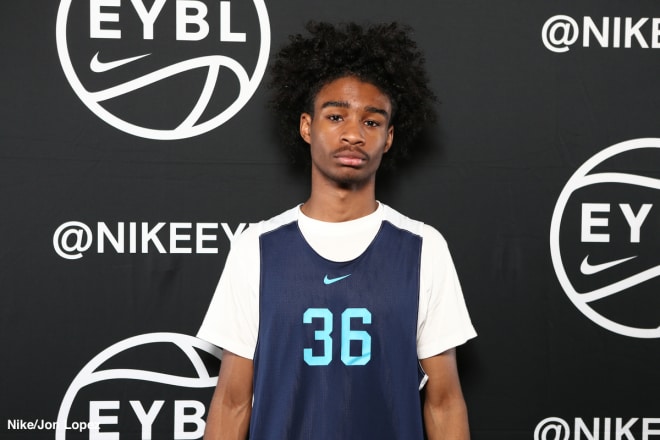 HAMPTON, Va. – The first day of the spring evaluation period kicked off on Friday and the Nike EYBL was the place to be. A litany of college coaches was in attendance peering into the future of their sport. Coby White, a four star guard committed to North Carolina, ended the night in impressive fashion, while a slew of others made a similar statement.
Recruitment: Committed to North Carolina
His day: White was sensational, from tip and until the final buzzer, as the 6-foot-3 guard scored the ball every which way possible. Hosting his future head coach, Roy Williams, White dropped an efficient 16 points on the scoreboard leading to a 32-point victory for his CP3 team.

Recruitment: Maryland and Wake Forest standing out
His day: A native of France, Jaylen Hoard made a late push during his team's win on Friday evening. He has the perfect basketball body that allowed for him to score through contact as he threw down three impressive dunks, leading to 12 points while also pulling down four rebounds.
Quote: "Coaches have been coming to see us lately. I have been talking to Wake Forest, Maryland, NC State recently, Baylor, and South Carolina has been talking to me lately."
Prediction: His recruitment is still just heating up but Wake Forest has done a great job of getting him onto campus a handful of times which should bode well when it comes to his commitment.

Recruitment: Just reopened after signing to Dayton in the fall; schools that have reached out including Georgetown, Georgia Tech, UMass, Indiana and Boston College.
His day: Despite his inability to find the hoop on his 15-feet and out jump shots, Nahziah Carter was still impressive as he scored at the basket on highlight dunks and defended more than two spots on the floor; he finished with 13 points and three rebounds in the win.
Quote: "I plan to go to college this summer and prep school is an alternative, just in case I don't get the right fit, but my plan is to go to college this year."
Prediction: Way too early to tell as Boston College is the only program that has offered since backing off of his original commitment.
Recruitment: Arizona, Baylor, Michigan State, Duke, UCLA, Oregon and Minnesota are involved.
His day: Tre Jones was really good despite struggling to find his shot. He pitched in with 12 points on nifty finishes while also showing premier facilitating abilities in the backcourt, all of which equated to eight assists on the final box score.
Quote: "I watched Duke a ton when I was younger, I have to admit. All the coaches from Duke are talking to me. They are just telling me to be the best player that I can be."
Prediction: While his recruitment has lagged on a bit, allowing for many others to get involved, Duke remains the program to beat.

Recruitment: Marquette, Providence, Syracuse, Georgia Tech and Rhode Island
His day: Jeenathan Williams wasn't great on the final stat sheet but he did complete a bevy of valuable tasks on the hardwood. A 6-foot-5 forward with a college-ready body, Williams defended all over the court, rebounded the ball and scored in traffic, pitching in 10 points and helping his team get the first win of the EYBL season.
Quote: "I am hearing a lot from Marquette, Georgia Tech, Providence, and Rhode Island; those are really the main ones talking to me. I have a lot of other offers. "
Prediction: Williams is likely a Syracuse commit if the Orange make the proper push but, at the time being, it looks like Marquette has the edge on this one.
Recruitment: Georgia, Auburn, Florida, Florida State, Tennessee, FGCU and a lot of different schools in the area.,
His day: Trey Doomes was the spark for his team as he single-handedly changed the complexion of his squad's game on Friday. He came away with a couple of steals, showing his blazing speed as he scored the ball at the rack, knocking in 12 points during his team's comeback win.
Quote (on Georgia): "I have been there a lot of times. I like their coaching staff; they treat me like family, which they are really pushing for."
Prediction: The process is just beginning for Doomes but look for Georgia and Georgia Tech, the two in-state programs, to make their push this summer.

Recruitment: Miami, Florida and Louisville
His day: He started off rather slow but once he got into the thick of things, the 6-foot-9 sophomore became dominant. Finishing with 18 points and five rebounds, Vernon Carey is just beginning to learn how to play hard but when he does, there is no one better in his 2019 class.
Quote: "Miami, Louisville and Florida, those are the ones recruiting me the hardest. They come by the most."
Prediction: The bluebloods will come in for Carey within the next few months but thanks to his proximity to campus and family ties (father played for the football team), the five-star commits to Miami.