Ayo Dosunmu dominates in day two from the Nike EYBL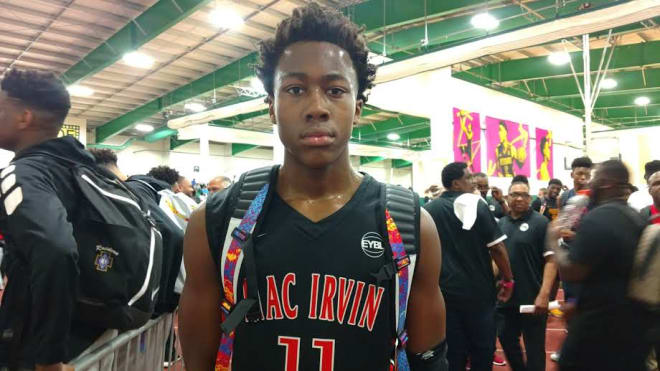 HAMPTON, Va. – A full day of action took part on Saturday at the Boo Williams Sportsplex as Nike's top circuit had the chance to showcase their abilities in front of a throng of college coaches. Ayo Dosunmu owned the day by dropping over 25 points in both of his outings while the Lone Star State gave insight into the future of the area.
Recruitment: Butler, Xavier, Creighton, Illinois, Northwestern and Oklahoma State
His day: Despite not playing at 100-percent, Dosunmu was pretty dominant down the stretch of his first outing on Saturday. He was impossible from keeping away from the basket as he tossed up a 33-spot on the scoreboard, giving his team their first win of the travel season.
Quote (Illinois): "That is my in-state school. It is always good to have a solid relationship with the state from with which you're from. I want to be able to build a great relationship with them."
Prediction: The hiring of Brad Underwood at Illinois has set tremors throughout the state that keeping the best within the borders is a must; Dosunmu becomes a member of the Illini in the fall.
Recruitment: Holds a lone offer from Virginia with a variety of interest.
His day: Jeremy Roach was sensational all day long as the five-star freshman stated his case in being the best point guard in his 2020 class. He has an elite burst that he uses nicely on both ends of the floor, toughness, shot making and passing skills already in-hand, showing just how well-rounded he really is.
Quote: "Coach (Tony) Bennett cares; he knows that I am a good player. They offered me first back in the fall."
Prediction: Too early to tell, though it does seem that Virginia has made a great first impression on the five-star guard.
Recruitment: Notre Dame, Michigan, Northwestern, Villanova, Penn, Stanford and Yale
His day: Cormac Ryan is a straight baller. He is a no nonsense type of guy that can score the ball from all three levels but also create for others. He ended the night with an efficient 21 point outing, leading his New York Rens squad to a win.
Quote: "In terms of a timetable, I wouldn't say I have one. The schools that I visited, I really liked. When I am confident with when I want to make a decision, I will make it."
Prediction: The idea of reclassing into the 2017 has been presented to him but it looks as if he will remain within the 2018 class and select Northwestern when the time presents itself.
Recruitment: Texas, SMU, Baylor, Oklahoma, Oregon, SMU and Notre Dame
His day: If it wasn't for the play of Ayo Dosunmu, Tyrese Maxey would have been the top star of the day. The 2019 guard out of Texas is a pure bucket getter as his confidence never wavers when the ball is in his hands. Finishing with a game high 27 points, the Rivals150 sophomore is more than just a talented prospect; he is an entertaining ballplayer.
Quote: "Texas is cool. I talked to him (Shaka Smart) the last time that he came to the school. He just tells me to keep working on my game and keep competing, playing defense, and keep playing hard."
Prediction: The recruiting process is just beginning for Maxey as most of the Big 12, if they have not offered yet, soon will; Shaka Smart may have the inside track as Texas ends up landing the in-state recruit when it is all said and done with.
Recruitment: Texas, Notre Dame, UCLA, Arizona and Baylor
His day: While Gerald Liddell didn't kick off his day too well, he sure ended it nicely as he showed off a nice first step and decent explosiveness off of two feet at the basket. Finishing with 16 points and six rebounds in the win, Liddell doesn't have elite upside but he is one of the safest bets for the next level from his class.
Quote: "I don't have any visits set. I am just playing it all by the ear right now. I probably want to sign early in November."
Prediction: In a battle between Arizona and Baylor, Scott Drew comes out with the win in landing the five-star recruit from within his state's borders.
Recruitment: Texas, Baylor and Texas A&M
His day: Matt Mayer hit a few 3-point jumpers, rebounded the ball and defended but the highlight of the day was when he crossed his man up on the break and then threw down the tomahawk dunk on another; a cool 17 point, eight rebound affair was in order.
Quote: "I am not really sure about taking visits right now. There are a few other schools that I would be interested in if they offered me."
Prediction: A top three of Texas, Baylor and Texas A&M looks pretty solid but the Aggies close the door thanks to having both of Mayer's parents as alums to the school.
Recruitment: Missouri has been a heavy favorite with Wisconsin showing interest
His day: Jontay Porter has continued his ascent into the top-25 of his class and Saturday sure didn't hurt the cause. Super-efficient, the 6-foot-8 junior scored 15 points and grabbed 15 rebounds as he helped keep his team out of the loss column.
Quote: "Not many teams have really hit me up since they all think that I am going to Missouri, which is a pretty good assumption. But my recruitment is pretty open. I have talked to Wisconsin little bit."
Prediction: Porter told Rivals that he would be taking an official visit to Missouri on Monday. His father, brother and two sisters each are members of the respective basketball programs at Mizzou; Porter will also be by the end of the week.