Former Georgia commit King weighing new options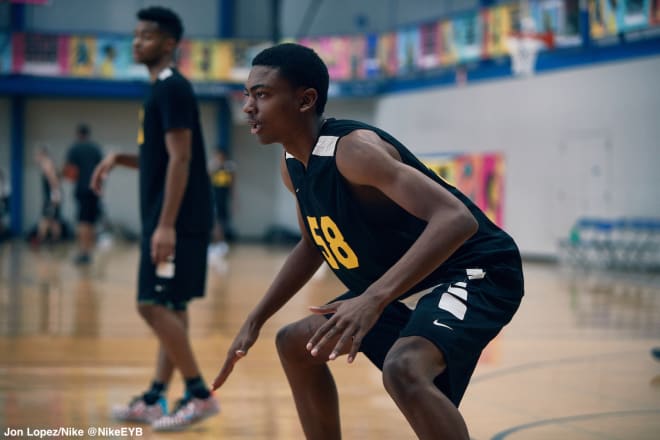 Elias King committed to Georgia in December with the idea that he would play for Mark Fox with five-star point guard Ashton Hagans as his set-up man. When Fox was fired and Hagans backed out on his commitment, King decided to open up his recruitment and explore all his options again.
Since then, he's been in contact with Georgia Tech, Ole Miss, LSU, Seton Hall and Virginia Tech. He's also stayed in contact with new Georgia coach Tom Crean as well as assistant coach Jonas Hayes. King, No. 39 in the 2019 Rivals150, will certainly add more options throughout the summer as he plays with ATL Hoops.
IN HIS OWN WORDS
Georgia: "Coach [Tom] Crean and Jonas Hayes came over to see me at my school last week. Jonas is my man. I'm still trying to feel Crean out. He seems like a great guy. He told me everything I needed to know about him."
Georgia Tech: "They are probably recruiting me the hardest. He's probably been in to see me four or five times since I de-committed. He watches film on me and lets me know where I can improve. He's definitely in my ear a lot."
Ole Miss: "I don't know a lot about their program, but from what they told me about their style of play, it seems like it might be a good fit."
Virginia Tech: "Me and Landers Nolley talk all the time. It's like how me and Ashton [Hagans] were about Georgia. We're very close and we always talk about playing together."
RIVALS' REACTION
King says he plans to take his recruitment slow this time and currently is focused on getting bigger and stronger. Virginia Tech was in a good spot before King committed to Georgia and the Hokies remain in a good spot this time around with his relationship with Landers Nolley. Georgia Tech is making a really strong pitch for the local product as he's always maintained the idea of staying close to home intrigues him. Georgia will still be a factor in his recruitment as well.