Five-star Atlanta guard Edwards showcasing his elite talent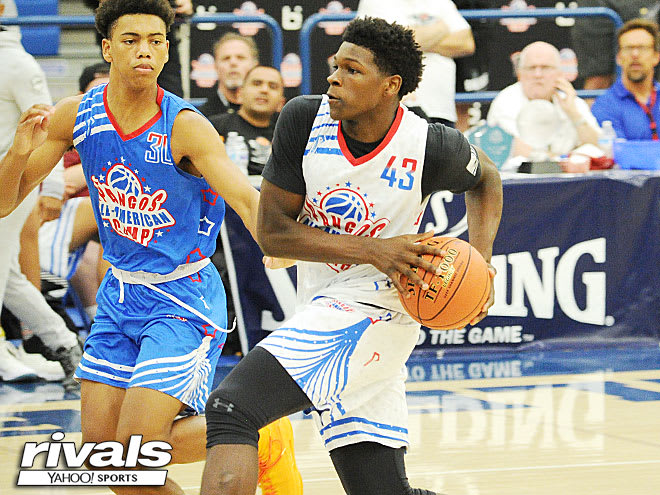 CERRITOS, Calif. -- If there were any questions about five-star shooting guard Anthony Edwards status as an elite prospect in the class of 2020, he's spent the spring answering them.
The 6-foot-4 shooting guard from Atlanta (Ga.) Holy Spirit who ranks No. 11 in that 2020 class has been dynamic with his grassroots team the Atlanta XPress and was unstoppable at the Pangos All-American Camp.
His play has earned him offers from Auburn, Georgia, Mississippi State, DePaul, Clemson, Georgia Tech, Texas A&M, Virginia Tech, UCF, Florida State and more. Kentucky and UCLA have inquired and said they will watch in July and he's got the talent that any big-time program should covet.

"I'm in the gym all the time now, I can't let anybody catch up," Edwards told Rivals.com. "I'm in the gym all the time working on scoring the ball and finding my teammates.
"I know how to get to my spots. Getting to my spots is from work in the gym, making shots is natural. I've learned how to get to my spots in just a couple of dribbles because my trainer Justin Holland makes me play three dribbles with a lot of big-time players, so I have to know how to get to my spots and not waste things."

While more and more college programs are turning up the heat and offering scholarships, Edwards isn't looking at things too seriously. He's not taken any recent visits and doesn't have any plans to take any unofficial visits in the near future.

"I'm not really into (recruiting) yet," said Edwards. "I let my coaches talk to most of the college coaches because I'm not really that into it. Probably next summer I will be."
Once Edwards get serious about things, he's working on a mental list of things that he'll be looking into.

"I'll look at relationships, the campus, friendships with people that I know and the professors," said Edwards. "I think somewhere that I can play free. Somewhere that has a system but also lets you play free."