Pangos All-American Camp: NBA name association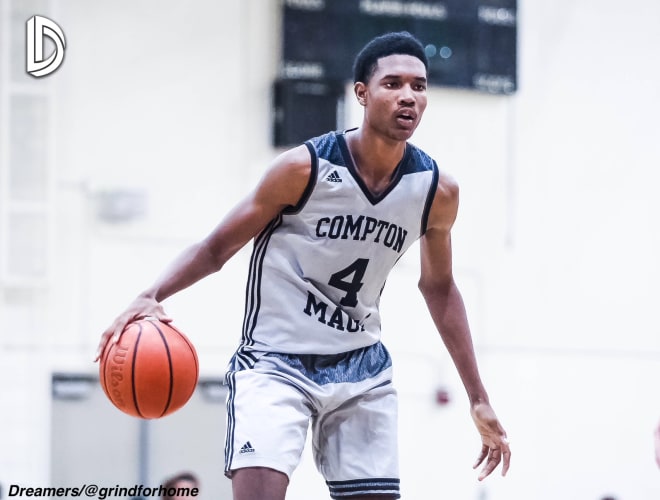 CERRITOS, Calif. -- On Saturday at the Pangos All-American Camp, there were many big time players on hand. National Analyst Eric Bossi plays some NBA name association by discussing who some of Saturday's top performers like five-star junior to be Evan Mobley remind him of as high school players at the same age.

NBA comparison: LaMarcus Aldridge

Why the comparison? Watching Mobley play, I'm actually reminded of several players when they were young and he's got little bits of Anthony Davis, Chris Bosh and Jermaine O'Neal in his game, but the player he reminds me of most is LaMarcus Aldridge. What always stood out was Aldridge's ability to run the floor and soft touch. Those two things plus supreme quickness around the rim stand out with Mobley. He is a legitimate contender for the top spot in the class of 2020.

Recruiting: His father is an assistant coach at USC and his brother Isaiah Mobley is committed, it would be a shock if the younger Mobley doesn't follow suit.

Comparison: Andre Iguodala

Why the comparison? Barnes is actually a little bigger than Iguodala at the same age but he reminds me so much of the current Golden State Warrior. He's a big time athlete, a big time defender and a playmaker off the dribble who still needs some work with the jumper. He's already No. 2 in 2020 and like Evan Mobley above is putting some serious heat on current No. 1 Jalen Green.

Recruiting: Kentucky, Kansas, Miami, Florida, Syracuse and Oregon among others.

Comparison: Donovan Mitchell

Why the comparison? I'm not predicting that Anthony Edwards is going to put up Donovan Mitchell type numbers as a rookie in the NBA down the road, but he sure looks like he could make that level. He's got similar size to Mitchell, is a big time athlete, plays tough and blends outside shooting with driving.

Recruiting: Florida State, Auburn, Mississippi State, Georgia, Georgia Tech and more.

Comparison: Nate Robinson

Why the comparison? There are only but so many NBA players to compare a 5-foot-9, super athletic, and aggressive high school point guards to so Cone fits the bill here. He is super quick off the dribble, can play above the rim if needed and is a guy who brings the juice and excites the crowd.

Recruiting: Ole Miss, UNC Greensboro, Virginia Tech have offered, N.C. State, Wake Forest and others watching close.

Comparison: Jordan Bell

Why the comparison? Like Bell in high school, Walker is an elite level athlete who plays with a tremendous motor and is capable of defending multiple positions. That ability to switch up and down a lineup defensively combined with his rebounding and activity in transition make him productive.

Recruiting: Florida, LSU, Arkansas, Louisville and Tennessee.

NBA comparison: Avery Johnson

Why the comparison? The Little General 2.0. Cooper is a leader and communicator supreme on the floor with quickness and loads of confidence. Most importantly, all he does is win and he commands the respect of his teammates.

Recruiting: Alabama, Auburn, Florida, N.C. State, Georgia Tech, Florida State, Rutgers, Texas A&M and more.

NBA comparison: Brandon Ingram

Why the comparison? It's pretty hard not to be reminded of Brandon Ingram at the same age when watching Boston. Nice looking jump shot, smooth mechanics with his ball handling, a baby face and a thin build. Will Boston continue to stretch out like Ingram did? That I don't know but he's a big time prospect however you want to slice it.

Recruiting: Georgia, Georgia Tech, USC, Auburn, Florida, Florida State, Alabama, Texas and many others have offered.

NBA comparison: Eddy Curry

Why the comparison? I've been in the business for almost 20 years now and I haven't seen many guys who are anything like Cockburn physically. Nearly seven-feet tall and checking in at around 300 pounds with the love to play physical and surprisingly quick lift off the floor. Well, that's what Eddy Curry was like as a high school junior although Curry had a little more scoring polish.

Recruiting: Georgetown, Kansas, Pittsburgh, Arizona State, UConn, Syracuse, Oklahoma State, LSU, Providence, Oregon, St. John's and many more have offered.

NBA comparison: Aaron Afflalo

Why the comparison? Tough, physical all around player from California who can really defend and has a nice three-level scoring game? That's pretty much what Afflalo was like in high school. Now the long time NBA veteran was a bit taller and a bit more advanced offensively, but he also played hoops full time unlike London who splits time between basketball and football.

Recruiting: Almost the entire Pac 12 has offered London for football and will let him play hoops as well. Virginia has prioritized for basketball and would allow him to play football.

NBA comparison: Adrian Griffin

Why the comparison? This one is easy because I'm comparing Griffin to his father -- who I saw play in the early 90's at Wichita (Kans.) East when he was a high schooler -- and not surprisingly the physical traits are almost identical. He's a big wing, skilled, plays within the flow of the game and is one of the best 2021 prospects I've seen so far.

Recruiting: Seton Hall, Maryland, Wake Forest, Providence and St. John's have all made early offers.