EYBL Atlanta: Evans' Awards spotlight the top performers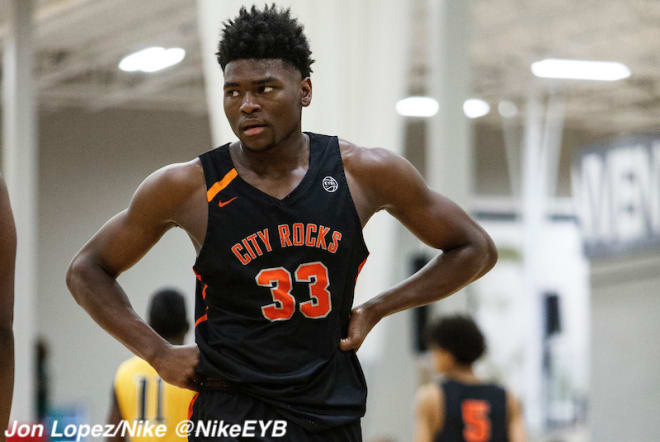 BEST HANDS
Velcro. That's what Isaiah Stewart's hands are. The star center with the Albany City Rocks was at it again in the Peach State, gobbling up rebounds like his life was dependent upon it, corralling double-digit boards in all four of his contests. In one outing he grabbed 10 rebounds on the offensive side of the court.

Stewart is a physical beast down low who has become fairly efficient in scoring over either shoulder. He is one of the surest soon-to-be college superstars in the high school game, and he was the catalyst for his team's undefeated weekend. An explosive, dominant big man who plays to his strengths, there is no taking the ball away from Stewart whenever he gets his hands on it.

Duke, Villanova, Georgetown, Notre Dame, Texas, Louisville and a slew of others continue to make him a priority.
MOST TALKED ABOUT
No one made a bigger name for himself in Atlanta than Jaden McDaniels. There were a handful of remarkable performances from Cole Anthony, Boogie Ellis and Rocket Watts, but the production and unlimited upside from the Pacific Northwest native has McDaniels on the short list of the best wing prospects in the 2019 class.

Capable of touching every portion of the stat sheet, McDaniels is a jack-of-all-trades prospect who can shoot, rebound, handle and defend. He isn't an outgoing character on the floor, as he is more about letting his game do his talking. The younger brother of San Diego State star Jalen McDaniels, the top-50 wing is averaging over 20 points, nine rebounds and two assists on the Nike circuit this spring.

He is on the fast track to a coveted five-star rating and a blueblood recruitment. Texas, Oklahoma, Arizona and Washington have already made him a priority.
BEST PASSER
Jalen Johnson is a playmaking wing-forward for the Basketball Universe 16-under brigade. A special prospect in the 2020 class and a five-star recruit who doesn't lack for versatility, Johnson was a key cog to his team's dominant run to the 16-under championship over the weekend.

Johnson, an unselfish player, was super-impressive as a dynamic distributor who accurately found the open teammate at the most opportune time. One of the most difficult match-ups in high school ball, there is a reason why practically the entire Big Ten has offered Johnson already.
TOP BUCKET-GETTER
Already slotted firmly in the top-50 of the 2020 class rankings, Cam Thomas came out with a purpose in Atlanta. A 6-foot-2 guard who has become more athletic by the day, Thomas is still not an explosive leaper, but he is a tough sophomore guard that - to put things bluntly - just gets buckets.

The four-star guard kicked the weekend off with a 38-point outing, as he converted all 19 of his foul shot attempts. He wasn't as efficient his next time out, but he more than made up for it with a 35-point outburst on Saturday evening. Capping things off with a 32-point performance, his polished three-level scoring abilities set the bar at the third session of the Nike EYBL and proved that he is one of the best scorers in high school ball (while also playing a year up).
TOP BREAKOUT PLAYER
Making the decision to reclassify and use a prep year at Sunrise Christian this fall, Tray Jackson looks to be someone who the high-majors are largely missing out on. He has kept his options slightly ajar for college next season, and DePaul, Xavier and Creighton would love to have him. Regardless, Jackson looked like a sure-fire Rivals150 prospect in Georgia. The long and slender forward has shades of former Syracuse pledge and now NBA G-League-bound Darius Bazley in his game, thanks to his dexterity, his ability to create his own shots and hit to beyond the arc and sneaky athleticism at the basket. He began the event with a 24-point, four-rebound affair, and continued his strong play all weekend while cementing his status as the weekend's top breakout performer.
BEST BACKCOURT
The Houston Hoops backcourt is star-studded. Three years ago, it was Carsen Edwards and De'Aaron Fox carrying the baton for the Texas-based program. Now, it's another group that could be known as the best perimeter core in America.

Recently committed Kentucky guard Tyrese Maxey leads the way. The entertaining, dynamic junior does it all. He makes the pass when needed, but he's more than capable of putting points on the scoreboard by the bunches. Alongside the UK pledge is top-50 guard De'Vion Harmon, an Oklahoma commit who is wired to compete and defend. Capable of playing both guard spots, he is also more than willing to give up a good shot leading to a great one, which were sometimes found by Texas A&M commit Chris Harris.

To top it off, there is super-underrated junior Donovan Williams, the definition of a glue guy at this point who could have his breakout in college. Together, the four are tough to beat as they ended the weekend with three wins.
BEST TEAM
Undefeated in the Nike EYBL this spring with a spotless 12-0 record, Team Takeover picked up even more steam in Atlanta, thanks to the introduction of five-star center Armando Bacot to its roster. For anyone else, adding Bacot would be a humongous deal, but for the program out of the nation's capital, it was a minor blip on the radar.

Team Takeover ended the weekend by starting its bench five and didn't give a minute to its starting five - and still won its game by over 20 points. The team consists of commits to Yale, Villanova and Virginia, along with two five-star centers, a Rivals150 junior, a five-star sophomore point guard and a slew of others that will likely lead successful college careers. It all adds up to arguably the deepest travel team the Nike EYBL circuit has ever seen.