EYBL Atlanta: Bossi's Saturday notes and takeaways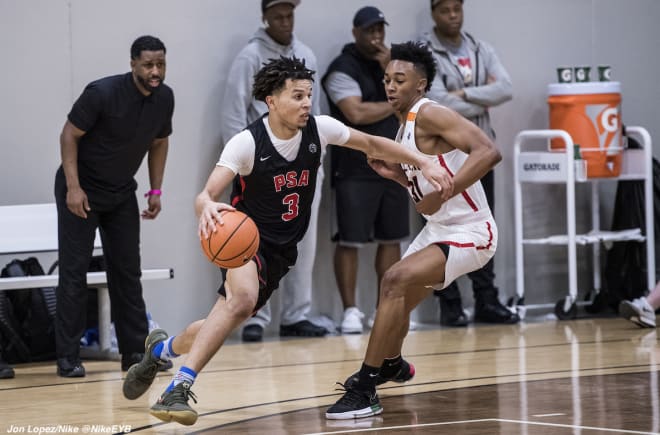 EMERSON, Ga. -- Cole Anthony showed why he's the top-ranked point guard in the class of 2019 on Saturday at the EYBL. More on him and others in National Basketball Analyst Eric Bossi's scouting notes and takeaways from Saturday in the Atlanta area.

COLE ANTHONY IS BACKING UP HIS STATUS AS THE TOP PG IN 2019
If he hadn't already established himself as the top point guard in the class of 2019, Cole Anthony went a long way towards doing so on Saturday night.
The 6-foot-2 junior from New York was downright dominant in a highly anticipated matchup between his PSA Cardinals and five-star point guard Jalen Lecque's Renaissance team.
Anthony did it all. He beat defenders with speed, skill, changes of pace and then scored in any way imaginable. His energy was tremendous and he had a big crowd roaring with approval.

To date, he's kept his recruitment quiet but wherever he lands, Anthony will be an instant impact player.

VERNON CAREY AND JAMES WISEMAN ARE STILL BATTLING AT THE TOP
Another weekend is coming to a close and the battle between Vernon Carey and James Wiseman for 2019's top spot isn't getting any easier to decide.
Carey's Nike Team Florida suffered a loss in the afternoon, but the skilled big man was completely unstoppable. He hit smooth jump shots, beasted defenders at the rim and made offense look easy. At this stage, he's more polished as a scorer than Wiseman is.
On the other hand, Wiseman is a bit taller than Carey, protects the rim more and has the mobility edge. Wiseman's biggest issue has been a lack of strength but he's addressing that in the weight room. Because he's not quite as polished as Carey, Wiseman is probably a little more dependent on his guards getting him involved than Carey is. Still, he was quite active on Saturday and has made big strides since the early part of 2018.

LIDDELL IS STEPPING UP HIS GAME
When I saw E.J. Liddell during the high school season, he dominated on both ends of the floor with his offense, shot blocking and rebounding. So far this spring, Liddell had shown glimpses of the production that got him ranked in the national top 50 but he had been a bit inconsistent.
This weekend, consistency has not been an issue for Liddell. He was impressive on Friday night against MoKan Elite and then on Saturday he was super productive in his Bradley Beal Elite team's win over James Wiseman and the Bluff City Legends. Liddell is quick off the floor and creates a mismatch problem as a combo forward.
Illinois, Missouri, Iowa State, Iowa, Ohio State, Kansas State, UConn, Louisville, Georgetown and more remain involved.

FINAL SATURDAY THOUGHTS
... The evolution of five-star Trendon Watford has been impressive. He's passed on settling for jumpers and is doing a great job of mixing drives, playing strong and faceup skill. He should be totally college ready. Alabama, Indiana, LSU and Memphis are among those who look to be in good shape with him.
... Another player who looks ready for the physicality of college basketball is point guard Jahmius Ramsey. The top 35 prospect from Texas is an explosive driver and potentially elite on the ball defender.
... It has been a really nice spring for Keion Brooks. What has really struck me is his ability to put the ball on the floor and his passing. Brooks is known as a scorer and he can certainly do that, but the 6-foot-8 forward is a high IQ basketball player on top of everything. Indiana, Kentucky and Michigan State are among those battling hard and his production has been impressive.
... The class of 2019 looks to be a little lean on high level jump shooters and becaue of that Brandon Newman should see his stock go up. The Rivals150 guard has good size, is a fine athlete and can really strip the nets from the three point line. Xavier, DePaul, Rhode Island, Loyola (Chicago) and more have offered but it won't be a surprise to see Big Ten programs start to prioritize him.