EYBL Atlanta: Kahlil Whitney is trending up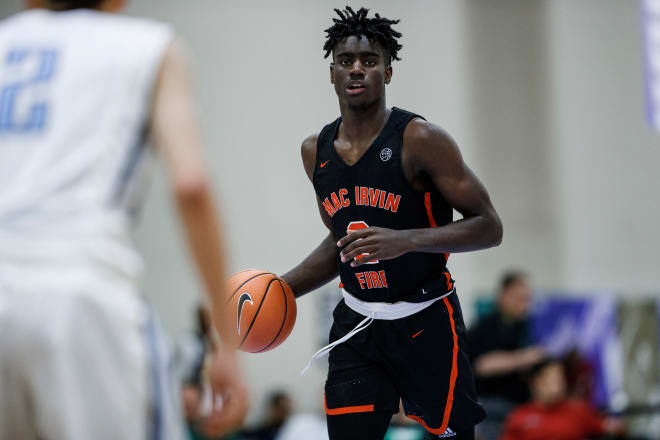 EMERSON, Ga. -- Talk about trending up, four-star junior wing Kahlil Whitney's stock is rising as fast as anybody else in the class of 2019.

Running with the Mac Irvin Fire on Saturday at the EYBL, Whitney showed off big time athleticism, a much improved jumper and a more well rounded and aggressive style of play that has the likes of Illinois, Louisville, Georgetown, Seton Hall, Syracuse, St. John's, Virginia and others hot on his trail.

"I think my confidence has improved," said Whitney. "I wasn't that confident at the beginning of my season in high school so I came out here and worked on my game and came out real confident."
RELATED: Bossi's Saturday EYBL takeaways
Though Whitney plays with a summer team from Chicago, he plays his high school ball in New Jersey. Seton Hall is all over him and Whitney's father played for the Pirates, but there's no pressure to follow in his father's footsteps.

"He pretty much tells me that he wants the best fit for me and I respect that 100%," said Whitney. "He doesn't lean me towards any school because he went there so that's a good thing."
Brad Underwood and the Illini have showed Whitney as much attention as anybody and has established a good relationship.

"I have a great relationship with those coaches," said Whitney. "We talk almost every other day so it's good."
Louisville has turned things up.

"Coach (Chris) Mack, coach (Luke) Murray are always calling me and they show a lot of interest in me," said Whitney. "So I respect that."
At Georgetown, assistant coach Louis Orr recruited Whitney's father and there is a strong bond.

"Coach Orr is a genuine guy," said Whitney. "If I'm not going to Georgetown, or if he thinks I'm not going to Georgetown, he's going to just keep telling me what I need to do to get better. He's the type of guy who is genuine, he's got love for me."
Whitney also talked about his in home visit with St. John's.

"It was great, coach (Chris) Mullin came out with the whole coaching staff and they had a sheet with my scouting report to help them get better," said Whitney. "We just talked about my future."
As for the next step in Whitney's recruitment, chalk him up as an "after the summer" guy in terms of when he will make a final list of schools.