Evans Seven: Where the top seven uncommitted 2019 prospects stand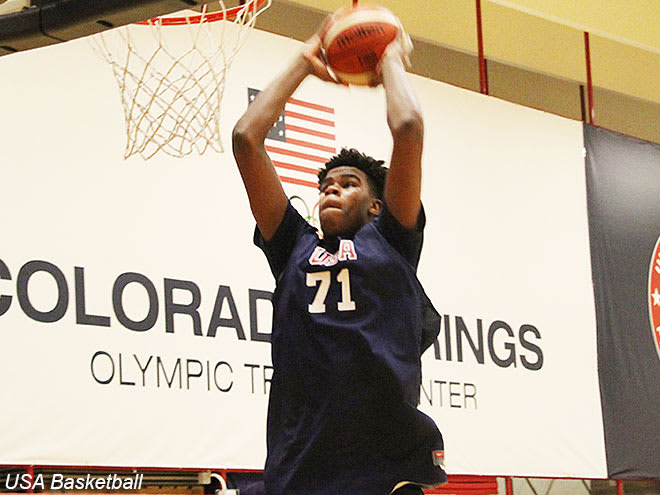 The Early Signing Period is just days away and while more than two-thirds of the Rivals150 has already given their college commitments, a number of five-star prospects remain. In this week's The Evans Seven, we assess the recruiting pictures for the top seniors available, which programs might win out and if a signing will happen next week.
MORE EVANS: Three-Point Play | Wednesday Leftovers | Twitter Tuesday mailbag

Early Signing? No
Primary contenders? Duke, Kentucky, Michigan State and Miami
The top-ranked player in America began his official visit tour much earlier than others by seeing Michigan State in February. While many believed that Duke would be his eventual landing spot, the Spartans have remained a heavy factor throughout and have picked up even greater steam while the Blue Devils fell back to the pack.

Each of his finalists have hosted Carey thus far and MSU will receive another one this weekend. Duke offers its historic legacy and an immediate void down low, Kentucky offers the one-and-done blueprint, Miami offers the hometown sell, and UNC offers its heavily reliant big-man system heavy.

However, Michigan State getting his last visit before a commitment could be all that Tom Izzo needs to secure his first ever top ranked commitment during his coaching tenure. Carey will not sign early, but a decision is imminent. MSU has the best shot as Duke and Miami are right on their heels; Kentucky or UNC are facing an uphill battle.
Early Signing? Yes
Primary contenders? Kentucky and Memphis
The most heavily covered prospect from the 2019 class, Wiseman has been the caught between a rock and a hard place since Penny Hardaway took over the Memphis program. Beforehand, his recruitment was practically done in favor for Kentucky. However, Hardaway's hiring changed things thanks to his coaching of the big man on the high school and travel platforms. Memphis fans have clamored for the top talent to attend the AAC institution.
Wiseman surprised some last month by speeding up his commitment date and stating that he was leaning towards an early signing. Memphis is the team to beat now and while Kentucky would love to make him the face of its program, the Tigers could be on the precipice of a top-five class nationally thanks to the signing of Wiseman next week.

However, do not discount Florida State, Kansas or Vanderbilt, his other finalists, with FSU as the major dark horse.
Early Signing? No
Primary contenders? Notre Dame, Oregon, UNC
Getting Anthony to talk about his college recruitment is as difficult as it would be for me to get a date with Jessica Alba. Seriously! Regardless, not much is known about Anthony outside of finding the proper college coaches to speak with and taking note of what he decides to release on his social media accounts.

The top ranked guard prospect in the 2019 class, Anthony has remained adamant about signing late, but he has begun to speed things up of late, first narrowing his school list to 12, taking three fall official visits, and then cutting his school list again to a final six.

It would be a major shock if Anthony were to sign early next week as his recruitment is less of a sprint and more about evaluating his finalists throughout the college season. Georgetown, Wake Forest and Miami remain involved but most of the talk has surrounded Notre Dame, Oregon and UNC, the three schools he has already visited. Things are shaping up for Anthony to ends up in Chapel Hill and makes it known during the late signing period in the spring.
Early Signing? No
Primary contenders? Kentucky, San Diego State, Texas, UCLA, Washington
The breakout from the travel season, not many know which way McDaniels is leaning and that thought might even be shared by the people closest to him.

Washington is a program that has recruited McDaniels for the longest and the fact that they can offer him the chance to be the man from day one, play in front of his family and friends in likely his lone year on a college campus, and holds the commitments of two of his travel teammates do not hurt its cause.

However, San Diego State has a strong rapport with him, too, as his brother, Jalen McDaniels, currently stars for the Aztecs. Texas isn't too far behind due to Shaka Smart's early investment in the five-star, as Kentucky and UCLA remain on the prowl as he will visit UK this weekend and potentially UCLA the following one.

A commitment might not be too far off but a signing is likely to come in the spring as SDSU, Texas, and Washington sit in the best spot and the Huskies might have the slight lead.
Early Signing? No
Primary contenders? Duke, Michigan State, Washington
Maybe the most intriguing recruitment this fall, it is a total guessing game with Stewart. What we know is that wherever he does go, that respective program should enroll arguably the most college-ready big man from the 2019 class.
Could he go the blueblood route and choose Duke or Kentucky? What about staying local, whether it is near his home base at Syracuse or located closer to his La Lumiere School abode with Michigan State? How about going totally against the grain and selecting the furthest thing from each and calling Washington as his landing spot? Do not bet against the Huskies as Stewart's relationship with Mike Hopkins is rock-solid and he has never been shy about doing things his own way.

Expect a college commitment in the coming weeks, though an early signing is not in the cards.
Early Signing? No
Primary contenders? Duke, Kansas, Kentucky, Memphis, UNC
Hurt has a diverse mix to his recruitment and is one of the few elite players that has yet to take an official visit or even narrow his school list.

Many believe that this is going to be a battle between the top name brands nationwide. Hurt is in no rush as he understands that he has all the leverage seeing that his game and talent is elite. A spring signing is definitely in the cards.

Kansas and UNC were the leaders very early in the process and not much has changed since then. Duke, Kentucky, Memphis and a slew of others have worked their way into the mix as each could have a say before he puts things to bed. However, it is difficult to bet against the Jayhawks or the Tar Heels.

Early Signing? No
Primary contenders? Kansas, Memphis, St. John's, UCLA, UConn
Attempting to pick a college home for Achiuwa? Try just selecting the schools involved with the top-10 forward.

Like Hurt, Achiuwa is among the few that have yet to take an official visit or even narrow his school list. The native of Nigeria calls New York City as his home and thanks to his brother's (God'sgift Achiuwa) time with the St. John's program a few years back, do not discount the Red Storm with the now Montverde star.

UConn has made great in-roads with him and the hiring of assistant coach Kimani Young has not hurt their cause thanks to his past with the New Heights travel program, the same unit that Achiuwa suited up for in recent summers.

The northeast programs are not alone though, as Florida State, Kansas, Memphis and UCLA have been talked about with him, too. Not much movement has taken place in recent weeks but Memphis received a surprise visit from Achiuwa last month and since then, picked up momentum within his recruitment.

A signing will be done in the spring with this being a battle between powers near his home base and those that tend to look nationwide in securing talent.