Evans Seven: Another weekend of big visits for Duke, other programs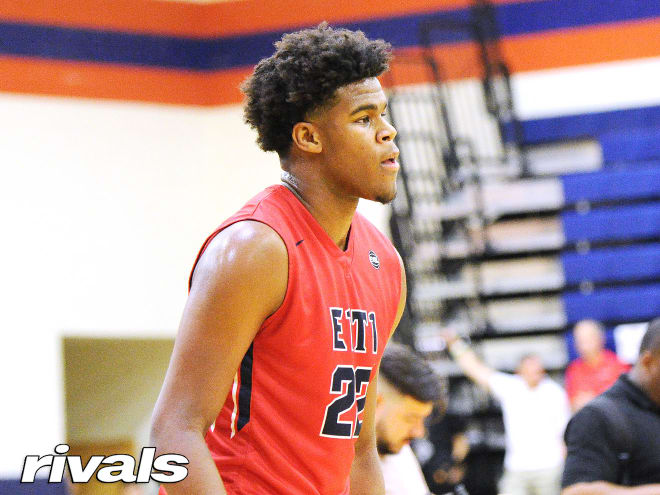 1. DUKE 
It's a major, major weekend for the Blue Devils, as they are set to host three top 10 prospects. Priority No. 1 is Vernon Carey Jr., the top-ranked player in the 2019 class. While he has been to the Durham campus in the past, this will be the Blue Devils' first chance to wine and dine the South Florida product for a full 48-hours. Countdown to Craziness on Friday evening should only help Duke's chances, as the Blue Devils officially begin the season with their own version of midnight madness. Duke is playing catch-up some, and Michigan State, Miami and Kentucky are in the mix.

Top 10 juniors BJ Boston and Jalen Johnson will also be on campus, each spending an official visit. The Blue Devils are the favorite for each, but as we have seen in past months, Duke needs to keep its foot on the pedal as it tries to lock down commitments from either of the two sensational prospects.

2. OREGON
The Ducks got some ink in this space last week by hosting four Rivals150 prospects, and this week remains just as important in Eugene. While Oregon's football program is playing elsewhere, these next few days will all be about basketball and how the Ducks might be able to properly pursue the top-ranked guard prospect in America, Cole Anthony. He has already visited UNC and Notre Dame, and the Ducks round out what seems to be an unwritten top three for the Oak Hill Academy product. A cut list is on the horizon for Anthony, but a commitment is not expected until the spring. Oregon is planning on selling its skill development, brand recognition and entertaining playing style with the five-star.

Joining him in Eugene will be Chandler Lawson, the third Lawson brother whose older two siblings will see their eligibility begin again this season at Kansas. A high school teammate of Anthony's, Lawson is considering Memphis, Ole Miss, Georgia Tech and a slew of others as he will likely being signing late in April.

3. MICHIGAN STATE 
It's a critical weekend for the Spartans, and no, we are not talking about the battle between Mark Dantonio and Jim Harbaugh on the football gridiron. Tom Izzo will bring one of his top frontcourt targets to campus, as Isaiah Stewart, a top-five senior and one of the most productive players in America, will spend an official visit.

Stewart has been to the East Lansing campus a number of times since his move to the nearby La Lumiere School last fall, but this trip to MSU will be different. The Spartans are salivating over enrolling a premier frontcourt prospect next year, and while they have a great chance with Vernon Carey Jr., Stewart is closer to committing.

Of course, Izzo would love to have them both. This will be Stewart's fourth official visit, as he has already been to Syracuse, Kentucky and Washington, and he could potentially line up one more before coming to a decision. If a decision is made in favor of the Spartans, it might be aided by Rocket Watts, Michigan State's top 50 commit who will also be on campus this weekend.

4. PURDUE 
It's a big weekend in West Lafayette, as Urban Meyer and his Ohio State Buckeyes come to town, and that gives Matt Painter the chance to impress a throng of talented prospects over the next few days. The most heavily tracked recruit who will be on campus is Hunter Dickinson, a five-star center from the highly regarded DeMatha Catholic program, who will be taking his second official visit of the fall.

He visited Notre Dame in early September. The Boilermakers are one of the best at landing and then cultivating 7-foot talent, and they're hoping that Dickinson might be the next in line. They have tried to sell him on the idea of following Isaac Haas and Matt Haarms. A commitment is not expected any time soon, but a good visit to the Midwest program could do wonders for the Boilermakers when it is time for Dickinson to decide.

He will not be alone this weekend. Saturday, he will be joined by three-star juniors Jaden Ivey and John Hugley, along with sophomores Kalen Etzler and Michael Eley.

5. ARKANSAS 
With their football team sitting in the basement of the SEC West, Hogs fans are already beginning to turn their attention to what Mike Anderson's squad can do this season. This weekend, he will give the Arkansas fan base its first look at what might be in store, thanks to its annual Red-White Game.

Questions remain as to how the Hogs will fill some of the holes alongside all-league honoree Daniel Gafford, but this weekend will be about the future. The top in-state prospect in the 2020 class, although he is suiting up for the talented Montverde Academy program in Florida, will return home. Moses Moody, a top 40 junior, has been a heavily coveted recruit for Anderson and his coaching staff for the past two years, and that attention has not dwindled one bit. Joining Moody will be Matthew Murrell, a Rivals150 junior from Memphis, and Bryce Thompson, who will be taking his third official visit of the fall, as he has already been to Texas A&M and Colorado. None of the three players are near a commitment, but quality visits to Arkansas will only help the Razorbacks' cause.
6. LSU 
LSU finds itself spotlighted again in The Evans Seven, thanks to the game-day environment that Ed Orgeron's football team creates on the Baton Rouge campus. Will Wade took advantage of that setting last weekend by bringing some of the best prospects from the surrounding states, and he will do the same this weekend.

His primary focus will be five-star senior CJ Walker. LSU is a member of his final three that also includes Oregon and Miami, and Walker's trip to the Bayou is ultra-important in replacing the potential one-and-done departures of Nazreon Reid and Emmitt Williams after this season.

Five-star junior N'Faly Dante, who went to Oregon last weekend, will be on hand as LSU attempts to woo the super-talented center. Joining him will be Charles Manning, one of the more highly regarded junior college prospects who is completing his time at Florida Southwestern College this year. Manning will spend an official visit before visiting Drake the following weekend. LJ Cryer, a four-star junior, will also be on hand. The Tigers have already offered the talented combo guard.

7. FLORIDA STATE 
While the football program in Tallahassee hasn't enjoyed much success, there are good vibes around Leonard Hamilton's basketball team entering the new season. While the Seminoles prepare for another run in the ACC, their focus this weekend will be on solidifying their frontcourt for years to come.

Second-ranked senior James Wiseman comes to town, and he is a bit of a long shot. Still, Florida State is in his final five. He will complete his visit tour to Memphis next weekend, but Hamilton will be doing all he can this weekend to sell Wiseman on his resume in regards to developing frontline talent.
Wiseman, a Memphis East product, won't be alone, as four-star center Balsa Koprivica heads to Tallahassee for his first official visit this fall. Not much has been said about the recruitment of the Serb, but it would not come as a surprise if the Seminoles were to officially add him to their 2019 class during the Early Signing Period.