Five-star Trendon Watford nearing next stage in his recruitment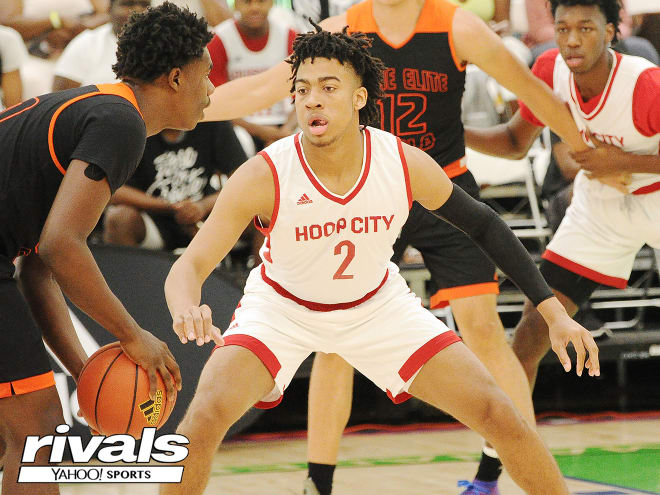 MORE EVANS: Twitter Tuesday | Evans Awards from adidas
LADERA RANCH, Calif. – After navigating his way through a high-interest recruitment during his high school career, five-star Trendon Watford is approaching the next step of the process.
"It is going good. My top schools are still recruiting me so I am just enjoying it all right now," he said. "Probably after Vegas, I will begin to schedule some visits. I am still open right now but whichever school is really recruiting me hard I will probably visit."
While Watford is ready to take his official visits, he is not ready to make a college commitment and will likely sign in the spring.
Alabama, Indiana, Florida State, Vanderbilt, Memphis, Kansas, Mississippi State and TCU make up his top eight.
IN HIS OWN WORDS
Alabama: "They were really the first one that recruited me hard and overall, they are just a great school."
Indiana: "It is a great school and I am familiar with them since my brother (Christian Watford) played there. I have built a good relationship with coach Archie (Miller) and the rest of their guys."
Memphis: "Great relationship with coach Mike Miller and coach Penny (Hardaway) and I am enjoying building that with them further."
LSU: "I took an unofficial visit down there and will probably take another unofficial visit there. It was great. The guys weren't on campus yet but I sat down with the coaches and we talked basketball and how I would fit in there.
"I have a strong relationship with coach (Will) Wade and coach (Bill) Armstrong and we are just building that up."
Kansas: "They are still recruiting me. Coach (Bill) Self, he was my coach at the USA Basketball camp so I have a very good relationship with them, too."
RIVALS' REACTION
Watford is one of the most versatile prospects in America. A 6-foot-8 forward that can be used in a variety of capacities on the offensive end, he can make shots to the perimeter, act within a point-forward role as a facilitator and is also one of the top rebounders in his class.
Memphis has picked up some momentum in recent weeks, though Alabama has remained a factor for the past two years.