Elite forward Zeke Nnaji sets a late visit to an ACC school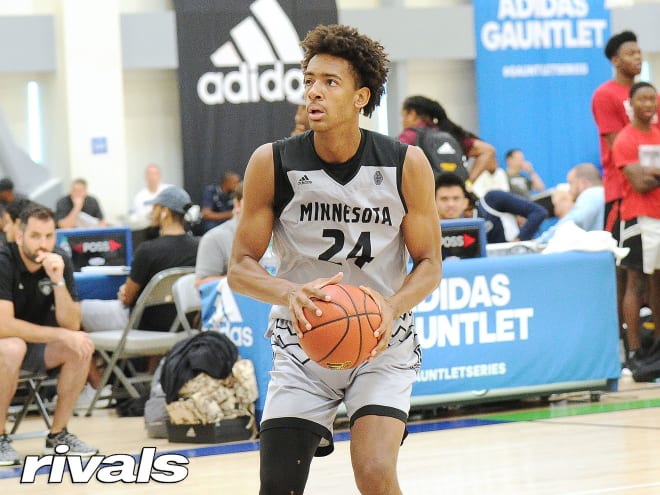 MORE: Five-star big man Will Baker chooses Texas | Top 40 senior Jahmius Ramsey opts for Texas Tech
One of the top forwards in the 2019 class, Zeke Nnaji, has had a busy fall. He recently completed official visits to his final five schols, Kansas, Arizona, UCLA, Baylor and Purdue. Things looked to be nearing an end after he set a decision date of Nov. 24, but one school is entering late in the game.
North Carolina had an in-home visit with the No. 37 prospect this past Sunday, and it appears that Roy Williams and his staff made a good impression with Nnaji and his family, since he's planning to visit Chapel Hill unofficially next weekend.
"I know North Carolina is coming in late, but they offered me a couple weeks ago and made the effort to come visit me and my family so we just want to go check out the school and everything," Nnaji said. "Choosing a school isn't a decision I take lightly, so it just makes sense to take a visit out there and get to know the program a little better."
As it goes for most blueblood programs, Nnaji is familiar with the history of North Carolina and what Williams has done to develop players for the next level. This was a key discussion point during UNC's in-home visit.
"Coach Williams and coach (Brad) Frederick just told me they like my style of play and wanted me to come out and see how the team practices and stuff like that," Nnaji said. "That was their main pitch to me. I know he's a Hall of Fame coach and has done a good job getting guys to the NBA, which is my ultimate goal."
The visit to North Carolina will come a week before Nnaji's announcement date and whether or not that will be enough time to edge out the other five schools in his final list, only time will tell.
IN HIS OWN WORDS 
Nnaji just wrapped up his five official vists to Kansas, Arizona, UCLA, Baylor and Purdue, and breaks down each visit with Rivals.com.
KANSAS: "It was great visit. I really enjoyed hanging out with the players and I feel like it was a good way to start out my official visits. It was great to just sit down with the coaches and have them answer all my questions like: What role would I play? How (do) they see me fitting into the offense? Ochai Agbaji was my host, and he was just telling me all about practice and how coach (Bill) Self really pushes them each day. I hear from coach (Norm) Roberts, so they're staying in contact."
ARIZONA: "The visit was really cool. Josh Green and Niko Mannion were there, too, so it was good to hang out with them. They were talking to me all weekend and just saying things like, 'If we all came here together we would have an amazing class,' and things like that. We went to the Red and Blue Game and the fan atmosphere was good and I really liked being able to see how the team plays. I have a good relationship with all the coaches there, and it was just nice to see more of the campus life and talk to the players."
UCLA: "Russell Westbrook was there during my visit and it was cool to talk to him. He was just saying how you have to work hard every single day. The greatest in the game never stop working, they never stop developing their game. And then he just asked, 'Don't you want to have my job and be great like me? You have to put the work in.' So that was definitely a highlight. I talk to coach (Duane) Broussard a lot, and the coaches just said they like to have two versatile bigs on the floor. One can be inside and one outside, so that's how I would fit in there."
BAYLOR: "They're a great program and I have a strong relationship with all the coaches. I hear from every coach on their staff almost every day. The visit was good. I got along with all the players and you can see there's a camaraderie between the players and coaches. It really feels like a family. They're definitely an underrated program in the Big 12, and a lot of people don't realize how good they are. Coach (Scott) Drew has done a really good job."
PURDUE: "It was a really good visit to end on. I really like the campus and we went to a football game when I was there, so that was cool. Coach (Matt) Painter is a real honest coach and I appreciate that. They said I remind them of Vince Edwards a lot and a couple other guys that have come through. They offered early on in the spring so I've had a chance to get to know the coaches and the program really well."
WHAT'S NEXT?
After the late UNC visit, Nnaji and his parents will have a week to talk things over. As it stands right now, no team is the leader and he's just waiting to weigh the pros and cons of each school after his visits are all over.
"I honestly enjoyed every visit, and right now I'm just letting it all sink in. No team is ahead of another, and that's the truth. I could see myself playing at any of these schools," Nnaji said.
What will be important during the decision process with his family? A trustworthy coaching staff was the first thing mentioned.
"I'm ultimately looking for a place with a coaching staff that I can trust," Nnaji said. "They're not just giving me fluff, they're really being honest and telling me what they expect from me and what I should expect playing as a freshman. I want to go to a place where I can make an impact right away. One of my goals is to be a one-and-one player so choosing a school that can push me to get there is important too. I'm also looking for a coach that let's me play through mistakes and continues to allow me to learn through those mistakes."
RIVALS REACTION 
Nnaji speaks highly of each program, and it was difficult to gauge if he was leaning one way or the other with these six schools. The good news is Nov. 24 is right around the corner, so fans won't have to wait much longer.
North Carolina is entering way late but never count Roy Williams out in a situation like this. There's no way Nnaji and his family would take the long trip to Chapel Hill if UNC wasn't a true contender.
Purdue also looks to be in a good spot with Nnaji's solid relationship with Painter and the ability to come in and be impactful as a freshman.There has also been a lot of behind-the-scenes talk about Kansas and Arizona being in good spots.

Nnaji is a true inside-outside forward with speed and a dangerous jump shot. A relative late bloomer, he has significant upside and a high ceiling for growth.