Class of 2017 All-Summer Team: Predicting where they'll go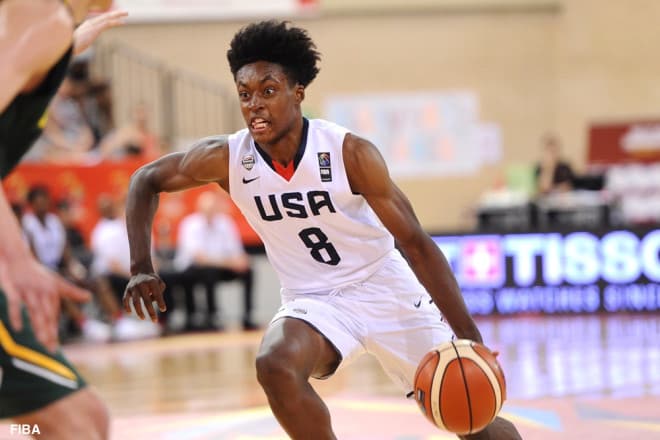 The summer of 2016 has come and gone and it's time to name Rivals.com's Most Valuable Player and All-Summer Team from the classes of 2017, 2018 and 2019. We start today with the senior class where Collin Sexton experienced a meteoric rise from relative obscurity to five-star status over the last four months.

Most Valuable Player
Summer performance: The combo guard with the electric first step wasn't a total unknown entering the spring and summer, but nobody knew he could be this good. An explosive scorer who got to the rim at will, Sexton seemingly got better on a weekly basis. He led Nike's EYBL in scoring, earned an MVP while helping USA Basketball win a 17U gold medal and finished things out with a monster performance in Las Vegas. He's already moved up to No. 12 in the rankings but has made a case for the national top five.
Recruitment: Sexton has a final 10 of Alabama, Arizona, Florida, Georgia Tech, Iowa State, Kansas, North Carolina, N.C. State, Oklahoma State and Villanova.
Prediction: Alabama
All-Summer Team
Summer performance: The No. 1 player in the senior class, Ayton looked like it every step of the way. He was a dominant scorer and rebounder for California Supreme in Nike's EYBL, he tore up Adidas Nations and showed off an impressive array of skill, size and athleticism all summer. His spot at No. 1 is safe.
Recruitment: Top three of Arizona, Kansas and Kentucky.
Prediction: Kansas
Summer performance: Another of the EYBL's dominant big men, Carter was a walking double-double for most of the summer. He was part of USA Basketball's 17U gold medal squad, helped Team CP3 win The 8 in Las Vegas and he finished strong at Adidas Nations. Carter is a center who can shoot to 17 feet, controls the paint and protects the rim.
Recruitment: Final eight of Arizona, California, Duke, Georgia, Georgia Tech, Harvard, Kentucky and North Carolina.
Prediction: Duke
Summer performance: The highest-ranked player on Under Armour's The Association circuit at No. 5 overall, the 6-foot-1 point guard was the face of the UA circuit. If there was any pressure, Duval never showed any ill effects from it as he routinely put up good numbers and led his We-R1 squad deep into tournaments. He's strong and quick in traffic, and backed up the hype.
Recruitment: Duval has yet to cut his list but has offers from Arizona, Baylor, Connecticut, Indiana, Kansas, Maryland, Oklahoma, Syracuse and Villanova among others.
Prediction: UCLA
Summer performance: One of the top point guards of the summer, Green led the PSA Cardinals to the finals of Nike's Peach Jam. Green also made USA Basketball's 18U team and helped it win a gold medal. More of a scorer in the past, Green took his playmaking to an entirely new level during the spring and summer, and routinely rang up double-digit assists while becoming a top 25 player.
Recruitment: Green will soon cut a list of 13 that includes Duke, Georgetown, Temple, Louisville, Virginia, Maryland, Xavier, Kansas, Kentucky, Villanova, Seton Hall, Syracuse and Arizona.
Prediction: Duke
Summer performance: The 6-foot-5 wing from Washington D.C. had a super spring and summer playing for DC Premier. He put up big numbers, he was one of the better wing defenders and ranked No. 62 nationally in the class of 2017. He's an early steal for Xavier.
Recruitment: Committed to Xavier
Summer performance: The No. 2 player in the class, Porter put up huge scoring and rebounding numbers while leading MoKan Elite to a Peach Jam title. Pushing 6-foot-9, he can shoot from deep, puts the ball on the floor and has a well-developed level of skill. After he was done on the Nike circuit he went to Chile with USA Basketball's 18U team and won a gold medal.
Recruitment: Committed to Washington
Summer performance: The improvement in the 7-footer from Louisiana from this time last year to now has been quite astounding. Formerly just a skinny shot blocker, he's developed into an elite rim protector who offers much more. Robinson runs the floor, finishes around the rim and has proven that he's a capable shooter out to 15 feet. Already ranked No. 11, he's pushing for another bump in the rankings.
Recruitment: Committed to Western Kentucky
Summer performance: If there was a lunch pale award for consistently bringing it on both ends of the floor and being reliable, Washington would win it. Whether it was with Team Penny, playing for USA Basketball's 18U team or at events like the Pangos All-American Camp, Washington could be relied on for steady play and production in the lane while achieving top 20 status.
Recruitment: Final eight of Arizona, Kansas, Kentucky, North Carolina, N.C. State, Texas UNLV and UCLA.

Prediction: Kentucky
Summer performance: One of the premier scorers in the class of 2017, Weatherspoon is making a serious push for five-star status. A combo guard who has one of the top first steps in the country, he was consistently near the top of scoring lists on the Adidas Gauntlet, NBPA top 100 Camp and Adidas Nations.
Recruitment: North Carolina, Louisville, Mississippi State, LSU, Kansas and others are involved.
Prediction: Mississippi State
Summer performance: A top 15 player in the country, Young had a summer that one would expect for a floor general ranked so highly. He teamed with Michael Porter Jr. to help MoKan Elite win the Peach Jam title while averaging more than 25 points per game. He was terrific at the Pangos All-American Camp and was another member of the 18U USA Basketball team.
Recruitment: Final six of Kanas, Kentucky, Oklahoma, Oklahoma State, Texas Tech and Washington.
Prediction: Kentucky