Brandon Newman's future looks bright after a sizzling summer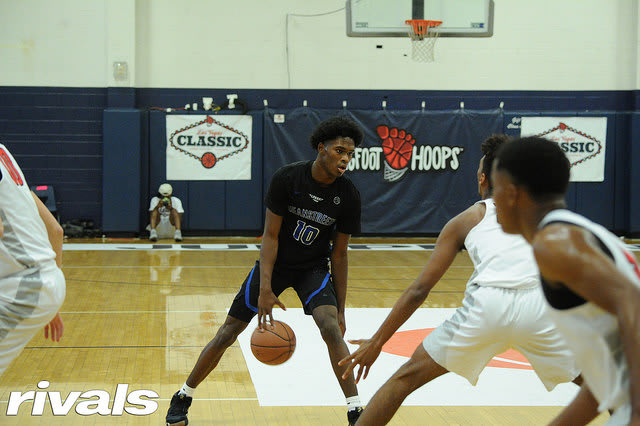 MORE: July stock boosters | Twitter Tuesday mailbag | The Bossi Awards from Las Vegas
LAS VEGAS – Brandon Newman, one of the best two-way guards in the 2019 class, has utilized the travel circuit this summer to improve his national standing. As he prepared to make the move to the famed Montverde Academy this fall, Newman recapped the surge in his recruitment.

"It has been great," Newman said. "It has been pretty exciting to see some of the work that I had put in start to pay off a little bit. As of right now, I am just enjoying the process and taking everything in."
Indiana, Purdue, Ohio State, Maryland, Xavier, Creighton, Kansas and Seton Hall are among the schools actively recruiting Newman, he told Rivals.com.
IN HIS OWN WORDS 
Indiana: "It means a lot to have them there. The best, if not the second-best school, in the state extending the offer to me, it means a lot. Right now, they're just telling me to keep being me and doing what I do."
Purdue: "It is a really good connection there with those guys. The assistant coaches and Coach (Matt) Painter, he calls me every couple of days and if not, at least once a week. I am on the phone with them a lot."
Ohio State: "Regarding D.J. Carton's commitment, their assistant called me soon after and they told me that I am still one of their guys ... in the 2019 class. They have kept that relationship going."
Kansas: "They just have been telling me to stay consistent, keep making shots, defending and that maybe I can get onto campus in August some time before I leave for school."
WHAT'S NEXT? 
Newman will complete his high school career as the starting 2-guard at Montverde Academy this winter.
Before making the move to Florida next month, Newman is hoping to visit a few power conference programs.
"Nothing is set in stone as of yet, but I am planning on getting to Xavier and Ohio State, two schools that I didn't make it down to earlier in the year," he said.
When might a commitment take place? Newman seems to be in no rush.
"Really, I just want to go down there, play hard, compete and get better," he said. "The college thing will take care itself. I want to go down there and play basketball and be open to everything. Whatever comes my way I am open to."
RIVALS' REACTION 
A 6-foot-4 scoring guard and a more-than-capable perimeter defender, Newman had a standout run on the Nike EYBL circuit this summer. Averaging over 18 points and five rebounds - all while making close to 40 percent of his 3-point attempts - Newman's game and skill set should translate seamlessly to the college level.
Look for a pair of unofficial visits to be taken to Xavier and Ohio State in August, as each should be thought of as strong contenders for his commitment. Purdue has also put a lot of attention into recruiting him, and more are likely to jump into the mix, especially if he decides to keep things open a bit longer than others in his 2019 class.