Bossi's Best: All-First Live Period Team
The first live period has come and gone, and the second one tips off Wednesday night. Before we move to the next five days of coaches following players around the country, National Basketball Analyst Eric Bossi – with input from Corey Evans and Dan McDonald – reveals his All-First Live Period Team.
MORE: What We Learned at adidas Gauntlet | Peach Jam | #TwitterTuesday
THE STARTING FIVE
Why is he a starter? There weren't any questions about who the most dominant player at the Peach Jam was, as Bagley III averaged 24.6 points and 14 rebounds per game despite facing every defense imaginable. He's likely done for the summer to focus on playing in Los Angeles' famed Pro-Am, the Drew League.
Recruitment: Bagley is down to Arizona, Duke, Kansas, Kentucky, UCLA and USC.
Why is he a starter? After missing much of the spring due to injury, the social media and YouTube star proved that he's gotten that fame because he can play the game of basketball at a high level. In his return, Williamson averaged a ridiculous 29.6 points and 13.2 rebounds per game at the adidas Gauntlet Finale.
Recruitment: Clemson and South Carolina are desperately trying to fight off Duke, Kansas, Kentucky and North Carolina to keep him home.
Why is he a starter? Anthony is another who had a monster showing at the Peach Jam. What you have to love about the New York native is how explosive he is in attacking the rim, the confidence with which he plays and that he can do it on both ends of the floor.
Recruitment: Anthony has elected to run a quiet recruitment at this point, but Kansas, Oregon, UCLA, Wake Forest, Miami, Pittsburgh and St. John's have offered while Duke, Arizona, Kentucky, Louisville and more are watching closely.
Why is he a starter? His Howard Pulley squad fell in the quarterfinals of the Peach Jam, but Jones put on a show in the process. He's a scorer at the rim who makes those around him better, and he's capable of taking opposing floor generals totally out of the game.
Recruitment: Duke is considered the favorite here with Minnesota, UCLA and others chasing.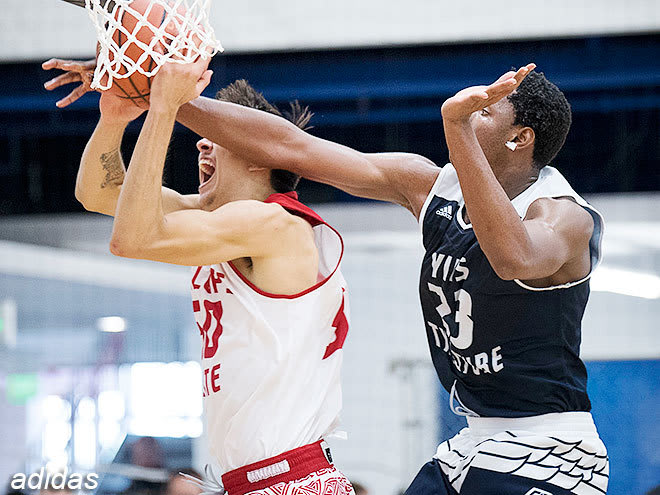 Why is he a starter? Bassey's stats weren't out of this world while helping lead his Yes II Success Texas Future team to a title at the adidas Gauntlet Finale, but his presence was. He had to be accounted for at all times and shut down the lane because drivers feared his ability.
Recruitment: Baylor, Kansas, LSU, Texas A&M and Western Kentucky are among those who are early factors in the recruitment of 2019's No. 2 player.
REST OF THE TEAM LED BY PERIMETER PLAYERS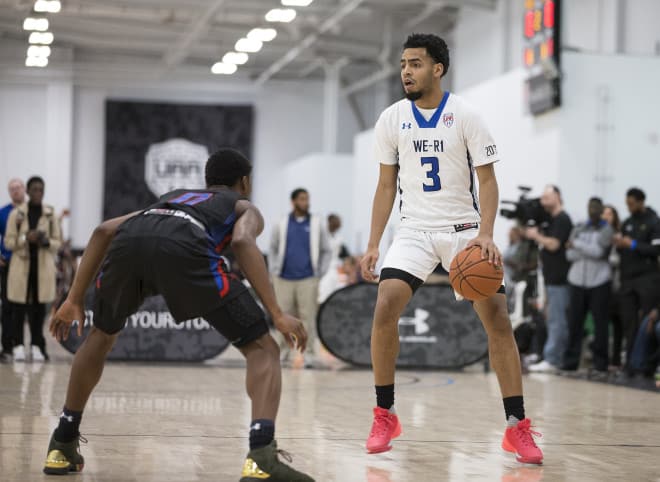 The class of 2018 is turning into the year of the point and combo guard, so it doesn't come as a surprise that the rest of the All-First Live period team is loaded with versatile guards.
From the Under Armour finals we'll put four-stars Eric Ayala, Anfernee Simons and Devon Dotson on the team. A physical combo guard who can score, Ayala's leadership and toughness stood out in leading WeR1 to a championship. Simons is maybe the best pure scorer on the Under Armour Circuit, and looks as if he's going to do big things at Louisville thanks to his jump shooting, sneaky athleticism and ability to score in droves. Then there's Dotson, pound for pound one of the toughest competitors in high school basketball and a winner. Florida, Kansas and Maryland continue to look as if they are emerging from the pack for Dotson.
The second-highest-ranked point guard in 2018 and a top-10 prospect, Immanuel Quickley, makes the list because of his attention to both ends of the floor at the adidas Gauntlet Finale. He also makes it because he's up to compete anytime, anywhere and in any event. Quickley has set official visits for Kansas, Miami and Kentucky the first three weekends of September. His other finalist, Maryland, will likely get another unofficial visit before he decides.
The last four slots are taken up by players from the Peach Jam: James Akinjo and Jericole Hellems along with established five-star big men Simisola Shittu and Emmitt Williams. A point guard, Akinjo led the Oakland Soldiers to a title win with his passing and scoring, while Hellems nearly tripled his scoring average from the EYBL regular season while showing a polished wing game. Shittu seems to have big-time programs catching on to his skill level and polish as a frontcourt scorer, while Williams is as mean and nasty a player as there is in the country.