Adidas Summer Championship: Zach Loveday garners big interest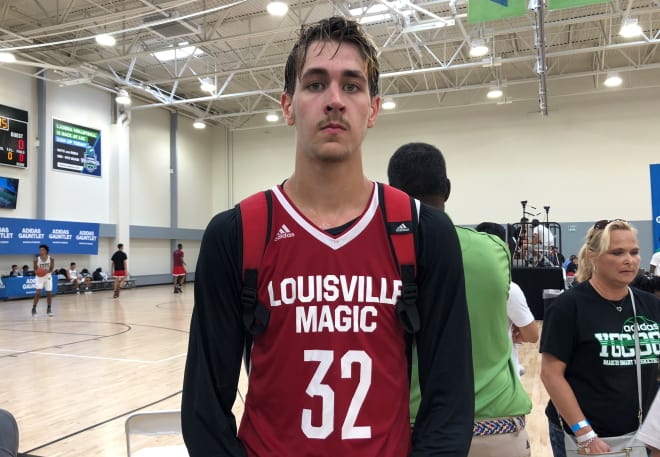 LADERA RANCH, Calif. – One of the top standouts on Saturday at the adidas Summer Championship was Zach Loveday, a four-star prospect in the 2020 class. Running with the Louisville Magic 16-under squad, Loveday has become a priority for the top Midwest programs as he is hoping to take a few school visits next month.
Standing close to 7-foot, Loveday can score out to the 3-point line, convert over either shoulder in the post and has a solid feel for the game in playing within high-low sets.
Ohio State, Purdue, Indiana, Xavier, Florida, Louisville, George Washington and Stanford have offered Loveday, with more offers likely on the way.
MORE ADIDAS SUMMER CHAMPIONSHIPS: Evans' Friday blog | Zeke Nnaji | Akok Akok
Michigan: "I really like them. Coach B (John Beilein) is a great guy. I liked the way that they played with (Moritz) Wagner. I got the chance to watch them play a lot. I really like the way that they used him and their bigs. I have been there before. I really like the campus. It is great with basketball and football, the two big things up there."
Ohio State: "It was good. I like Ohio State. Coach (Chris) Holtmann is a great guy. I have been able to watch them play a few times. I like the way that they use their big guys and someone like (Keita) Bates-Diop, I want to be more like that with playing inside out and stretch the floor."
Indiana: "I haven't been there before. I don't know much about them there yet but I do know that Archie Miller had great success at Dayton but hopefully I will get the chance to watch them more and get down there in the fall."
Louisville: "Coach (Chris) Mack, I love him. He actually had offered me while he was at Xavier. He is a great guy. He breaks the game down the way that he sees it."
Purdue: "They offered me the first time going into my freshman year. I like them. They are a big man school. Coach (Matt) Painter the way that he uses the big men in his offense is really impressive."
WHAT'S NEXT?
Loveday will complete his junior summer this month with the Louisville Magic 16-under squad. Next month, Loveday will be on campus at Purdue on Aug. 24 and he is also hoping to get to Indiana and Florida if his schedule permits.
RIVALS' REACTION
Loveday brings plenty of value and upside to the frontcourt. He is skilled, mobile, active and productive, and can be placed within various schemes on the offensive end.
Expect for the entire Big Ten to make Loveday a priority with several others becoming involved. Another visit to Purdue next month should only bolster the Boilermakers' chances with him, though much time still must be given before any sort of favorite emerges for the four-star 2020 prospect.