2020 five-star Cade Cunningham making a name for himself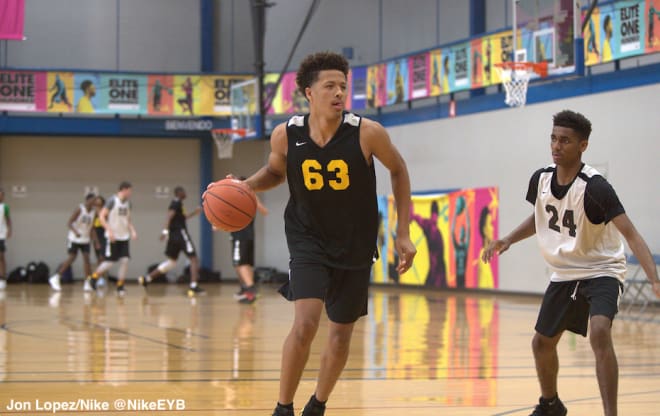 The loaded 2020 recruiting class is full of competitive guards, including Jalen Green, Scottie Barnes, RJ Hampton and BJ Boston, to name a few. Right on the heels of those ranked in the top 10 is the quiet, non-showy wing Cade Cunningham. Cunningham is currently ranked No. 12 in the nation but has goals of climbing the ranks this high school season and next summer.
"Seeing Jalen (Green) at the top, Scottie (Barnes) and Evan Mobley, it motivates me to keep working. It challenges me to put that extra time in the gym, to take those extra shots. Whoever the No.1 player is, that's where I want to be. It just shows that's who people think are great and I want to be considered a great player, too," Cunningham told Rivals.com.
"I would love to have a breakout AAU season like Kahlil (Whitney) and Jaden (McDaniels) had this year. I played on the U16 team this year (on Nike's EYBL) so I still feel like I'm a little under the radar or people don't really know me yet," Cunningham said.
After the weekend Cunningham had at the USA Basketball training camp, I could see him coming out and turning heads once the spring and summer AAU season hits. The talented wing was making excellent passes in transition and half-court play, knocking down tough shots behind the arc and doing pretty much everything that was asked of him during drills.
Cunningham was one of the breakout players of the weekend in a highly competitive group of players from the 2019 and 2020 class.
MORE: Five-star Oscar Tshiebwe commits to West Virginia
Make no mistake, there hasn't been a shortage of interest from top programs around the country. Duke, Kansas, Kentucky, Texas, Virginia, Michigan, Florida and many more have offered. Similar to players ahead of him, such as Cole Anthony and Emmitt Williams, Cunningham doesn't like to comment on his recruitment specifically and chooses to let his game speak for itself.
"I'm honestly just so grateful and so blessed with every offer I get, but it still feels early in this whole recruiting process so I'd rather just focus on my game and getting better," Cunningham said.
The only visit he's taken this fall was to Florida with high school teammate, Ryan Nembhard, to visit Nembhard's older brother, Andrew Nembhard, who is a freshman at Florida this year.
"Me, Moses (Moody) and Ryan went up there and the coaches just wanted to show us around so that was cool. Florida offered me pretty much as soon as I decided to transfer to Montverde, so I've been hearing from them a lot. Coach (Al) Pinkins stays in contact," Cummingham said.
The five-star wing transferred from his school in Texas to the crazy-talented Montverde Academy high school team playing alongside Florida commit Omar Payne, five-star Precious Achiuwa, Balsa Koprivica, Moses Moody and Dariq Whitehead.
"Balsa is the only returning player, so every day in practice is huge trying to build our team chemistry. Everyone's so good so one week, one guy is on top and the next it's a different guy. We're all pushing each other and it's going to be a great season," Cunningham added.
With all this talent in one gym, coaches from everywhere have stopped by this fall to check in on Cunningham and other top players on the team.
"Virginia, Kansas, Texas, Texas Tech, Texas A&M, UCLA, Florida, Florida State, Ohio State and Xavier have all been by recently. Kentucky told me they're going to come down soon," Cunningham said.
What's next? / Rivals reaction
Go ahead and circle your calendar for the Sierra Canyon vs. Montverde Academy showdown on Jan. 21 on ESPNU. That is a game that Cunningham is excited about.
As far as the recruiting process goes, the talented wing said he does plan on releasing a list of a top schools after the summer season and visits start. What is he looking for in a school? A few key things stand out.
"I'm looking for a team that needs a wing, where I can come in right away and make a difference," Cunningham said. "The relationship with the coaching staff is important, but it's not the most important thing since there are coaching changes. I really like schools that have a history of defense and work hard on both ends of the floor. Obviously, a good fan base is important and just a place that my family likes, too, and feels comfortable with."
Cunningham has stated in the past that Texas was his dream school growing up. His older brother played basketball at SMU and his dad was a quarterback at Texas Tech. Virginia, Michigan, Oklahoma State and Florida have started to make the five-star wing a priority, and Ohio State was in to see him last week, but it is too soon to call a leader in Cunningham's recruitment.
College basketball fans should be thanking Adam Silver and NBA for the likely chance they'll get to see Cunningham and the other talented guards play one year of college ball. Cunningham is a true playmaker and will shine on any team lucky enough to land him.