What's the impact of five-star Keldon Johnson's Kentucky commitment?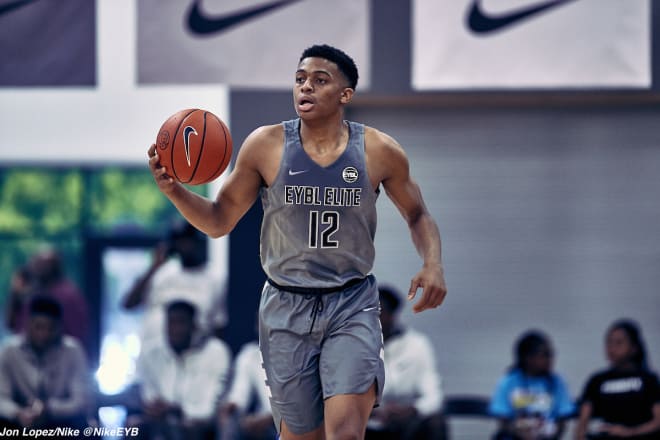 MORE: Class of 2018 Rivals150 | Team Rankings | Rivals Roundtable

Saturday night, five-star wing Keldon Johnson ended his recruitment by announcing that he would play his college basketball at Kentucky.
A tough minded and skilled 6-foot-6 scorer, Johnson chose the Wildcats over Maryland, NC State and Texas. What can UK fans expect and how does Johnson's decision impact the 2018 recruiting efforts of all involved now that there's one less big timer on the board ....

KENTUCKY
Excitement level: 8

What Johnson means: The second five-star prospect to commit to John Calipari and the Wildcats, Johnson joins point guard Immanuel Quickley to give UK's 2018 recruiting class a great start.
With his Alpha mentality and advanced mid range and post game, Johnson is a mature player and has the feel for scoring the ball that most wings don't develop until a much older age. He's a good, but not out of this world athlete, who can finish at the rim and it's his strength and ability to finish through contact that really stands out. Though he's not always been a particularly dangerous shooter from beyond the three point line, he's made huge strides in that area over the past six months or so.
This weekend, the Wildcats have top 40 shooting guard Tyler Herro on campus for his first visit since decommitting from Wisconsin, they look like heavy favorites with Herro and though he's said he wants to wait it wouldn't be a surprise to see him end things shortly after this weekend. 2018's No. 2 player Zion Williamson is the big name left on the board while the Wildcats should get a decision from No. 3 overall Bol Bol soon (Oregon is the favorite) and remain in with five-star combo guard Quentin Grimes while they've established contact with five-star center Moses Brown.


MARYLAND
Sting: 6
What's next for the Terrapins: There was a lot of optimism that Johnson could choose Maryland because the feel was that his family preferred the Terps. Johnson's older brother Kaleb Johnson will be a senior at Georgetown next year and a pick of Maryland would have made it easy on the family to follow both.
While missing on Johnson hurts because of that notion that the family preferred them, Mark Turgeon and Maryland are going to be just fine. Could they have used Johnson? Absolutely. But, they've got a strong class -- top 10 nationally -- coming in with tough four-star combo guard Eric Ayala, high scoring four-star wing Aaron Wiggins and five-star big man Jalen Smith. In the short term, the only other remaining target that stands out is four-star combo forward Jairus Hamilton who has visited Maryland along with Mississippi State and Boston College. If not Hamilton, it wouldn't be a surprise to see them wait and see who might be available on the transfer market.

NC STATE
Sting: 4
What's next for the Pack: In his first season in Raleigh, Kevin Keatts has already put together an impressive top 20 recruiting class. Johnson would have been a luxury addition and really put the Pack on the map with an impact scorer, but they didn't have to have him and were mostly a darkhorse because they were the closes to Johnson's Virginia home.
Already in the fold are four four-star prospects in wings Saddiq Bey and Jericole Hellems along with in state big men Ian Steere and Immanuel Bates. Junior college forward Derek Funderburk has been on campus and Rivals150 combo guard Trey McGowens who is currently in 2019 but could graduate as a 2018 prospect remain in play.

TEXAS
Sting: 9
What's next for the Longhorns: More than anybody, the miss of Johnson hurts the Longhorns the most. Nobody spent as much time chasing after the five-star scorer as Shaka Smart and his staff and there aren't many who would argue against the notion that they were the favorites for much of his recruitment.
On the bright side, the Longhorns also have a strong recruiting class that is of the top 10 variety in 2018. Kamaka Hepa gives them a highly skilled, faceup four man, Gerald Liddell is a long and athletic in state wing with upside while Brock Cunningham is an Austin product who can play the three and the four. Though he's not the highest ranked of the bunch, big man Jaxson Hayes has huge upside and could end up one of the biggest steals in the class of 2018.
The only other target of note left on the Longhorns board is five-star combo guard Quentin Grimes for whom they are battling Kansas and to a lesser extent Kentucky an Marquette for.