Wednesday's Leftovers: Ziaire Williams, Kentucky, transfers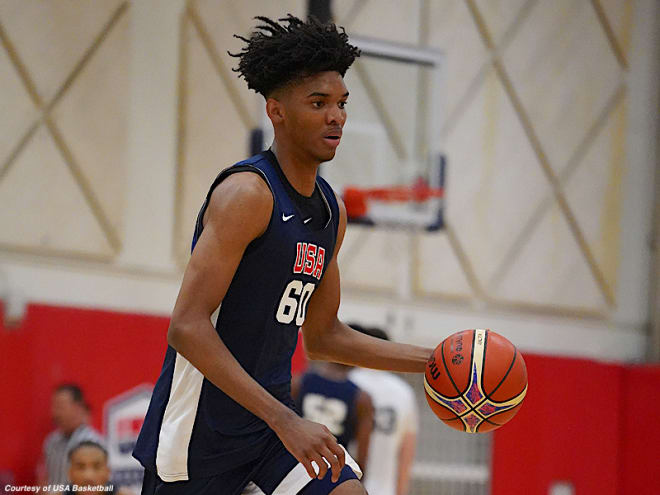 The offseason is full steam ahead and the coaching carousel has pretty much stopped spinning. So, many coaches are hoping to complete their rosters for next season via the transfer portal in the coming days.
In this week's Wednesday's Leftovers, we take a deeper dive into Ziaire Williams' recruitment, why Kentucky isn't done building its roster, the latest from the transfer wire and how the coronavirus has impacted the recruiting world.
*****
MORE: Twitter Tuesday on Oklahoma State, Pitt, Syracuse, more | Starting Five on Bama, Gophers, transfer mania, more
2020 Rankings: Rivals150 | Team | Position
2021 Rankings: Rivals150 | Position
2022 Rankings: Top 75
*****
Could Ziaire Williams be waiting to see if a UNC scholarship opens up by someone transferring since he still hasn't committed to a team close to home?

— bh-unc-fan (@bdheelfan) April 5, 2020
Don't get your hopes up. I would be very, very surprised if one, Ziaire Williams leaves the West Coast for college, and two, picks North Carolina. Sure, the two have been connected all of the way back to the prior college season, when he took an unofficial visit to Chapel Hill. UNC then placed a heavy emphasis on him throughout last summer and the early fall, but since then their chances have dwindled.
Arizona, Stanford and USC are the three to beat. The Cardinal are the ultimate dark horse of all dark horses, while many see Arizona and USC as the leaders. The Wildcats have a major need for a go-to weapon on the offensive end, and USC could plug him in alongside top-rated center Evan Mobley in his back yard (Los Angeles). There is also a chance that he could pass on the college path entirely and play overseas for a year before entering the 2021 NBA Draft. Regardless, the chances are very, very slim that he picks UNC.
*****
Who do you expect to return to Kentucky, and do you think they have something in the works as far as a transfer?

— Michael Padgett (@mpadge88) April 5, 2020
I have no inside knowledge of this, but common sense tells me that Kentucky will add at least one more player to its roster for next season.
UK already had a major need at the center position before EJ Montgomery created speculation that he could enter the NBA Draft this summer. If he does so, it would decimate the Wildcats' interior - and we're talking about someone who averaged less than five points and five rebounds last season.
Johnny Juzang has entered the transfer portal, leaving a hole on the perimeter, and it looks like Immanuel Quickley and Nick Richards will ride the momentum they built during SEC play into the draft. Tyrese Maxey entered the NBA Draft on Monday, and Ashton Hagans made the decision Sunday. Nate Sestina, of course, has graduated.
That would leave just eight players on scholarship for next season, with Keion Brooks and a now-healthy Dontaie Allen returning. The Wildcats are involved for Greg Brown, but I don't see it in the cards. Rather, they could look to the reclassification route, whether that means Jon Kuminga and/or Moussa Cisse. And I would actually be surprised if they did not attempt to land at least one graduate-transfer this year, though who they may target remains unclear. Understandably, they reached out to Purdue transfer Matt Haarms on Monday, immediately after he announced he would be entering the transfer portal.
*****
Any updates on Joshua Morgan or Jordan Bruner?

— John Sacco (@SicilianSyriacs) April 5, 2020
Joshua Morgan is a freshman transfer out of Long Beach State who has been relatively silent since he decided to leave the Big West program. One of the top shot-blockers in America, Bruner will remain on the West Coast for college. He has not cut his list but among those in pursuit is a group that includes Oregon, San Diego State, UCLA and USC. Most of the talk has surrounded the Trojans in recent weeks but a decision doesn't seem to be too far away, regardless.
Jordan Bruner is down to a final three of Alabama, Baylor and Maryland. Bruner is perhaps the best graduate-transfer available this spring, and he could end up entering the NBA Draft this summer if the feedback he receives indicates he could do so. Maryland needs someone to replace Jalen Smith down low, but there is a feeling that it is more of a battle between the Tide and the Bears. Baylor might have the slight edge, thanks to the success that it has had in the transfer department, but I would not count out Alabama. A decision is expected in the coming days.
*****
I am assuming that you meant Justin Turner, the Bowling Green transfer who is one of the best guards in the transfer portal. On Sunday, he cut his list to a final four of BGSU, Marquette, Missouri and Iowa State. Turner is immediately eligible, whether or not he ultimately decides to leave the MAC program. There is no clear favorite among the finalists at this time. While very rarely does a prospect enter the transfer portal only to return to the school that he had intended to leave, Bowling Green remains a legitimate suitor. The staff is operating as if there is a chance that he could decline the chance to transfer elsewhere and the fact that he can't visit any of the others due to the coronavirus may help. Look for a commitment in the coming days.
*****
There are a bevy of transfer commitments by the day it seems, so let's go with seven of the more impactful decisions that could soon be on tap:
Bryce Aiken is not far off from his decision. He is down to a final four of Iowa State, Maryland, Michigan and Seton Hall; look for a commitment by the end of the week.
Darius Perry should be committing this week. The schools involved include Colorado, Georgia, Iowa State, Seton Hall, UCF and Virginia.
Jamarius Burton cut his list last week to a final five of Marquette, Ohio State, Seton Hall, Texas Tech and Xavier. The latter two have the best chance.
Alex O'Connell is near a decision, too, with Dayton, Georgia and Memphis among the many involved.
Wichita State center Morris Udeze is expected to decide in the coming days, and Arizona State, Butler, Minnesota, Seton Hall and Xavier make up his final five.
Look for Trey Wertz to make his decision shortly. He has cut his list to a final seven of Arizona, Butler, North Carolina, Notre Dame, Ohio State, Oklahoma and Virginia.
Finally, Jordan Bruner and his impending decision was addressed above.
*****
In this Corona era (all of the sudden seemingly) how are coaches adapting to recruiting during these times?

— Beer Can in Turn 4 (@BeerCanInTurn4) April 5, 2020
That is a great question. I have been asking a number of college coaches - and also prospects - about what they have experienced in recent weeks.
The dead period is really going to hit home once we get past the dates that would have included the two, three-day live-period sessions held the final two weekends in April. Many coaches are watching a ton of film on prospects with which they might not be familiar. That helps the evaluation angle, as does speaking with the travel and high school coaches, mentors and trainers surrounding the prospects.
As far as developing greater relationships with the recruit, FaceTime, Zoom and Skype have become critical tools. Seeing a person rather than just speaking over the phone with them has tended to work better in the authenticity department. Others have sent specific film to prospects as to how they might be used within their respective systems.
Coaches have also been driving through their campuses and neighboring areas on golf carts with the FaceTime application open, giving the recruit a virtual tour since the recruit can't take visits at this time.
It would seem that the more forward-thinking and proactive coaches are the ones who will not only survive this dead period, but in a way, thrive over the long haul.