Wednesday's Leftovers: Jalen Green, Bryce Thompson, Ohio St.
We made sure to get to a few of your other questions for this week's Wednesday's Leftovers, including favorites for Jalen Green and Bryce Thompson, how Ohio State could complete its 2020 class and more.

What's kentucky chances looking like for Jalen Green? And who might be there first commit in 2020?

— Eli (@elihays03) June 30, 2019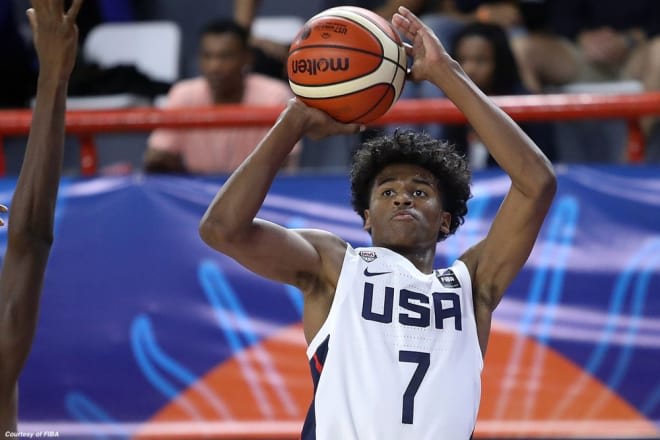 We are still some time off from a Jalen Green commitment and when I mean far off, I mean it will not take place until next spring. Either way, Kentucky is in the pole position for him as John Calipari has taken a great liking to the five-star talent who grew up a giant fan of the program. The Wildcats dispatched an assistant coach to Greece for him specifically this week in watching him at the FIBA Under-19 Basketball World Cup. However, this is going to be a cat-and-mouse affair between the Wildcats and Memphis over the next several months and while UK may be out in front, don't count out the Tigers, especially considering all of that they have achieved of late on the recruiting trail.
For who might be the first to commit, Kentucky does not seem to be near closing down anyone's recruitment. Jalen Johnson is a Duke lean, Sharife Cooper is an Auburn lean, and Scottie Barnes, Isaiah Todd and Green are nowhere near committing. Maybe CamRon Fletcher jumps at the scholarship offer Kentucky allotted but the best bet might be BJ Boston, though it will take much more work before the five-star ends things in favor of UK.
Where do you think Bryce Thompson is leaning?

— Zach Stearman (@prophetcbb) July 1, 2019
I don't think Bryce Thompson is leaning one way or another. The five-star guard has absolutely blown up this spring but has been unwilling to show his hand for who he might be favoring.
Within the past few weeks, Thompson has been on the campuses at Arkansas, Kansas, and North Carolina. The latter two employ coaches that originally coached Thompson's father at Tulsa during his own playing days and each sit as quality landing spots for him. However, there are many others involved that have just as good of a chance.
The Spartans would definitely be a legitimate landing spot and his father's relationship with MSU's recruiting coordinator, Doug Wojcik, definitely works in their favor. Oklahoma has been in the mix for a while now and would love to build around him similar to what it did with Trae Young just a few years back. Out of anyone, though, keep an eye on Oklahoma State. A potential Cade Cunningham-Thompson backcourt would be something else, but it is also one that is not entirely out of grasp.
Expect for Thompson to complete his final travel season this month and then focus on his recruitment. A cut list will be made, visits taken and a commitment announced shortly thereafter as he currently leads one of the more intriguing recruitments this summer.
#OhioState only has 1 remaining scholarship for 2020 class right now...Which 2020 player they're recruiting do you see landing that lone spot?

— Lorenzo Harris (@Buckeye_Salsero) July 1, 2019
There is a chance that the Buckeyes could need two in the 2020 class since Kaleb Wesson might leave for the NBA since he already submitted his name for the draft this past spring and could feel as if he is ready to go next year. If that is the case, expect for Ohio State to chase after a bigger guard or wing and a versatile forward before they move onto the 2021 class.
In the backcourt, Ohio State just offered Jalen Bridges and Eugene Brown; both would fit the bill. Bridges' travel teammate, Puff Johnson, has also taken a good liking to Ohio State. Nimari Burnett is in play and so is Moses Moody. Earl Timberlake is on their board and Ohio State just hosted Keon Johnson, their top wing prospect, last week for an official visit. He will commit next month and decide between the Buckeyes, Tennessee and Virginia.
In the frontcourt, the names of Dawson Garcia, Lance Ware, Scottie Barnes, and Zach Loveday all sit highly in the eyes of the Buckeyes' coaching staff. None of the four are locks, and the same could be said for its backcourt targets that they are after, but if history provides any proof, Ohio State will complete the 2020 class with a commitment from one out of each group, giving Chris Holtmann another strong class to build with.
Nova 2020...pretty crowded roster but still in need of a PG...Lynn Greer? Anyone else? Also losing ground with Jabri? #TwitterTuesday

— Jon DeFalco (@jdefalco12) June 30, 2019
While Villanova has become known for its multiple ballhandling lineups that have reaped great success in recent years, the Wildcats are not in dire need of a point guard commitment in the 2020 class. Collin Gillespie has the makings of a four-year producer, which means that he will be on campus for two more seasons. The Wildcats just took the commitment of Tulane transfer Caleb Daniels, who can act as a 2020 pick-up in a way since his eligibility will begin again next fall. Bryan Antoine could be a one-and-done but Justin Moore will enroll alongside of him and could evolve into a Phil Booth role in the backcourt as a more than capable ballhandler and also shot maker. Chris Arcidiacono should also pitch in where needed.
If Villanova does feel as if they need another ballhandling guard, Lynn Greer is definitely one avenue that they could take. He does have a visit to Florida set for September, but the feeling is if Villanova wants him, it will get him. If not, keep tabs on Devin Askew, a five-star guard in the 2021 class that could potentially reclassify into the 2020 class that the Wildcats just offered earlier this month.