Wednesday's Leftovers: Dishing on Kofi Cockburn, UNC, Oklahoma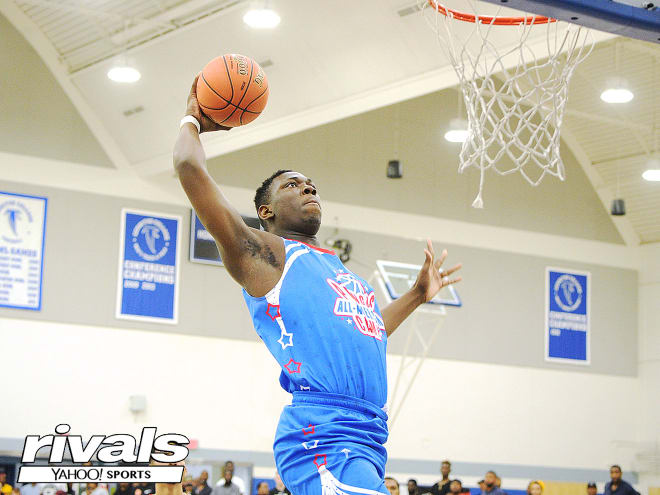 As in a commitment? I do not see it happening quite yet. This will be the first official visit for Cockburn, a top 30 center in the 2019 class, and while I do see UConn as one of the favorites for him, he's not close to committing. Cockburn is currently focused on Florida State, Illinois, Kansas, LSU, Pitt, St. John's, Syracuse and the Huskies. Expect Cockburn to use at least the majority of his visits before he commits. This weekend's visit could bolster UConn's chances, but I would be surprised if he doesn't make it to Florida State, Illinois or St. John's before he announces.
Leonard Hamilton is one of the more underrated closers on the recruiting trail, and some programs would rather go blow-for-blow with a blueblood rather than the Florida State head coach.

With that in mind, it is a bit eerie seeing the Seminoles miss on a few of their top frontcourt prospects such as Kai Jones and Omar Payne this fall. That should change soon. While snatching James Wiseman from Kentucky and Memphis would be one of the bigger surprises in recent memory, they are in a very good spot with Balsa Koprivica. There is some question as to whether Koprivica will gain complete college eligibility, as his name was mentioned in the recent FBI investigation but, either way, he just completed his first official visit to FSU over the weekend and has no others planned for the foreseeable future. My best guess is that the Serbian four-star is a Seminole at the end of the day. Top 30 center Kofi Cockburn, whose recruitment is more heated, is another on Florida State's radar.
Don't get too worked up over the miss on Anthony Walker. While he definitely was a priority for Jeff Capel and his staff, Pitt had an inkling in the past two weeks that Miami was where he was leaning. They have laid a lot of groundwork with some of the top forward and center prospects in the 2019 class, and they will host top-35 forward Akok Akok today for an official visit.

Beyond the four-star, Kofi Cockburn and Qudus Wahab remain high on their board. Cockburn might be a bit more difficult to get, but the Panthers are likely a top-three finalist for Wahab, and the same can be said for Akok. Granted, Capel is selling an entirely different brand now that he is in Pittsburgh, compared to his prior stint at Duke, but after all that he has accomplished in his previous stops at VCU, Oklahoma and in Durham, it would be a bit too early to get too nervous about missing on just one Rivals150 prospect.

With where things sit now, UNC could honestly strike out on all three and it would not be a giant surprise. Now, I do not see that happening, and if there is one that the Tar Heels want the most, it is Cole Anthony, and I foresee him ending up in Chapel Hill next fall.

Boogie Ellis is more of a wild card. While UNC is a strong contender for him, Duke could be the program to watch as the top-50 guard heads to Durham this weekend for an official visit. Jeremiah Robinson-Earl, on the other hand, is down to a final five. Roy Williams has a great connection with him, as his father, Lester Earl, played for him at Kansas, but the thought is that Villanova and Kansas provide the stiffest competition for his verbal pledge.

I think UNC ultimately gets Anthony, but the other two are more difficult to read.

Oklahoma's class sits ninth in the Rivals' 2019 Team Rankings, and it is shaping up to be one of the best classes Lon Kruger has signed since taking over in Norman. The Sooners did back off on top-50 forward Malik Hall, but that was because they landed a do-it-all wing in Jalen Hill, and were able to fill their frontcourt with the services of a physical presence (Victor Iwuakor) and a developmental big (Corbin Merritt).
Securing five of their top 2019 targets before October should set the Sooners up for even greater success in future years since they can now devote more attention on the younger classes. They have yet to strike in 2020, but they have also begun to kick the tires on some of the best in the region, including Davion Bradford, Micah Peavy, Tramon Mark, Bryce Thompson, Daishen Nix, Eddie Lampkin and Julian Strawther. Oklahoma has also done major work on the junior college and transfer fronts in the 2020 recruiting cycle and the Sooners could also go that route.