Visit to Florida up next for Castleton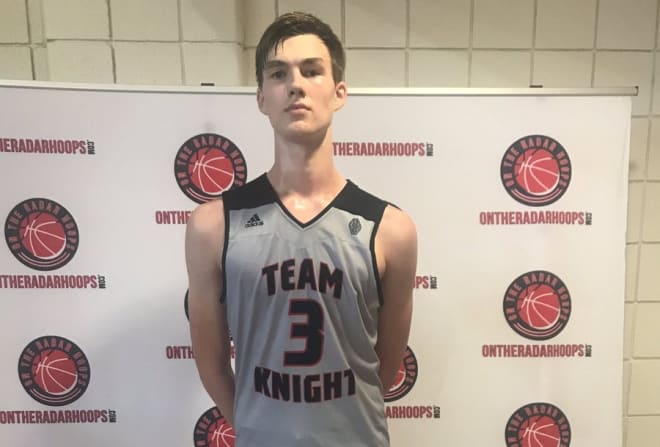 Colin Castleton was one of the major stock risers from the July evaluation periods. The Florida native showed off his combination of post-up skills and perimeter shooting ability as a 6-foot-11 power forward, and had coaches from all over excited about his potential.
Now a four-star prospect on Rivals.com and ranked No. 120 overall in the 2018 Rivals150, Castleton has plenty of options to choose from after July. Schools from all over the country came in, but Castleton is moving forward with the process with only seven schools under serious consideration.
Illinois had Castleton on campus last weekend for his first official visit. Originally scheduled to visit Florida in October, Castleton moved that visit up to Sept. 15 and then will visit Purdue on Sept. 29. Baylor, Florida State, Michigan and Notre Dame are the schools still in the mix.
MORE: Green aiming to keep No. 1 spot | Williamson highlights
IN HIS OWN WORDS
Castleton talked about some of the schools involved with him.
Florida: "Just the relationship I have with the coaches and I've been dreaming about going to Florida since I was a little kid. It's been my 'dream school' you could say. People think I'm just going to commit there right after I visit, but that's not the case because it was my dream school as a kid for academics. I wanted to go there not because of the basketball, but it is a really good basketball school. They are still going to be my high on my list, but I'm still open to everybody."
Illinois: "It was nice. I liked it a lot. It surprised me actually. I have a really good relationship with Coach (Orlando) Antigua. It's a really good basketball school."
Purdue: "They are 'big man U'. I mean if you're a big man and Purdue starts recruiting you, it's hard to turn them down. They've produced so many big guys and the way they use their big men is nice. They let you play on the block and on the perimeter, which is what I do well."
Baylor: "I'm still building a relationship with them. They've been on me for a little while now. I haven't received an offer from them yet. Coach (Scott) Drew is a relationship kind of guy and he wants to come to my house and visit me. He's a really good coach and I've heard really good things about the school and the campus."
Michigan: "Michigan is just so established. Coach (John) Beilein is one of the best college coaches ever. He's done everything right at that university, and they have produced pretty good big men like D.J. Wilson last year. I like the way he played, so that really stands out to me. It's such a great basketball school and they have great academics too."
Florida State: "A lot of people don't know, but Florida State is high on my list too. I like the plan they have for me. I'm not sure if I'm going to take a visit there yet and a lot of people think because of that they aren't high on my list, but I'm definitely interested in them."
WHAT'S NEXT
Up next for Castleton is probably the visit that most expect to be his last, Florida on Sept. 15. He's pretty adamant though that he's going to come back from that visit and work out for Beilein and Drew before he makes any decision. He also seems pretty committed to the idea of visiting Purdue at the end of the month, so this one could drag into October.
RIVALS REACTION
Castleton is very sincere in what he's saying about being open to all schools at this point. He did sound very intrigued about every school he was asked about. But the way he talks about Florida and the "dream school" phrase he throws around with the Gators is just hard to look past. It might take a little longer than most expect, or maybe it won't, but one way or another it's hard to see him going anywhere other than Florida at this point.