Vernon Carey, No. 1 player in 2019, schedules four official visits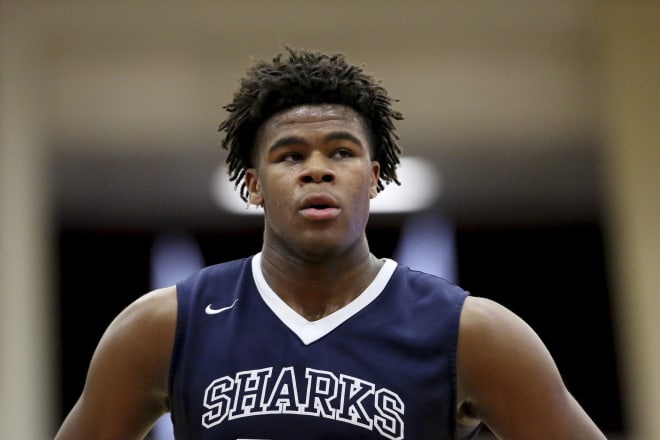 Vernon Carey, the top-ranked player in the 2019 class, is ready to take a deeper dive into his recruitment. While he has been sitting on a final list of five for the past three months, Carey has scheduled four official visits that will take place leading up to the college basketball season.
MORE: Video highlights of Vernon Carey | Twitter Tuesday
Carey has been a blueblood recruit for the past two years, and has been the top target for local program Miami since stepping foot into a high school classroom. Down to a final group comprised of the Hurricanes, Michigan State, Duke, UNC and Kentucky, Carey will get the chance to see each of his finalists at least one more time by way of an official visit before coming to a college decision, a source told Rivals.com.
On Oct. 12, Carey will begin things in Lexington, where he will get a chance to see Kentucky's Big Blue Madness. The following weekend Carey will head to Duke and get another glimpse of the Blue Devils, as he took an unofficial to the program a year ago. On Oct. 26, Carey will stay home and spend an official visit on Miami, the program that he has grown up around and a place where his father once suited up on the football field. Lastly, North Carolina will get a 48-hour chance to impress the top-ranked Carey on Nov. 2.
Thanks to the recent addition to the NCAA rulebook that now allows up to 15 official visits by a college prospect – compared to the prior one that just allowed just five – a recruit can now spend two official visits on the same program as long as it doesn't take place twice within a calendar year. This past January, Carey used his first official visit on Michigan State, and while the date has not been set, the Spartans are likely to host Carey again once the calendar turns in January, likely making the five-star the first prospect to use the new rule.
What makes Carey such a heavily touted and wanted prospect is the fact that he has been dominant at every platform that he has played. He is a two-time gold medalist with the United States basketball program, he won MVP of the FIBA Under-16 World Championships last summer, he led his University School to a runner-up performance at the Geico National High School Championships in April and he is a two year producer on the Nike EYBL circuit. On that circuit this summer, he posted per-game averages of 19.2 points (54 FG percentage and 34 3-point percentage), 7.9 rebounds and 1.5 assists.
While no commitment date has been set yet, it would take a change in plans for Carey to decide to sign during the early period in November. Expect Carey to take things into the winter before coming to a decision and signing in April.