Twitter Tuesday: Updates on Duke, UNC, Brandon Newman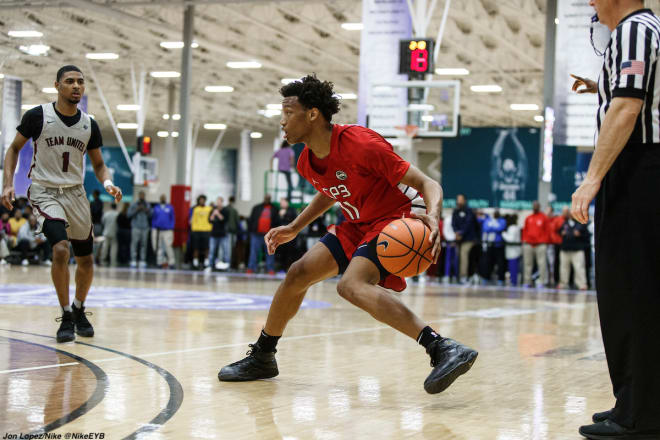 The recruiting dominoes are beginning to fall, as a number of Rivals150 prospects have either narrowed their lists or have already come off the board in the form of a college commitment. In this week's #TwitterTuesday, we address Duke's 2019 class, UNC's guard pursuit and the recruitment of Rivals150 guard Brandon Newman.
MORE: Rivals150 - 2019's updated top 10 | Bossi's Starting Five
While the Blue Devils were hit with a minor gut punch last week in the form of Bryan Antoine's commitment to Villanova, I still think that they are in a good spot entering the fall months.
Wendell Moore is down to a final five, and his fandom for the Blue Devils and close proximity to the Durham campus should only push things over the top in favor of Duke. He also plays his high school ball alongside Duke assistant Chris Carrawell's son at Cox Mill High, so one would think that would help the Blue Devils' cause, too.
Josiah James is another prospect highly regarded by the Blue Devils. Tennessee, Clemson and Michigan State are also in the hunt, but Duke could be an appealing landing spot with the possible departures of RJ Barrett and Cam Reddish, along with the priority that Duke has placed on James since last winter.
Lastly, the Blue Devils' most pressing need remains in the frontcourt. Marques Bolden didn't look the sharpest during Duke's international tour, and while Javin DeLaurier is a great high-energy piece, a go-to weapon down low is lacking. Toss in the likely departure of Zion Williamson after this season and a big man is a must. Duke might not land Isaiah Stewart, Vernon Carey and Matt Hurt, but I see Stewart or Carey committing. Stewart will likely decide before Carey, getting the shot to take the scholarship first, though Duke would love to have both. I see Carey more likely bound for Durham than Stewart, though it is a toss-up.
Altogether, Moore, James and either Stewart or Carey should create a strong group that is in the top 10 of the 2019 class rankings, although the class might not be as strong as those in recent years.

UNC jumped in with an offer for Boogie Ellis last week, which could slightly change the recruitment of the West Coast prospect. The Tar Heels were beginning to gain some traction with Tre Mann before he suddenly committed to Florida, so the Tar Heels are now playing catch-up with Ellis.
The top 50 guard has already taken visits to San Diego State and USC, while Oregon, Georgia Tech, Memphis and Arizona are heavily involved, too. The Tar Heels have the cache, so you can never say never, but for the Tar Heels to land Ellis he might have to be willing to let the process play itself out some and give UNC the time needed to develop a stronger rapport with him. But, he's at least set up an official visit for mid October which has to be encouraging to Roy Williams and his staff.

Josh Green, a five-star guard, has yet to publicly speak on any visits, but one has to believe that the Tar Heels will receive one of them. They are among the favorites for the Aussie native, and chances are he will commit and sign during the early period in November.
Along with UNC, Green is being chased by USC, Kansas, Villanova, UNLV and Arizona. The Heels have a much better chance with Green than they do with Ellis. That is with where things stand now, and I would be surprised if they do not land at least one of the two this fall.
Purdue hosted two Rivals150 guards two weeks back: travel teammates Armaan Franklin and Brandon Newman. Franklin decided to pull the trigger in favor of the Indiana Hoosiers last week, so Newman becomes the top target for the Boilermakers in the backcourt, and I view them as the team to beat.
Xavier and Ohio State now provide for the stiffest competition for the Newman. Xavier will host Newman for an official visit this weekend, and Ohio State will follow things up the next weekend by hosting the four-star prospect.
Newman doesn't seem to be in much of a rush regarding his college decision, but he will have visited his top schools before the last weekend of September, so a commitment prior to mid-October would not be a giant surprise.
Earlier this month, Newman was forced to return home due to personal reasons after originally planning on attending Montverde Academy in Florida. That might help Purdue's case even more. He is less than a two-hour drive from the West Lafayette campus and the Boilermakers were one of the first to prioritize the four-star guard. I could see the match between the two happening this fall.
A great question for rankings week! We do not place everything on a player's professional potential, though those found in the top 50 of the rankings might be given more value for the NBA level. There is always a group that we must rank based on just how good that they already are and just how effective they're going to be in college.
Here are five that are set to produce in a magnificent fashion next year and beyond.
Armando Bacot is not an elite-level athlete but his feel, IQ and abilities around the basket are second to none. He has to continue to better his body and explosiveness in the coming years. This is Roy Williams' next face of the UNC program in the frontcourt.
Makhi Mitchell has big-time numbers written all over him. Locked and loaded for Maryland, Mark Turgeon has his next interior piece that should put up exquisite stat lines in College Park.
Stanford has been lacking a lead guard that can think the game, see the game and make others better. Daejon Davis has done his part, but Tyrell Terry has Pac-12 honors written all over him.
Casey Morsell is all about maximizing his abilities. He doesn't have a ton of wiggle to his game and isn't an above-the-rim athlete, but he is headed to Virginia to play for Tony Bennett, who will put the top 75 guard to work early and often.
Lastly, one for the mid-major ranks: Zac Ervin isn't in the new Rivals150, but he's headed to Wofford and a coach in Mike Young who is one of the more unheralded coaches nationally. Ervin is the sort of tough, shot-making athlete who could put up big numbers at the SoCon program.