Starting Five: Mannion has top two; TCU snags pair of 4-stars and more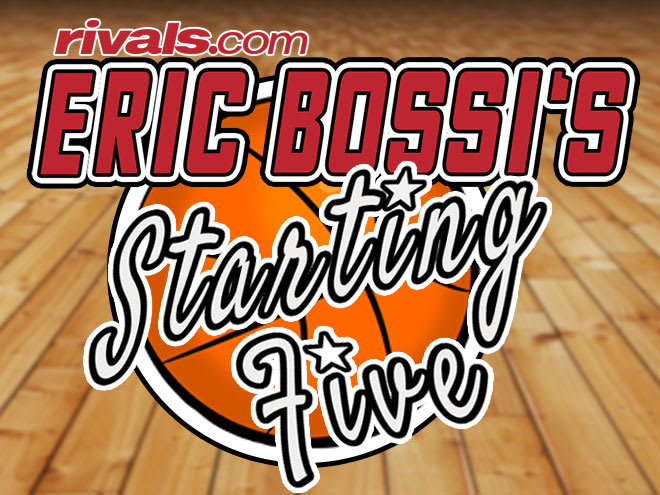 FIVE-STAR MANNION CUTS IT DOWN TO A PAIR
And then there were two for five-star point guard Nico Mannion.
Over the weekend the high-scoring, crowd-pleasing guard from Arizona cut his list down to just Arizona and Marquette.
A date for a commitment hasn't been set, but Mannion is planning to be in Tucson and Milwaukee during the month of October to take official visits to both of his finalists. So, you have to figure that he'll be ready to sign in the early period.
For a while now, Arizona has been the prohibitive favorite to keep Mannion home and Sean Miller and the Wildcats should still be considered the team to beat. But, Marquette has hung in there this long and you have to at least give them a puncher's chance.

TCU DOUBLES UP
It was a heck of a weekend for Jamie Dixon and his staff at TCU.
Landing four-star shooting guard P.J. Fuller wasn't good enough, the Horned Frogs had to go ahead and add four-star small forward Diante Smith as well.

An athletic scorer with good size who can also play some point guard in a pinch, Fuller has all the tools to be an impact freshman. He will need to get stronger, but he has a respectable jump shot, is a big-time finisher in the open floor and can create for himself and others off the dribble. If he buys into playing with the type of toughness that Dixon will require, Fuller could have a huge career in Ft. Worth.
Originally committed to Alabama, Smith is a big wing from Florida who like Fuller is an outstanding open floor athlete. If TCU wants to play small, he'll also be able to play some as a four man and he's a crafty low post scorer.
I can't help but continue to be impressed by what Dixon and his assistants have done to change things in a short time. We are talking about a school that had only one four-star prospect in program history before Dixon took the job in the spring of 2016. Since then? The Horned Frogs have now landed seven four-star prospects. On top of that they've had tremendous on-the-floor success. They won the NIT in 2017 and last season they made their first appearance in the NCAA Tournament since 1998.

VISITS COMING FOR ZACH HARVEY
On Sunday, four-star shooting guard Zach Harvey hosted Creighton for an in home visit. The Kansas native who is playing his senior season at Napa (Calif.) Prolific Prep will soon be taking some visits of his own.
Later on this month, he'll see Creighton officially and he's also planning an unofficial visit to Louisville and an official visit to Arizona State. Recently, Cincinnati has been looking to get more involved with the senior who is a prolific scorer in ball screen situations, has size and keeps defenders honest with some timely jump shooting.
One of the very best shooting guard prospects left on the board in 2019, Harvey hasn't yet set a timetable for a decision. Look for more teams to find their way out West to see if they can get involved with talented scorer.

IOWA GETS THEIR POINT GUARD
Iowa had one major priority for the 2019 class, finding a point guard. They did that on Saturday when Joe Toussaint gave a verbal commitment.
A New Yorker, Toussaint is a tough and steady performer who plays the role of traditional point guard. He sits down and defends with some tenacity, he runs the offense and most of all he gets his teammates involved. He's not flashy, but he is effective at what he does and has a tremendous understanding of what his strengths are and he plays to them. In college, developing his jump shot and becoming a bit more of a threat as scorer will be the next step to maximize his game.
Toussaint joins Iowa coach Fran McCaffery's son Pat McCaffery -- a four-star forward -- in the Hawkeyes recruiting class.

SAINT LOUIS SCORES LOCAL POINT GUARD
Since taking over at Saint Louis University, head coach Travis Ford is making sure that his program is well represented by local talent.
Sunday afternoon, Ford and the Billikens picked up a commitment from local point guard Yuri Collins. A tough customer who plays very good on the ball defense, plays as a pass-first floor general and keeps his teammates happy, Collins is continuing a trend of locals staying home.
He's joined in the 2019 class by three-star small forward Terrence Hargrove from just across the river in East St. Louis. Class of 2018's top recruit was another Saint Louis area star in four-star power forward Carte'Are Gordon and the program's best player -- and Ford's first big recruiting win as head coach -- Jordan Goodwin also hails from the Saint Louis area. That means that Ford is three for three so far in his best recruit being a local kid.