Twitter Tuesday: Romeo Langford, Anfernee Simons, Emmitt Williams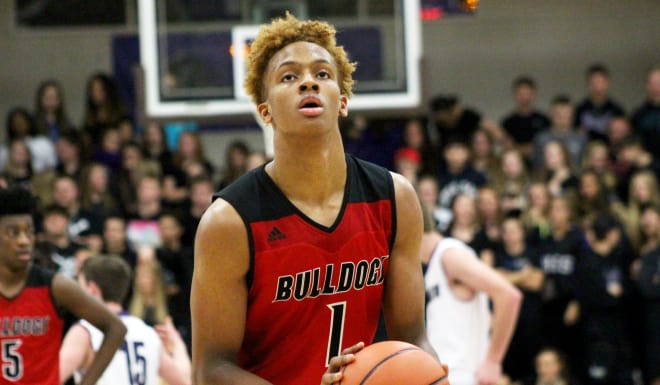 How will a change in pro/college hoops, allowing a hs sr to go directly to the NBA affect schools like UK, Duke, UNC, & KU? all will still recruit well but it seems like the blue bloods r the greatest recipients of the current rules. Thx!

— Joe Falcha (@jfalch22) January 22, 2018
This is a great question and something that is going to have to be monitored closely. As it stands, there's a growing feeling that there will be changes to early entry in time for the 2019 NBA Draft and that if change does happen, part of it will be that high school players will once again be able to enter the Draft for the first time since the class of 2005.
Should that happen, we could see a pretty significant number of players looking to head straight to the NBA. Fifteen is a pretty safe number as to who would try their luck and looking ahead I wouldn't even be surprised if it swells to as many as 25. But, again, much of what happens will depend on the exact rule change.
But, certainly, a change in draft rules is going to lead to a change in recruiting styles. While Kansas and others have had their share of one-and-dones, what Duke and Kentucky are doing is on another level. Since 2010, Duke has had 10 one-and-done players and could have as many as four more this season with at least three more projected one-and-dones coming in 2018. Over in Lexington, John Calipari has had a whopping 18 one-year players in the same time span with more expected this year.
Likely, those programs will still continue to get premier college-bound talent, but they are going to have to weigh chasing elite prospects who could get talked into turning pro – leaving them scrambling late – against taking "safer" and lower-ranked prospects. At a minimum, it's going to result in a few years of serious change at each program as they adjust to the time. They've relied so much on one-and-done talent lately that the year or two it takes to build a base of veteran players may result in a few years where they can't play at the level their fans are accustomed to.
Ultimately, what's going to be every bit, if not more, important is how the NCAA responds to the rule change. There are going to be kids who enter and don't get drafted and it will be important to put something into place to account for them.
Is Vanderbilt still in the driver's seat for Romeo Langford or do you eventually see IU catching and overtaking them?#TwitterTuesday

— Rob Lunder (@rlunder18) January 22, 2018
Now that he's the highest-ranked player remaining in the senior class, all eyes are turning towards Romeo Langford. I don't know that it would be fair to label any program as "in the driver's seat" for his services but push come to shove I would probably lean towards the Commodores as the current favorite. But if that's the case, it's not by much and he's far from decided.
I don't think that a recent visit by Langford to see the Hoosiers can be seen as anything but a positive as Archie Miller works to play catch up in the process of a building a relationship with Langford. Despite Langford's continued denial that he doesn't feel any pressure to stay home, I can't see how the hopes of a state and fanbase as rabid as Indiana's aren't starting to weigh on him at least a little bit. So, the Hoosiers could be making up some ground here.
As for Kansas, the Jayhawks remain an option but Langford is going to have to see what the future holds for guys like Malik Newman and LaGerald Vick because without some departures, things could be awfully crowded in the Kansas backcourt -- which would be a great problem for Jayhawks fans and Bill Self.
Langford has said he would still like to see each of Kansas and Vanderbilt again and whether or not he goes through with additional visits could be pretty telling.
Romeo Langford breakdown now that he's the top unsigned guy. Where he fits best, where each school stands, and your prediction.

— Andruw Wiggens (@AndruwWiggens) January 22, 2018
Piggybacking off the above question -- and my prediction for the time being remains Vanderbilt, barely -- I'm going to go with more of a scouting breakdown.
Langford is a pure, natural scorer. Almost organic in a way. What I mean by that is when I watch him play he is purely instinctual in what he does. Some kids look like robots who are so used to playing against cones and chairs in drills that they sometimes struggle to freelance. Langford on the other hand plays off of feel for what is happening in the flow of the game. He seems to switch between relying on his jump shot and attacking off the dribble with ease, he is a well above average defender and he has incredible lateral quickness and explosiveness with his first step.
He does have to get stronger, he could get a bit tighter with his ball handling as explosive as he is scoring the ball, there are still times where Langford could be even more
What is going on with Tevian Jones and Jermaine Couisnard's recruitment's? Illinois have a good shot with either or both? #TwitterTuesday

— IlliniSportsfan (@cbears9002) January 22, 2018
Tevian Jones and Jermain Couisnard have been two of the more impressive players this winter in terms of elevating their game during their last year of high school. We actually just profiled Couisnard two days ago and Jones went from unranked to four-star status this winter.
If I had to ballpark things right now, I would perhaps give South Carolina an early edge with Couisnard who is a big, tough and physical scorer. However, the appeal of playing back closer to his Indiana home is very real, so that's something the Illini can try to play on.
As for Jones, the Illini were quick to offer when he started to tear things up at the Tarkanian Classic back in December. He's a true high flyer with developing ball skills and a jump shot that is going to eventually be a weapon on the next level. Things have still been surprisingly quiet with him and from what I'm told, he's going to take some time to see who jumps in before deciding on visits. What's surprising to me is that he's not become a priority in the Pac-12 and that leaves the door open for Illinois to put in some work while Jones is focusing on closing out his senior season.
Could Anfernee Simons end up at NC State even with them currently over the scholarship limit next season?

— Keatts 🐐 (@jdbeast2) January 22, 2018
Considering that he is still planning to visit officially in early February – though no definite date has been set – after the Pack landed transfer Blake Harris from Missouri, you have to figure there is still legitimate mutual interest between Anfernee Simons and NC State.
Over the years I've learned to not worry too much about scholarship numbers because if a coach is still recruiting it means he's expecting change. Also, with a new coach like Kevin Keatts, there is inevitably going to be roster change after the first year, so the bottom line is that if Simons wants to play in Raleigh, there will be room. Now the question is, can they land him?
Tennessee has a very nice start on Simons and he seems to have genuinely liked his visit there. Florida and South Carolina could be factors here too. The biggest question that has to first be answered, though, is whether or not Simons will go to the NBA. At a minimum, he's a safe bet to test the waters and if he does that, it makes him a really risky recruit. Whether he stays in the NBA Draft or not, it would mean it's going to be until late May before he is able to make any kind of decision and it's going to be hard to not move on other players who may be ready to say yes.

This is an interesting question because there aren't really that many 6-foot-6 power forwards in the NBA. But, the game has evolved and guys who rebound with the passion Emmitt Williams does with motors, athleticism and the ability to switch to guard multiple positions have a much better chance of making it today than they did 15 or 20 years ago.
Williams – who is down to Florida, LSU and Oregon and is visiting Florida this weekend – is somebody who probably compares somewhat to Kenneth Faried. High energy, crashes the glass, just not as big. There's maybe some elements of Ben Wallace to his game because of his toughness, willingness to get physical and refusal to believe that he's not 6-foot-11. Going back in time, the guy that I've compared Williams to the most is actually a former Gator, Donnell Harvey who was a McDonald's All-American in 1999 before getting selected in the first round of the NBA Draft after just one year in Gainesville.