Tre Mitchell looks like an elite big man in 2019 class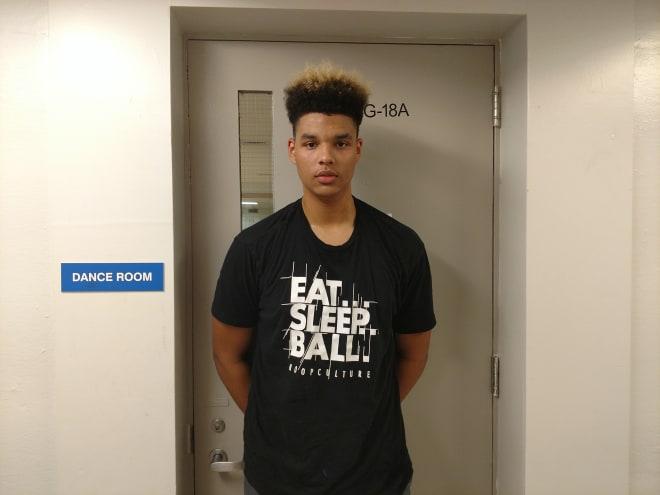 NEW HAVEN, Conn. – Ten years ago, Tre Mitchell would have been perceived as a must-get prospect in the 2019 class. The 6-foot-9 center has seen his recruitment skyrocket in recent weeks, as he now carries offers from Georgia Tech, Tennessee, Wake Forest, Pitt and a slew of others.
A tremendously skilled below-the-rim big man who exhibits Jahlil Okafor traits at the center position, Mitchell addressed the recent uptick in his recruitment.
"Things have been going pretty well so far," he said. "Recently, Tennessee and Georgia Tech offered me; I have Yale and Wake Forest, too. Half of the Ivy League is in constant contact. Wake Forest talks to me pretty often, and St. Joe's talks to me consistently."
MORE: Bol Bol picks Oregon | 2018 Rivals150 | 2019 Rivals150
IN HIS OWN WORDS
Wake Forest: "They were telling me how they liked my game and how much I have improved. I guess they saw me in the summer and they said that they like big men that can be versatile and they look to them to do a lot of stuff."
Georgia Tech: "It is huge just showing that I can get that level of interest to show that my game has developed enough to gain that type of traction."
Pitt: "They basically started from scratch and brought in an entirely new team, so it is going to take a year or two to improve, but their program is going in a positive direction."
WHAT'S NEXT? 
Attending Woodstock Academy in Connecticut, the Pittsburgh-area native has not been able to visit many schools, though one Ivy League program hosted him a few weeks back.
"Since I have been here, the only place that I think I have been to recently is Harvard," he said. "I think I am going to set a few others up to UMass, just to see them play. UConn, also."
RIVALS' REACTION
A strong 15-foot-and-in big man with a developing face-up game, there are not many big men in the 2019 class with better hands and who can pass the ball as well and produce in a variety of ways as Mitchell.
He has already dropped close to 15 pounds since entering Woodstock Academy this fall, as the Bridge City product has seen his recruitment take off. Wake Forest seems to have caught his eye, as Mitchell is similar to former Deacons' great Devin Thomas.
Do not expect a commitment any time soon, though, as a number of the Ivy League schools and power conference programs up and down the East Coast are likely to pursue him.