Tournament of Champions: McDonald's takeaways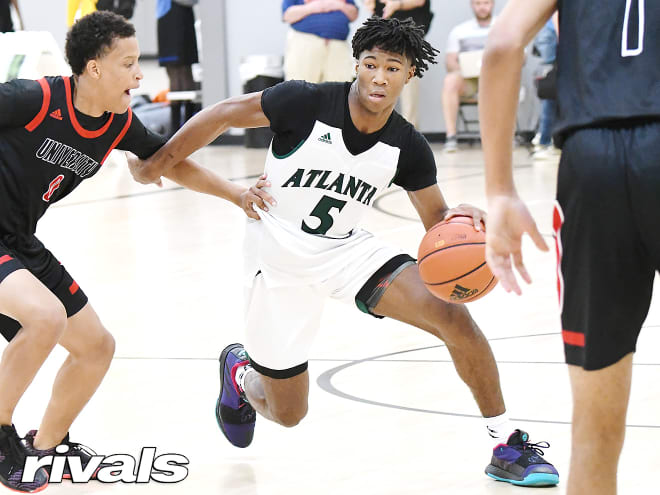 MARIETTA, Ga. – Mississippi State-bound Deivon Smith put on a show this weekend at the Tournament of Champions at Wheeler High School outside of Atlanta, but he wasn't the only highly ranked prospect to impress. Dan McDonald has his takeaways from the event.
MISSISSIPPI STATE BOUND SMITH STANDS OUT AT TOC
Mississippi State is a program trending upwards in the SEC under Ben Howland, and that trend will only continue if he keeps signing prospects like four-star point guard Deivon Smith. The Georgia native has every trait you could want in a floor general now that he's starting to make shots at a higher rate from distance.
Smith became a household name starting around this time last year as he led his Grayson team to a terrific season. It was his explosiveness combined with his elite passing ability that drew the attention of college coaches. As he's continued to grow and mature physically, he's become a really good finisher at the rim and often does it to the liking of the mixtape mafia that follows him around. As a six-foot guard, his athleticism and toughness allow him to be one of the better rebounding guards in the class and it gives him a head start to get out in transition to make plays.
This weekend and in earlier games this season, his perimeter shot, which has been the knock on him in the past, has started to look much better. He also looks more confident taking those shots. If that progress continues, he's going to be a big-time player in the SEC with a chance to play beyond his days in Starkville.
KOWACIE REEVES DRAWS A CROWD
Four-star shooting guard Kowacie Reeves is a little off the beaten path playing high school ball at Westside (Macon, Ga.) and he's never played on a shoe company circuit, but he's found a way to become a popular prospect in the 2021 class.
Reeves has three traits that will always be in demand with college basketball coaches. He has great size and length on the wing at 6-foot-6. He's a bouncy athlete. And probably most important nowadays, he's an elite shooter from deep. While his team struggled against a deeper Pebblebrook team, Reeves showed exactly why he's become so highly coveted as a prospect, hitting some deep three-balls and some highly contested shots as well.
Clemson, Florida State, Iowa State, Louisville, Tennessee and Texas were among the schools watching him on Friday afternoon. Florida and Stanford are the two schools he's taken official visits to already and both have made him a priority early on.
SHARP-SHOOTING ZOCKO
As mentioned with Reeves, shooters are in high demand these days with college basketball coaches. In the 2022 class, not many will do it much better than Zocko Littleton.
The four-star point guard is just about automatic in catch-and-shoot situations. He's still pretty lethal off the dribble letting it fly from deep. Where Littleton is really advanced at a young age is, despite not being an overwhelming physical presence athletically or with strength, he knows to create space to get his shot off. He changes pace well and has really good footwork. As he gets stronger and hopefully more athletic as his body matures, he's going to be a really impressive prospect.
Over the past six months, he's collected scholarship offers from Alabama, Georgia, Georgia Tech, Mississippi State, Ole Miss, Xavier and several mid-majors.
SCOOT HENDERSON, MORE NOTES FROM THE TOC
.... When Scoot Henderson takes the court, there is a reason you see at least a dozen video cameras at the end his team is shooting on. He's an elite athlete and a highlight reel waiting to happen. He's impossible to keep out of the paint and a really gifted finisher. Improving his perimeter stroke needs to be a priority to take his game to the next level.
.... Deivon Smith is the engine that makes Grayson (Ga.) go at point guard, and Ian Schieffelin is the man anchoring the paint. There might not be a post player in Georgia who has made a bigger splash than the Class of 2021 prospect this season. A couple weeks ago against a loaded McEachern team, he recorded a triple-double of 14 points, 13 rebounds and 10 blocks. On Friday at the TOC, he was just as good in a win over Lithonia. He's a big, strong athlete at 6-foot-8 who dominates the boards on both ends and is a really strong finisher offensively. He's also capable of stepping out for three-pointers. He compares favorably to Clemson signee P.J. Hall just a couple inches shorter. James Madison and Winthrop are his only offers, but look for that to change in a hurry.
.... If you're looking for a candidate to be the "next Ja Morant", look no further than Lithonia's Eric Gaines. At same age, he's similar in size and skill level with the same ridiculous athleticism Morant now possesses. The game just comes easy to Gaines, which can be a blessing and a curse because he'll go from a stretch where he wows you to playing way too nonchalant right after. There is no doubt he's a high-major talent. He took visits to Dayton, Georgia State and Saint Louis already, but don't be surprised if high-majors get involved soon. He's one of the best guards on the market in the South.
.... There were a lot of eyeballs on Kowacie Reeves in the Westside-Macon/Pebblebrook showdown, but a lot of those same coaches were there to get a look at Rivals150 small forward Kaleb Washington of Pebblebrook. It's not hard to see why. He's stretched out to at least 6-foot-7 and he has the length, skill, athleticism combination that is hard to find at that size. Florida State was watching him closely and he fits the mold of the type of players who have succeeded under Leonard Hamilton.
.... Jermontae Hill was once a Rivals150 prospect but has fallen out in more recent updates. He remains unsigned with schools tracking his progress during his senior year. The 6-foot-6 forward brought it on Friday morning against Dutchtown. He's a strong athlete and really smooth finishing at the rim. Whether he makes shots or not could be what determines the level he ultimately signs. Ole Miss had an assistant watching him on Friday.
.... Small guards can be tough to figure out with how they project to the next level. One thing is for certain with A.J. White though. He's going to be productive every time out. At about 5-foot-9, he has deep range and quick release on his jump shot, plays ball screens well, and has the floater game to finish in traffic. He pumped in 35 points in a loss to South Cobb on Friday. White holds several low and mid-major offers, but given the success of some other small guards out of Georgia recently, don't be shocked if the Class of 2021 lead guard ends up with some high-major attention.
.... It's not often college coaches come to an event with a freshman as a priority watch, but that was the case Friday with Isaiah Collier for Wheeler. He burst onto the scene last summer with his play in Georgia High School Team Camps and the Jr. NBA Global Championships. Florida and Ole Miss have already offered and for good reason. The 6-foot-2 floor general is a ridiculous passer and create his own offense as well. He'll be very highly ranked in the 2023 class.