{{ timeAgo('2023-01-17 07:33:48 -0600') }}
football
Edit
The Cassidy Awards: Hoophall Classic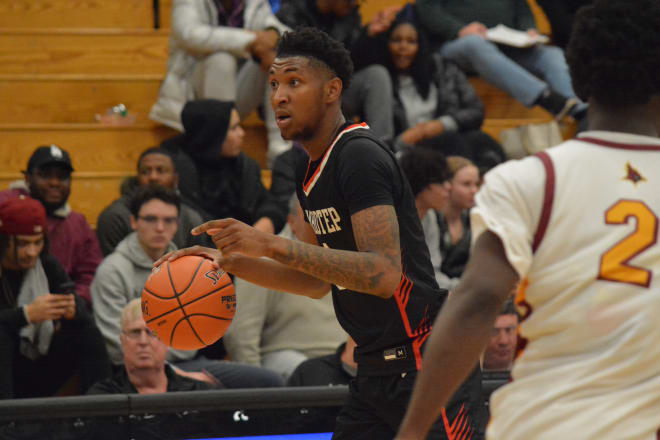 SPRINGFIELD, Mass. – The annual Hoophall Classic is unfolding in Western Massachusetts, and Rivals was on hand for two days of action at the prestigious showcase.
Below, national basketball analyst Rob Cassidy explores several notable individual performances he saw by doling out awards.
SHOW STEALER
What he did: A lot of the talk about Sunday's late game surrounded Ian Jackson and his impending commitment. Edwards made sure the conversation changed for a bit, however, as the Kentucky signee played one of his best games in weeks in a statement win over Jackson and Cardinal Hayes High.
Edwards looked at his best for most of his 25-point, 12-rebound effort that showcased his improved ball-handling and ability to create for himself in the half-court. He shot 52 percent from the floor in the process, but only attempted two (missed) 3-pointers.
The five-star wing had been suffering through a few uneven performances on big stages as of late, so it was a perfect time for the Imhotep senior to remind everyone why he's a contender for the No. 1 spot in the Rivals150.
Edwards, whose length serves him well defensively on the perimeter as well as in the lane, also registered six steals. The Philly-based star seems reengaged and has cut out a lot of the poor shot selection which tends to plague him on his off days.
Recruitment: Edwards is signed with Kentucky.
*****
FLASHES OF GREATNESS
What he did: High's stat line from Sunday didn't overwhelm in the way that other MVP performances do at first glance. Still, the AZ Compass prep junior finished with 15 points and six rebounds while shooting a perfect 5-for-5 from the floor. That full-set of skill he managed to show was even more impressive than the numbers.
High's fourth-quarter block in transition was one of the most athletic plays of the weekend and capped off a game that saw the North Carolina signee knock down a deep 3-pointer, create extra possessions on the glass and flash a level of athleticism a 6-foot-10, 227-pound power forward has no business possessing. High's upside is off the charts and he might just reach it as he becomes more confident and assertive on the offensive end.
Recruitment: High is signed with North Carolina.
*****
GAP CLOSER
What he did: Flagg sits on the No. 2 line in the class of 2025, but he's in serious pursuit of the top spot occupied by current No. 1 Cameron Boozer. On Saturday, Flagg reminded everyone why the gap between the two elite prospects is smaller than some think. Nobody in the class, including Boozer, is as versatile as the Montverde Academy star, who shoots it and handles it better than the more developed and consistent Boozer.
Flagg's ceiling is unlimited, as he impacts every facet of most games. Friday saw him post a 21-point, five-rebound, five-steal performance against Indiana's LaLumiere School on Saturday evening.
Recruitment: Flagg is attempting to play his recruitment close to the vest in the early going. He's on record last year calling Duke a "dream school," but has tried to distance himself from those comments as of late. He declines to name other schools he is seriously exploring at this juncture.
*****
STOCK UP
What he did: Harris-Smith is stringing together some impressive performances on big stages as of late. He made his mark on the City of Palms classic last month and followed that up with a 23-point, 11-rebound effort against Roselle Catholic and Duke signee Mackenzie Mgbako.
Harris-Smith may not be as good a long-range shooter as some other top-100 players, but nobody in the country plays harder or is better versed in using the strengths of his game to his advantage. Smith is nearly impossible to stop when he gets downhill and creates extra possessions on defense and the glass. His last month has been enough to prove that his current No. 89 ranking is too low.
Recruitment: Harris-Smith is signed with Maryland.
*****  
SHARP SHOOTER
What he did: McCain's 27-point effort against fellow five-star guard DJ Wagner and Camden High School included six 3-pointers and saw McCain shoot 50 percent from the floor. The Duke-bound guard has improved his shot selection dramatically and has become a much more efficient weapon because of it.
McCain has gotten better when it comes to creating his own shot because he's learning how to create space using his powerful upper-body. McCain is a shooter first and continues to shine as such, but it's clear he's making an effort to become a more versatile offensive weapon.
Recruitment: McCain is signed with Duke.
*****  
ATTACK MODE
What he did: IMG Academy played without star Bryson Tucker on Saturday, and Rooths helped carry the lost production in a win over a Newton (Ga,) High School squad that featured five-star guard Stephon Castle. Rooths showed a little bit of everything in the contest, finishing with 11 points, nine rebounds and six assists.
He did turn the ball over five times, but most of those were aggressive turnovers, not passive ones. Rooths routinely forces action and creates matchup issues because of his length and agility. It's clear that the junior's confidence is growing rapidly and he's thriving because of it.
Recruitment: Rooths has taken unofficial visits to Virginia Tech and Georgia. He is considering possible official visits to both Georgia and Ohio State, but seems to be in no rush to narrow his focus.
*****  
EVOLVING 
What he did: Bradshaw has a way to go in his quest to bulk up, but the Camden (N.J.) High School senior is flourishing on the skill front. The Kentucky signee has diversified his offensive game and answered lingering questions about his motor. On Saturday, he turned in a 15-point effort on just seven shots, grabbed eight rebounds and showed off a level of athleticism and touch that not many 7-footers possess. Bradshaw is becoming more assertive and more comfortable finishing in different ways inside the paint.
Recruitment: Bradshaw is signed with Kentucky.
*****  
LATE-CYCLE STEAL
What he did: If Reid were a couple inches taller, high-major programs would be lining up to recruit him and he'd likely already be committed. Still, at just 5-foot-10 the Long Island Lutheran point guard has big game and could help any number of upper-echelon mid majors or lower level high-majors. He may be a lightning quick scoring threat, but Reid's calling card is his court vision, which was on display Saturday. His 15-point, seven-assist performance came against an Oak Hill team full of Div. I players and included just three turnovers.
Recruitment: VCU seems to be in the driver's seat of Reid's recruitment for the time being. That said, the senior plans to play spring grassroots basketball and see if more offers shake down the road. He's yet to take an official visit, but if the Rams get him on campus they will likely be a major player.
*****  
UP TO THE CHALLENGE
What he did: Yalden is an absolute joy to watch as he combines high-level skill, soft touch and a surprising level of grace with a beefy, bang-it-out philosophy and gets buckets inside the paint via both raw power and a deep bag of low-post moves. Yalden is also a high effort defender that changes more shots than he blocks. He's well versed in using his broad shoulders to create space and opponents even if they have length on him. On Saturday, he was tasked with matching up with a Montverde team made up entirely of high-major prospects and managed to score 21 points while grabbing nine rebounds while holding touted junior Derik Queen to eight and five.
Recruitment: Yalden is signed with Wisconsin.
*****  
MR. CONSISTENT
What he did: It's been a while since I've seen Robert Wright III have an off game, and his streak of avoiding such a thing continued on Sunday, as he captured MVP honors in his Neumann-Goretti team's win. Wright posted 17 points and six assists while serving as the catalyst of the offense and the vocal leader on defense, where he recorded four steals and forced a few other errors. Wright plays fast without seeming out of control and has come a long way as a long-range shooter as well. It seems almost impossible to take the 6-foot point guard out of what he does or frustrate him as he has a short memory and plays well through mistakes.
Recruitment: Wright is committed to Baylor.
*****
BALL ON A STRING
What he did: A junior at Philly's Neumann-Goretti, Myers wasn't perfect on Sunday, but his ball-handling popped off the page in a nine-point, three-assist effort that featured some highlight worthy maneuvers. The exciting guard checks in at just 5-foot-11, but his elite handle allows him to create shots for himself and others. On Sunday, he took a number of different sized defenders off the bounce and proved capable of finishing with either hand while throwing some impressive passes as well. He still needs to develop when it comes to valuing the basketball as he sometimes trusts himself too much and is prone to turnovers because of it.
Recruitment: Myers holds a number of mid-major offers. Temple has hosted him for a visit and seems to be a major player. Saint Joseph's, Wichita State, Drexel and George Washington have also offered.