{{ timeAgo('2023-01-16 14:42:25 -0600') }}
basketball
Edit
Five-star Ian Jackson commits to North Carolina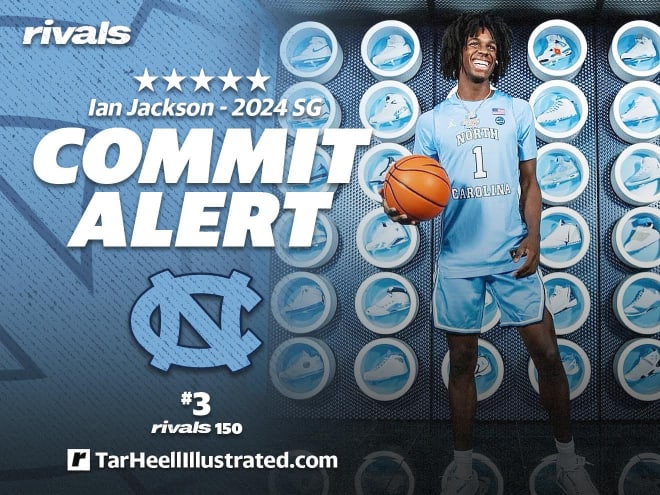 On Monday afternoon, 2024 five-star guard Ian Jackson announced his commitment to North Carolina, choosing the Tar Heels over Kentucky and Arkansas. His commitment helps North Carolina reclaim the No. 1 class in the Rivals team rankings, as he joins five-star point guard Elliott Cadeau and four-star big man James Brown.
Rivals' Rob Cassidy caught up with him yesterday at the Hoophall Classic.
IN HIS OWN WORDS
What he likes about North Carolina: "The family aspect with coach (Hubert) Davis there, coach (Jeff) Lebo on the visit making me feel at home. Just being there, I didn't feel uncomfortable. I felt like that's where I should be, from what I thought."
Why North Carolina: "It's where I picked, I feel like it's best for me. It'll be best for me. Individually, I feel like in their system, I'll thrive and be a one-and-done."
When he came to a decision: "It came to me earlier this week after sitting down with my parents, my coaches. Talking about each and every school, the pros and cons of each school, thinking about each school individually about how they can make me become a pro."
*****
COMMITMENT ANALYSIS 
The Tar Heels overtake the No. 1 spot in the Rivals team rankings, and all of their pieces really make sense with one another. Elliott Cadeau is a floor general point guard that is an excellent passer and set-up man on the perimeter. Ian Jackson can do numerous things on the perimeter on both ends and is a very versatile piece for Hubert Davis. James Brown is a skilled big man with strength and size that seems to be the type of player that has excelled at that position at North Carolina in recent years.
Jackson is a long, athletic guard that can play both on and off the ball at times depending on matchups due to his multi-faceted attack off of the bounce. The five-star guard is a capable shooter from the outside, but is probably at his best currently when getting downhill and making things happen off of the dribble. Jackson is also one of the best two-way guards in the class and uses quick hands and length, combined with anticipation, to make plays happen on that end of the court.