Thanksgiving Hoopfest: Jalen Green and Samuell Williamson duel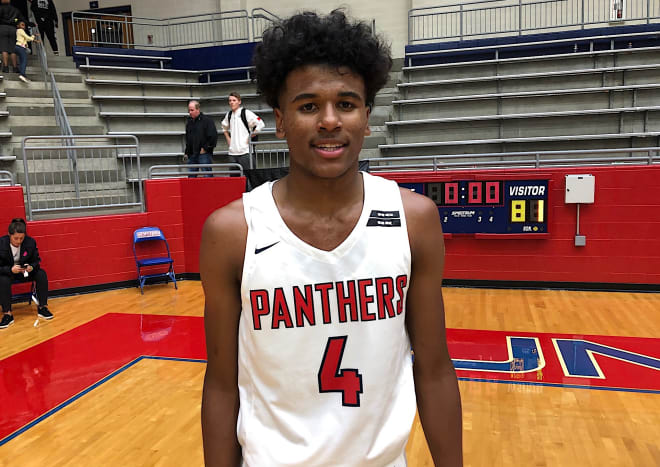 MORE: Lots to like on Day of Thanksgiving Hoopfest | Day 1 Hoopsgiving notebook
DUNCANVILLE, TEXAS -- 2020's No. 1 player Jalen Green and Louisville bound Samuell Williamson had an epic duel to close out the first day of the Thanksgiving Hoopfest.
Of course it wasn't just those two going head to head, but what Green did for Fresno (Calif.) San Joaquin Valley and Williamson did for Rockwall (Texas) High was special. The game needed overtime to be decided and came down to the final seconds as Green and Williamson traded threes, the last one going in for Green with just two seconds to go to secure a win.
It's very early in the season, but I'm going to be hard pressed to find a better back and forth and wanted to highlight a little on each.
GREEN BACKS UP STATUS
The way my winter schedule sets up, I'm going to get to see a lot of Jalen Green so there will be plenty of time to talk recruiting shop with him. Today, I want to focus on where he is with his game and if he is still a viable No. 1 player in the junior class.
First, he's looking as confident as ever and his skill and trust in his jump shot continues to grow. Green is a freak athlete with superior quickness and has always had a knack for splitting traps, getting to the rim and finishing in transition. Shot creating is easy for him. Though he's never been hesitant to shoot the jumper, he has been a bit inconsistent. The shot looked terrific on Friday night as he exploded for 46 points.

As for the top spot, there are certainly some strong competitors out there. Most notably No. 2 Evan Mobley, a fellow Californian. If Mobley or anybody else is going to surpass Green, they are really going to have to take it because he doesn't appear to have any interest in letting go. In watching him he looks to me to have taken a bigger step forward from sophomore to junior year than he did from freshman to sophomore so he must be putting in work. What I also loved seeing from him was some serious competitive fire.
The crowd at the Thanksgiving Hoopfest had big expectations and the No. 1 tag always puts a target on a player, but Green delivered in a big way.

WILLIAMSON PUSHING FOR FIFTH STAR
Myself and the rest of the team have been high on Samuell Williamson for a while now and that's not going to change. Corey Evans raved about him a few weeks ago and I'm here to echo that after watching Williamson go for 34

The polished 6-foot-7 wing has been knocking on the door of five-star status for a bit now and with the senior season he's putting together, he may finally bust through that door.
His mid range game is polished, he has post game, he has tremendous range on his jump shot and he can put the ball on the floor. There's nothing wasted with Williamson and his efficiency and dedication to making the right play at the right time are notable. He lets things come to him and then pounces on opportunity.
Each year, there are always a few kids that really grab my attention as a voter for the McDonald's All-American Game and Williamson is doing that. I won't cast my final ballot for a bit, but I think Williamson is very deserving and a viable candidate for the game.
McDonald's AA or not, Louisville got a potential star in Williamson.