Swider has attention of Big East, Indiana, Michigan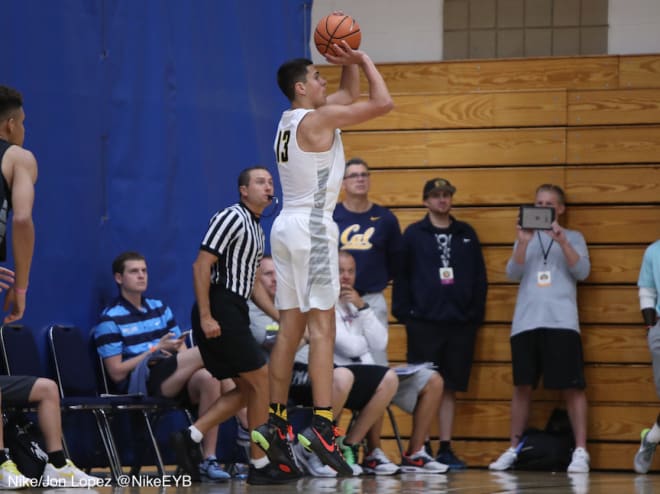 EMERSON, Ga. – Putting the ball through the basket has never been much of an issue for Cole Swider. This spring, the 6-foot-8 junior has taken things to the next level as he has recorded gaudy numbers while showing that he can lead his BABC team to several impressive wins, putting his squad atop of its league's standings within Nike EYBL play.
Swider recently narrowed his vast list of potential destinations to Syracuse, Miami, Providence, Xavier, Creighton, Villanova, Michigan and Indiana.
RELATED: Jones stands out at EYBL

IN HIS WORDS
The four star small forward gave the complete rundown on what each school means to him.
Indiana: "Their tradition and their plan for me to become face of their program right away. Indiana, they are on ESPN every night; they are big-time. I think I can fit in their style of play."
Syracuse: "I think they had a lot of guys like me go to the NBA. I feel like if I go there, there would be a good possibility of me going to the NBA. They compare me to Tyler Lydon, Demetris Nichols and even Carmelo Anthony a little. They think that I am that 3-4 combo guy."
Villanova: "They told me that they want me to come in and get buckets. Jay Wright is the best. There is no better guy talking to parents and grandparents. He has been awesome. He texts me every single night and calls me so it has been really good."
Michigan: "Everyone says that I fit right into their system so I want to learn more about it. I felt like Michigan, out of all of the schools that came onto my list, that it could be the best possible fit for me."
Xavier: "They have been recruiting me since the fall. They text me every single night and call me every single night. They are in constant contact. They want me to come in and play right away and become an NBA player there."
Creighton: "They think that I am Doug McDermott. I can come right in and be like him. It means a lot and they could also help me get to the NBA, too."
Miami: "I like them a lot. (Jim) Larranaga and Coach (Adam) Fisher text me every day and call me. They have been involved with me ever since the fall. So it is good to feel the love from them. Bruce Brown hits me up all the time. He just says he loves it and it fits his game perfectly but he probably won't even be there by the time that I would get there. He has had nothing but good things to say about it."
Providence: "If I am going to stay home, I am going to go to Providence. That is my draw to them and that is why they are in my top eight. If I am staying home and I want my family to see me play, it will be at Providence."
WHAT'S NEXT
Swider will finish out his final summer of play on the Nike EYBL circuit and as the face of the BABC 17-under team.
"I want to cut my list to a top three, possibly after Peach Jam," he said. "I am just going to get through the EYBL sessions and then talk to my parents and try to get some dates but most likely I will take my visits in the fall and sign right after."
RIVALS REACTION
Swider is the complete package at the small forward position and in recent years, with coaches throwing smaller lineups onto the floor, is capable of causing greater headaches as a small ball power forward.
Thanks to his toughness, improved ball skills and shooting abilities, Swider has the pick of the litter when it comes to selecting a college to attend. Villanova, Xavier and Creighton have been the three programs that have done the most work with him as each could be seen as early leaders, though it would be difficult to presume that any of the other five lack a chance in landing the talented junior.