Starting Five: Late entrant in the race for 4-star Zeke Nnaji?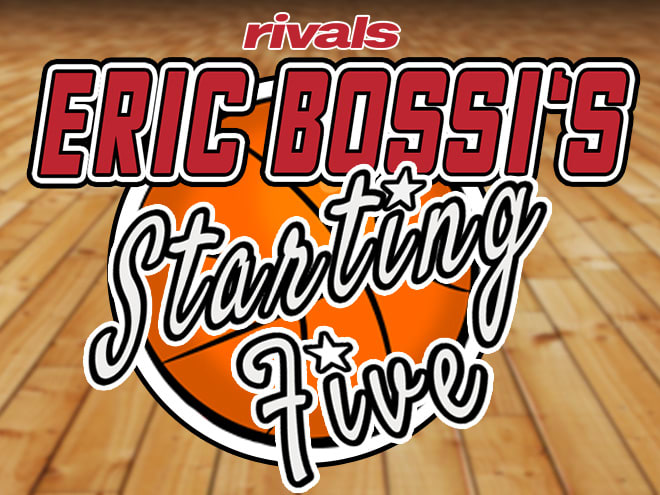 One of college basketball's blueblood programs is trying to make a late run on Zeke Nnaji. Who met with the top 40 senior on Sunday night?
Eric Bossi discusses Nnaji, previews some upcoming decisions and more in this week's Starting Five.
1. NORTH CAROLINA TAKING A RUN AT ZEKE NNAJI?
North Carolina is taking a swing at top 40 big man Zeke Nnaji.
On Sunday, the fluid and skilled 6-foot-10 big man returned home from his fifth and final official visit, to Purdue -- after previously seeing Arizona, Baylor, Kansas and UCLA. Sunday night, Nnaji and his family hosted Roy Williams and his staff for an official visit and the Tar Heels coach offered a scholarship.
Carolina has been scrambling to get involved with another skilled big man since being cut by Jeremiah Robinson-Earl a few weeks ago and after kicking the tires on Nnaji, they are all in in an attempt to get him.
Here's where it gets tricky. Nnaji has had a plan to commit on Nov. 24 for some time now and he's out of official visits. So, if Carolina is going to make a run here, it is going to have to hope Nnaji can make an unofficial visit (and he's taken several of them to other programs during his recruitment) before his commitment date.
Of late, Purdue and Kansas have been getting a lot of talk as the two that are moving ahead in his recruitment. We'll see if UNC can change that over the next three weeks.

2. PREVIEWING WILL BAKER'S DECISION
On Thursday, five-star big man Will Baker will make his college choice.
The finalists for the skilled seven-footer at Austin (Texas) Westlake are Georgetown, Stanford, Texas and UCLA. He's seen all of them officially, so all that's left for him to do is make his decision final.
During the summer, Baker appeared to be on the verge of making a commitment to UCLA. He is interested in film and UCLA made sense for his after-basketball dreams. However, time has passed and he never did commit and Shaka Smart and the Longhorns have made a strong run to keep him home in Austin.
We'll find out the final result on Thursday, but looking at the recruitment, I'm predicting a win for Texas.

3. DECISION COMING FOR ISAAC JOHNSON?
He hasn't formerly set an announcement date, but there has been a lot of smoke that four-star big man Isaac Johnson is very near making his college choice.
A skilled big man who will take a church mission after graduating from high school, Johnson won't actually arrive on the campus of the school he picks until the summer of 2021. Given that his biggest need for the future is physical maturity, that's not necessarily a bad thing for the school that lands him.
Johnson has visited Ohio State, Oregon and Utah but I think this one will come down to the Ducks and the Utes. I've been leaning slightly in the direction of Utah as my pick for Johnson for a while now, but this one is really close to call. It's not a definite thing that he'll have a decision in the next few days, but don't be surprised if he does.

4. LOUISIANA STEALS ONE IN MYLIK WILSON
Louisiana has pulled off one of the bigger steals in the class of 2019.
Over the weekend the Ragin' Cajuns convinced four-star combo guard Mylik Wilson to stay home.
A confident scorer, Wilson specializes in getting buckets off the dribble. He's a dangerous pull-up jump shooter, can get hot from deep and is a good enough playmaker that you can play him as a scoring point guard. He does need to get much stronger but he's got huge upside.
Don't be surprised if Wilson ends up as an All-Conference player in the Sun Belt.

5. JALEN LECQUE AND THE NBA?
Over the weekend ESPN/Draft Express reported that five-star point guard Jalen Lecque could consider the NBA Draft instead of attending N.C. State after his prep year at Wolfeboro (N.H.) Brewster Academy.
This isn't necessarily news. Back in April when he was deciding whether or not to enroll with his original graduating class of 2018 or take a prep year to continue working on his game in advance of college, Lecque talked about one of the benefits to taking a prep year being the opportunity to explore the NBA Draft. He's certainly an NBA athlete and he wasn't out of line to think that teams would take a look at him.
But, some troubles shooting the ball caused his stock to dip a bit and talk of him considering the NBA died down considerably during the summer and had mostly gone away after his early October commitment to Kevin Keatts and the Pack. That he's still considering the move, though, is certainly something that we'll have to keep an eye on throughout the winter months. We'll also keep an eye on Lecque's jump shot. He's told Rivals.com that he's made major strides as a shooter and we're looking forward to seeing how far he's come.