Starting Five: Juco rising, run coming for Big 12 team?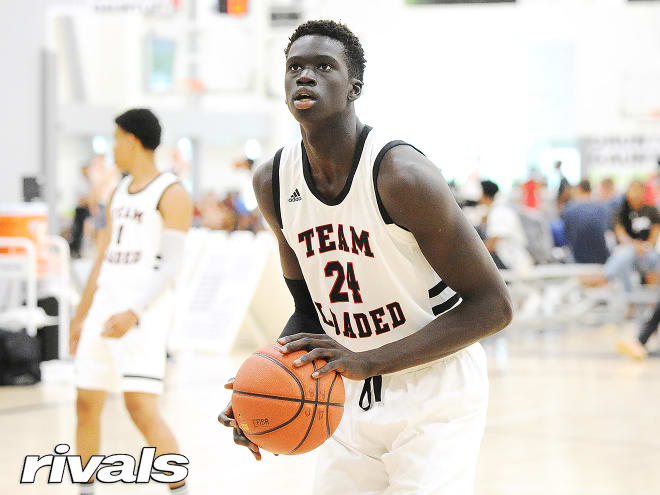 1. INTEREST IN JUCO BALL RISING
Recent Louisville commit Jay Scrubb is the most discussed junior college recruit in a bit. But, he's only one of many junior college players drawing early high major attention as programs are getting involved with junior college prospects earlier than usual in the 2019-20 cycle.
I spent part of my weekend -- along with over 300 college coaches -- in Fort Worth, Tex., at the Mullens-Mitchell Juco Blowout so that I could check out for myself why interest seems to be ramping up for Juco transfers. I've always enjoyed watching that level because of the effort and sense of urgency that comes with it, but after seeing some of the country's top teams and players, I can say that the talent at the Juco level is as deep as I can remember it being in quite some time.
While I saw several standouts, I wanted to briefly spotlight the five who really caught my eye during my time there.
I know that Scrubb has been given the title of best prospect in the Junior College ranks, but do-it-all wing Tyon Grant-Foster of Ottumwa (Iowa) Indiana Hills has to be in the conversation as well. A native of Kansas City, Kans., Grant-Foster is extremely versatile, athletic and still developing physically. There's a good reason that he's now racked up offers from Georgia, Kansas, Iowa State, LSU, Miami, Oklahoma State, Oregon, SMU, Texas A&M, Virginia Tech and others.
Four-star forward Marial Mading of Marianna (Fla.) Chipola spent one semester at Rhode Island and will have three years of eligibility if he chooses to sign with a D1 program this season. At around 6-foot-10, Mading can shoot the three with ease, he creates off the dribble and causes serious matchup problems. He now has offers from Florida, Kansas, Oregon and Texas A&M.
While I'm sure he's improved during his short time at Temple (Texas) CC, I'm having a hard time figuring out how somebody didn't scoop up big man Carlton Linguard out of high school in San Antonio. He's pushing 6-foot-11, he can run, he has very good hands and he can shoot for a prospect his size. He was also a qualifier out of high school meaning he has three years of eligibility and he looks destined to end up at the high major level.
The other two players who stood out to me were freshmen at Texas JC programs Dashawn Davis (Trinity Valley) and Ty McMillan (Kilgore College). A high scoring combo guard, I thought Davis had potential to develop into an All-Big East level player when he signed with Seton Hall. With his ability to create off the dribble and shoot, he ought to be pretty highly sought by the time he finishes up his JC stint in the spring of 2021. Pushing 6-foot-9 with a live body, McMillan is a redshirt freshman with big upside. He has some skill, can play on the block or facing the hoop and has improved quite a bit since I last saw him in high school.

2. RUN COMING FOR OKLAHOMA STATE?
At Oklahoma State, Cowboys nation is on pins and needles as coveted target Cade Cunningham -- who I still believe they will land -- finishes up his visits.
In the meantime, Mike Boynton and his staff look to in good shape with a pair of their other high-end targets, four-star power forward J.T. Thor and four-star combo guard Rondel Walker. They've also been making up some ground with homegrown five-star guard Bryce Thompson.
I've now logged futurecast picks for both Thor and Walker to end up in Stillwater and those two alone would be a strong class. Thor is an athlete with upside as a mobile combo forward while Walker is the type of guy who could start multiple years at the one or two for a Big 12 program.
3. DECISION COMING FOR FOUR-STAR MARTICE MITCHELL
One of the most interesting players that I saw during the summer was 6-foot-10 big man Martice Mitchell from the Chicago area. He's 6-foot-10, is a fluid athlete, has skill as a ball-handler and shooter and significant upside if he can add some strength and find a good blend for his inside/outside game.
Now, he's all set to make his college choice at 3 p.m. ET on Monday.
Once he announces, it's going to be Minnesota fans who celebrate along with Richard Pitino as the Gophers add the first player to their 2020 recruiting class.
Should they get Mitchell, I'd expect that the Gophers get at least one more four-star prospect in this class and if I had to bet, my money would be on Jamal Mashburn Jr. being next.

4. TCU LANDS RIVALS150 FORWARD
Jamie Dixon and TCU landed their second player from the class of 2020 when RIvals150 forward Terren Frank committed to the Horned Frogs.
Frank plays a skill-based game and has an inside-out game. He's got a body to put some mass on, is crafty on the interior and can step out to make jump shots to the three-point line. Also, playing at Sierra Canyon this season is going to expose him to some giant crowds and big games that should help to prepare him for life in the Big 12.
Frank joins three-star big man Eddie Lampkin as an early commitment to TCU.

5. TIMBERLAKE'S RECRUITMENT REMAINS MYSTERIOUS
One of the hardest to call recruitments in the class of 2020 is that of five-star wing Earl Timberlake.

Reading his recruitment remains a tough task, but Timberlake has at least narrowed things down a bit now that Alabama and North Carolina are out and he's finished taking official visits.
That leaves a final group of Miami, Pittsburgh, Providence, Seton Hall and South Carolina contending for his services and he's seen all of them.
An instant contributor and big time pull for any of his finalists, Timberlake is one of the most physically imposing players in the class of 2020. He's a beast going to the rim as well as one of the top defenders in the senior class.
His decision should be coming before signing day and while he hasn't given up many clues on his recruitment, if I had to pick a favorite I would go with the Hurricanes. His actions and what his finalists look to be doing in 2020 recruiting should offer up some hints in the coming weeks.