Starting Five: Five-star Kyree Walker opens it up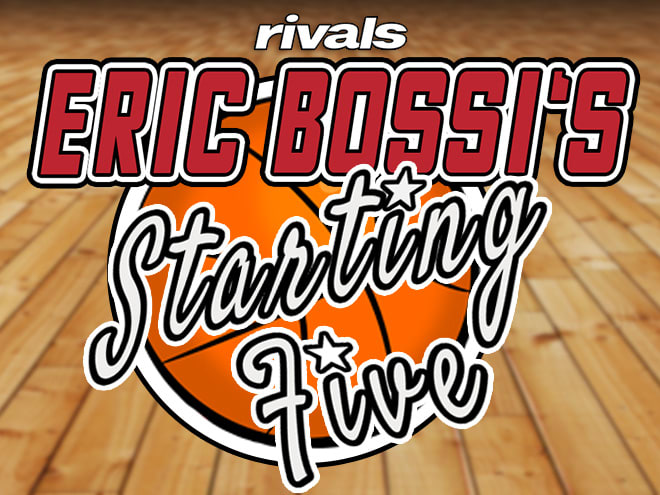 1. KYREE WALKER OPENS IT UP
I wouldn't say that five-star guard Kyree Walker has been rumored to decommit from Arizona State since he made an early pledge, but there have certainly been rumors at times. Up until the weekend, they had always been shot down.
Now, Walker and the Sun Devils have indeed moved in separate directions and he's opened up his recruitment.
An explosive 6-foot-4 scorer who plays with athleticism and a lot of physicality, Walker loves to attack the rim and can get hot from outside. For much of the summer there was much speculation that Walker would make the move to the class of 2019, however he's remained in 2020 and rumors of the class switch have died down of late.
Walker will surely draw new attention quickly.

2. MIZZOU LOSES JONTAY PORTER FOR SEASON
Former five-star Jontay Porter tested the NBA Draft waters and considered leaving Missouri with his older brother Michael Porter, Jr. for the NBA after their first year in Columbia. While MIchael was taken by the Nuggets in the first round, Jontay chose to go back to school and improve his stock.
On Sunday, the skilled 6-foot-10 big man suffered a season ending knee injury. You never want to see this type of injury happen to anybody. But, it stings a bit more in a case like Porter's, where he chose team and college over the professional game.
Porter's focus will now be on getting healthy and his injury puts Cuonzo Martin and the Tigers in a tight spot when it comes to interior depth and scorers for this season. They do still have Jeremiah Tilmon and senior Kevin Puryear, but outside of those two there aren't a lot of proven frontcourt players on the Tigers roster, so somebody is going to have to step up.


3. FOUR-STAR PG DAMION BAUGH STILL SORTING OPTIONS
One of the top three remaining point guards in the class of 2019, Damion Baugh's recruitment continues to be pretty open.
The athletic 6-foot-3 playmaker at Memphis (Tenn.) Tennessee Prep has taken official visits to Georgetown and TCU and continues to explore his options. On Sunday, both Wake Forest and Georgia Tech came in to do in home visits and I would look for him to setup a visit with at least one of those two programs, if not both, sometime in the near future. Western Kentucky is also among those solidly in the picture.
Others have expressed interest and Baugh remains pretty open to anybody who wants to take a crack at recruiting him. He initially looked like he would be an early signee, but as of now, there is no timetable for a decision put in place and Baugh won't rush anything just so he can sign early.

4. FIVE-STAR JUNIOR WING TAKING VISITS
Junior five-star wing Jalen Johnson is making great use of rules allowing juniors to take official visits.
After recently visiting Kentucky unofficially for Big Blue Madness, the 6-foot-8 wing from Glendale (Wisc.) Nicolet spent the weekend at Duke for his first official visit.
Up next for Johnson will be a trip to Arizona on the first weekend in November and then later in the month he has plans to go see UCLA.
I wouldn't go looking for Johnson to announce anytime in the near future. He's coming off a strong summer with Phenom Universe, is one of the most heavily recruited players in the class of 2020 and is still pretty open. Credit to him for making the rules work in his favor.

5. NEBRASKA LANDS 2020 WING WITH BIG UPSIDE
Nebraska and Tim Miles are now in possession of a pair of wing commitments from the class of 2020. On Saturday, three-star small forward D'Andre Davis joined Rivals150 wing Donovan Williams as an early commitment for the Huskers.
Davis is still pretty far from being a finished product, but it's easy to see lots of upside with him. He's a long, rangy and bouncy athlete who can play above the rim in transition and he's making strides as a jump shooter and ball handler. With his length and fluid athleticism, Miles and his staff must see a guy that can be a versatile defender with potential down the road to be a scorer.