Rivals Roundtable: The G-League, most important frosh, 2019 recruiting
It's the weekend, and that means Eric Bossi, Corey Evans and Dan McDonald are here for their weekly Rivals.com analyst roundtable. This week, the G League has launched a new plan to attract elite high school talent. The fellas discuss whether or not Bossi was right in calling Duke's Tre Jones the most important freshman in America and look for potential surprise teams in 2019 recruiting.
1. The G-League wants to offer $125,000 to players straight out of high school beginning with 2019 class. What is your reaction?
Bossi: "We still need to learn a lot more of the details and it is my hope that some sort of provision about assistance with regards to furthering education – if a player wants to – is put in there. But, in general I love this idea. I'm sure many agents will scoff at prospective clients potentially getting exposed over 125k, but NBA teams are smart enough to understand that this won't be an easy situation for high school kids. I'd love to see somebody from the class of 2019 try this route and make the leap. The more options for these guys to consider for their futures, the better."
Evans: "It is great to have a variety of options and a select few will ponder the idea of jumping to the professional level. Rather than being forced to go overseas where the culture shock might be too much, the chance to remain domestic, make a suitable amount of money, and have the chance to be properly developed and immersed within the NBA culture does not sound too bad to me. Plus, the prospect can now sign a shoe contract and receive payment for his image and likeness, another way of putting more money into the pocket.

"My dilemma is that it still might not be enough money for the best to make the jump. Also, how much is a G-League franchise willing to invest in someone that is not a member of its affiliated NBA franchise, compared to everyone else on the roster? Plus, the G-League cannot match college basketball in exposure and how the players are treated (hotels, travel). The money might not be worth it.

"This is another step towards the one-and-done rule being eradicated and really, this new avenue might just be a short-term option where, as most expect, for the 2022 class be able to jump directly to the NBA. If that is the case, my guess is that still only a handful give this new G-League option a real hard look and less actually make such the leap."
McDonald: "I like that this will be an option for elite high school prospects. I've never been a fan of telling kids who aren't great students and don't really have an interest in going to college that realistically that's their only option for a year after high school. $125k per year is a big enough number along with some endorsement money on top of it to get at least some kids to take the bait. I'm a big fan of this rule."
2. Eric Bossi says Duke's Tre Jones is the most important freshman in the nation. Do you agree?
Bossi: "Well, I obviously agree with my assertion that Tre Jones is the most important freshman in the country. But there's another freshman point guard of a highly ranked team who is just as important and that's Devon Dotson at Kansas. The Jayhawks have been spoiled by having Frank Mason and Devonte' Graham over the past few years and now they are turning the reigns of a deep team to the former McDonald's All-American, Dotson, as a freshman. Cal transfer Charlie Moore could help, but as of today it looks like it will be Dotson's team and he's going to have to bring it if the Jayhawks are going to live up to preseason expectations.
Evans: "Like Bossi said earlier in the week, Jones will be the key to facilitating Duke's offense this season and will be critically important to their success.

"In the same light, Andrew Nembhard fits a similar need and role for Florida this season. I had the chance to watch the Gators practice last week and the slew of shot-makers and athletes Mike White will run out onto the floor is not lacking. KeVaughn Allen is a tremendous isolation scorer, Jalen Hudson can go and get a bucket at the drop of a dime, Keith Stone is primed to break out, and Noah Locke might be one of the top shooters in the sport.

"However, for all of the pieces to coalesce, Nembhard has to be at his finest. He is the best passer that I have seen in recent memory and has gotten bigger and stronger since stepping onto the Gainesville campus. Just like Jones, it is Nembhard as option A, B and C at the point guard position for the Gators; without him, half-court efficiency will be lacking. He determines the fate of a potential Final Four team or a squad that will struggle in what is now a deep and loaded SEC."
McDonald: "Jones is highly important to Duke, but down the road in Chapel Hill, North Carolina has another freshman point guard, Coby White, who I also think is really important to his team. Both of them will likely be the starting point guard on top 10 (maybe even top 5) teams with hopes of cutting down the nets in April."
3. Which team outside the top 10 in the 2019 team rankings could finish inside the top 10?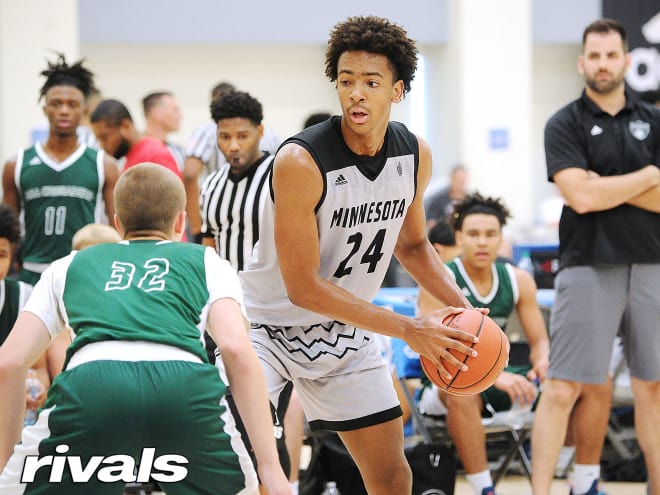 Bossi: "Currently ranked No. 20 overall in the 2019 team rankings, Purdue could make a substantial jump. Their class of four-star shooter Brandon Newman, Rivals150 combo forward Mason Gillis and three-star point guard Isaiah Thompson is already pretty strong. If they could add top 50 forward Malik Hall -- who has Purdue in his final three with Michigan State and Oregon - then it would be very strong.

"But, there's another guy out there that the Boilermakers aren't yet getting a lot of run for that people need to keep an eye on, top 40 big man Zeke Nnaji. He's scheduled to visit Purdue the first weekend of November and from what I've heard recently, Matt Painter and his staff are firmly in the mix here."
Evans: "The easy answer here is Kansas but that really would not be a surprise. If looking for a darkhorse, give me UConn.
"The Huskies are involved with a slew of big men this fall and while it remains rather difficult pinpointing who exactly they might land, I am fairly confident they will solidify their frontcourt and in a major way. Qudus Wahab and Tre Mitchell, two four-star centers, have already visited the Storrs campus where it would not surprise to see either of the two to commit.

Kofi Cockburn, a top-30 center, is likely to visit within the coming weeks, and the Huskies remain in hard pursuit of five-star Precious Achiuwa. Toss in Akok Akok, where UConn is a finalist for him, and things are beginning to align for Dan Hurley's first full recruiting class to be a doozy. Land two of the frontcourt prospects and add them to their current pledges of James Bouknight and Jalen Gaffney and the Huskies should make a run into the top-10 of the final team rankings."
McDonald: "North Carolina is sitting at No. 11 overall right now, but I think it slides into the top 10 at some point. The Tar Heels are considered one of the leaders for Cole Anthony. Robinson-Earl. Keion Brooks and Boogie Ellis are also still in the mix to end up in Chapel Hill next year as well. It could be a really nice class for Roy Williams when all is said and done."