Starting Five: Five-star Antoine sets visits
1. FIVE-STAR BRYAN ANTOINE SETS FOUR VISITS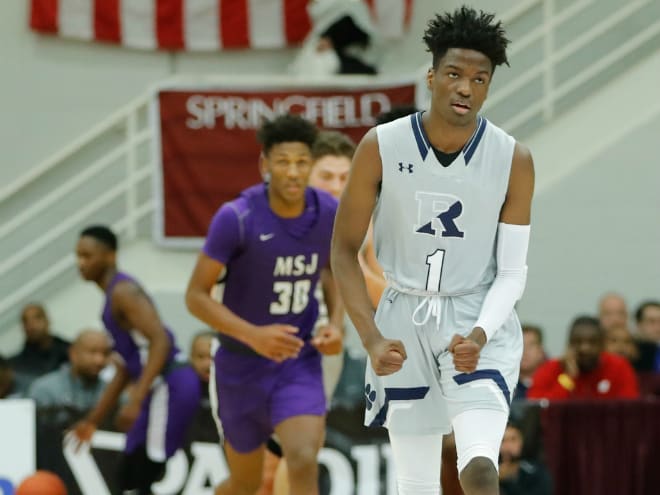 Already down to a final five of Duke, Florida, Kansas, Kentucky and Villanova, five-star combo guard Bryan Antoine has taken some big steps towards making his final decision. Antoine has now locked in official visits with four of his five finalists.
Antoine will get the visit process started on the weekend of Sept. 15 when he makes his way down to Florida. From there, he'll hit Kentucky on the weekend of Sept. 22 before heading to Duke the weekend after that. Then, there will be a break before he visits Villanova on the weekend of Nov. 3rd.

Realistically, there's a good chance Antoine nevers make it to that November visit to Villanova and while a visit date may ultimately be set to Kansas, the Jayhawks look to be running behind in this one.
Antoine hasn't named a leader yet, but headed into his visits, it appears Duke the early edge.

2. KEVIN MCCULLAR CLOSING IN ON A DECISION
One of the most intriguing recruiting stories out there is that of four-star shooting guard Kevin McCullar. Currently ranked in the class of 2019, McCullar has visited Houston, Kansas State and Texas Tech officially. Rumors late last week that he had made his choice proved to be untrue, but I don't think he's too far away from making a decision.
Before I get to which program I think wins out, it's also important to note that the plan for McCullar is to skip his senior season of high school ball, graduate in December and enroll early. Because of that, he'll soon get moved to the class of 2018.
As for a decision, I'll go ahead and predict that Texas Tech ultimately wins out here.


3. SHOULD JAYKWON WALTON BE ON COMMITMENT WATCH?
Over the weekend, four-star wing Jaykwon Walton -- who is about to make a big leap in the 2019 Rivals150 when it gets updated on Tuesday -- took his first official visit to Georgia. The question is, should Walton be on a commitment watch for Tom Crean and the Bulldogs?
He is originally from Georgia and appeared to be favoring the Bulldogs as a junior before Mark Fox was let go, so a commitment wouldn't be a gigantic surprise. But the more I check into his situation, I don't think Walton is quite close enough to pulling the trigger on a college decision to put him on an all out commitment watch. But, myself and my team at Rivals will be monitoring him closely over the next few days.

Commitment or not, the Bulldogs at the very least look to be inching ahead of a pack that also includes Alabama, Auburn, Florida, Louisville, Memphis and Mississippi State in his final seven. It will be interesting to see which head coaches prioritize him during July when he hits the floor with Team Thad in the Under Armour Association and if any blue-blood types try to get him to open things up a bit.


4. SEVERAL NOTABLE WEEKEND VISITORS
For a weekend in the middle of the summer, there were a surprising number of official and unofficial visits going on. Here's just a few few that I found to be notable.
Five-star big man Will Baker made a trip out to Westwood to have his official visit with UCLA. The key here is that the Bruins are considered the team to beat because of Baker's desire to get into the film industry after his basketball days. North Carolina also seems to be in good shape but they will have to get over the film school hurdle while Texas has been gaining some ground as well.
Another Rivals150 member taking an official visit was current four-star shooting guard Joe Girard, who visited Syracuse. The Orange are close to home and their zone would be beneficial to Girard -- who has put up ridiculous scoring numbers on the high school level -- on the defensive end. Many were getting ready for a weekend commitment, but it's yet to go down. Could a program like Penn State be next in line if Syracuse doesn't happen?
Four-star 2019 shooting guard Aundre Hyatt took his first official visit to Rutgers. Creighton is likely next in line and there's a really good chance that he'll end up passing on a year of prep school by moving back to his original class of 2018.

Among the others on the move were top 35 class of 2019 combo guard Kira Lewis who took in Ole Miss. Class of 2020 five-star B.J. Boston was at Georgia Tech before hitting up Duke over the weekend. Class of 2020 four-star Jaden Walker also visited Georgia Tech. Virginia had some nice visitors as 2020 four-star Corey Walker and 2020 three-star Zeb Jackson both visited. Walker also checked out Georgetown. Making the trip out to Stanford was 2020 four-star big man while four-star 2020 combo guard L.J. Cryer picked up an offer on an unofficial visit to LSU.

5. SURPRISE, LAGERALD VICK BACK TO KANSAS
Coming off of Bill Self's third Final Four run at Kansas, the Jayhawks are set to unleash a group of transfers and young players that many feel will be among the preseason favorites for the 2019 Final Four. Now they'll get some much needed experience back with LaGerald Vick deciding to return for his senior season.
For much of the 2017-18 season there were rumblings that Vick wouldn't be back and it wasn't surprising to see him enter the Draft. But, Vick never signed with an agent and now after it looked like he would end up playing elsewhere, Kansas has announced that Vick will be back.
Vick started the majority of his junior season, was an honorable mention All-Big 12 pick and after making 37 percent of his shots from three point range, he'll be one of the few proven threats from deep when the Jayhawks take the floor. After missing on five-star shooting guard Romeo Langford during the spring, getting Vick back could turn out to be a huge boost for the Jayhawks.