Starting Five: Decision day for five-star Darius Garland, others close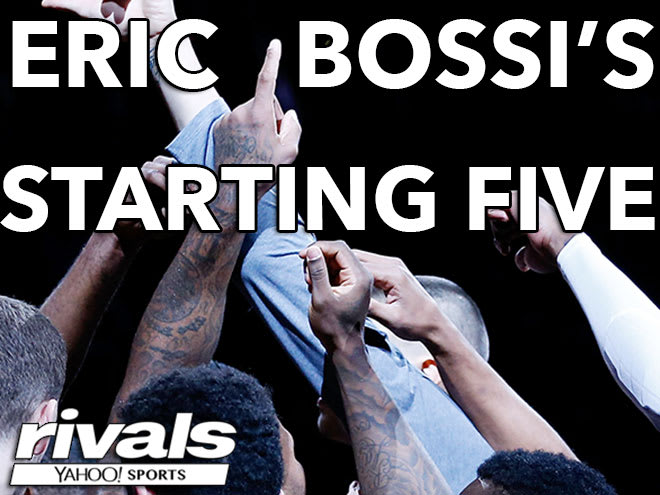 By the end of the day, five-star point guard Darius Garland will have made his college choice. While Garland decides today, some other big name guys are getting real close. National Analyst Eric Bossi discusses Garland and more in this week's Starting Five.
Rivals Roundtable: Early signing period thoughts

1. DECISION DAY FOR DARIUS GARLAND
At around 3:45 p.m. ET on Monday, five-star point guard Darius Garland is going to drastically change the recruiting class of either Indiana, Kentucky, Vanderbilt or UCLA.

More realistically, Garland's choice is likely to come down to either the Hoosiers or hometown Commodores.
In his first season at Indiana, Archie Miller has put together a nice recruiting class. Featuring four-star combo forward Jerome Hunter, four-star wing Damezi Anderson, four-star point guard Robert Phinisee and Rivals150 big man Jake Forrester, it's a solid foundation class. The addition of a guy like Garland, who can be an instant impact guy would be a huge coup and it would likely help the Hoosiers in their chase for homegrown five-star shooting guard Romeo Langford (more on him below).
At Vanderbilt, Garland has been their top target for a few years now and getting him could be the key to unlocking the best class in program history. Landing Garland could be the key to getting five-star power forward Simisola Shittu (who appears to be favoring Vandy) to go ahead and pull the trigger on a commitment rather than waiting and exploring other programs to visit. Then there's the possibility that it could help with the previously mentioned Langford and the 'Dores already have Rivals150 wing Aaron Nesmith in the fold.
This one isn't an easy call, but on decision day the prediction is Vanderbilt.

2. HERRO SETS DECISION DATE
A month or so after backing out of his commitment to home state Wisconsin, shooting guard Tyler Herro is ready to make his decision.
Coming off of a weekend official visit to Kentucky, Herro has announced that he will commit Monday at 4:30 p.m. ET at his high school.
A big wing who can shoot from deep, create off the dribble and has some athleticism, there's not much drama about Herro's likely pick. Considering the visit to Lexington is his only official visit since opening his recruitment and that he's immediately announcing, it looks pretty likely that he'll be the next to give John Calipari a commitment.
Should Herro pick the Wildcats, he'll join five-star point guard Immanuel Quickley and five-star wing Keldon Johnson as Calipari looks to build another big time recruiting class.

✍🏼: Commitment/Signing Day

🗓: Tuesday November 14th

📍: Whitnall High School library

⏰: 3:30pm

Open to the public ‼️

— Tyler Herro (@raf_tyler) November 13, 2017
3. DECISION COMING FOR GRIMES?
FIve-star guard Quentin Grimes hasn't said it yet, but his recruitment appears to be coming to a close and a pair of programs continue to distance themselves from the others among his final four.
Over the weekend, Texas head coach Shaka Smart and assistant Jai Lucas were on hand for Grimes season opening game on Saturday. Then on Sunday, Kansas head coach Bill Self and assistant Jerrance Howard were in to see him.
Kentucky and Marquette are his other finalists but, most likely Grimes is going to end up picking between the Jayhawks and Longhorns. No actual date to commit has been set, but it would be a surprise if he makes it out of the early signing period and if we had to place a bet on where he ends up, we still believe Kansas is in a good spot.

4. LANGFORD CUTS IT TO THREE
For now, five-star shooting guard Romeo Langford's plan to skip out on the early signing period is still in place.
However, the smooth scorer from Indiana has at least trimmed up his list a bit. On Saturday, Langford announced that he is down to Indiana, Kansas and Vanderbilt.
Langford is an independent thinker and will make his own decision, but it's interesting to note that the decisions of Darius Garland and Quentin Grimes (both of whom we discussed above) could have some impact on his decision. Either Vandy or Indiana is going to get a boost by landing Garland while Kansas could be aided by landing Grimes who is a close friend of Langford's.
Heading into the winter, this one still appears to be too close to call.

5. BOL BOL TRANSFERRING FOR SENIOR YEAR
Finally, Bol Bol is on the move for his senior season.
Sources close to the skilled seven-footer confirmed over the weekend that he is leaving Santa Ana (Calif.) Mater Dei after moving there from Kansas during his junior year.
Bol is expected to enroll at powerhouse Findlay Prep in Las Vegas this week.
On the recruiting front, Bol is still down to Kentucky and Oregon. Most likely, he'll have a decision before week's end and the Ducks still look to be the favorites.