Starting Five: New target for UNC, list cut and visit news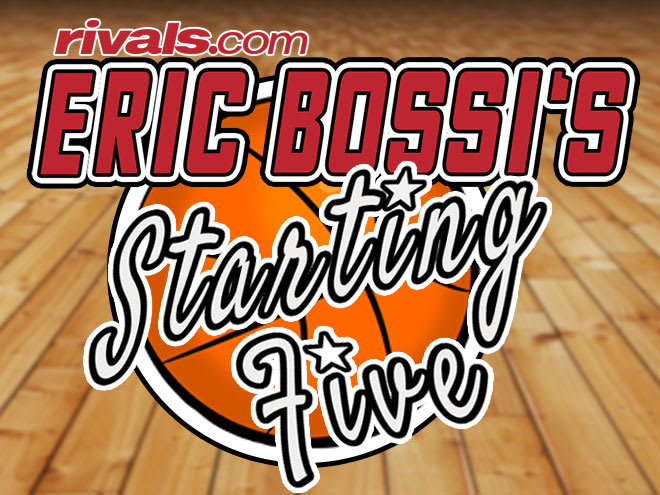 1. BIG OFFER FOR BOOGIE
Roy Williams and North Carolina have been looking for backcourt ball-handlers and shooters. They've been involved in the high profile recruitment of 2019's top ranked point guard Cole Anthony and had also been making moves on top 30 Tre Mann. Last week, Mann unexpectedly committed to home state Florida, leaving UNC in search of a new target.
Over the weekend, the Heels found who they hope can be their next guy when sharp shooting combo guard Boogie Ellis announced that he had been offered a scholarship.
Capable of playing the one or the two, Ellis was actually on a visit to USC over the weekend and has also been considering others from Arizona, Georgia Tech, Gonzaga, Memphis, Oklahoma, Oregon and San Diego State. Now, the question is how deeply can the Heels get involved?
Currently ranked No. 108 in the Rivals150, Ellis had a huge summer and is poised to make a substantial leap in next week's rankings update thanks to his ability to score in bunches from deep.

2. FOUR-STAR SHOOTER BRANDON NEWMAN DOWN TO FOUR
One of the premier shooters in the class of 2019, Brandon Newman announced that he's down to a final four of Indiana, Ohio State, Purdue and Xavier.

Over the weekend, the 6-foot-4 marksman took an official visit to Purdue and if all falls into place, Newman tells me that Indiana should get his next official visit this coming weekend.

In a class that lacks much depth when it comes to shooters, Newman is an extremely important target with the capability of changing an offense and developing into a high level scorer at any of the programs on his final list. Coming out of the summer, it looked as if Purdue and Xavier may have a slight lead on the competition, but at this point things are too close to call.

3. TOP 50 MALIK HALL SETS VISITS
Just a few weeks ago, top 50 forward Malik Hall cut his list down to a final five of Michigan State, Oklahoma, Oregon, Purdue and Texas. Now, Hall tells me that he has set up four official visits.
Hall will begin his visit tour in two weeks when he checks out Purdue on the weekend of Sept. 14. The following weekend he'll head down to Norman to visit the Sooners.

After a weekend off, Hall will trip to Michigan State on Oct. 5 before heading to Oregon on Oct. 13.
If I had to pick a leader headed into the visits, I might lean towards Purdue, but Oklahoma and Oregon have been right there for a while and the Spartans have made a huge push coming down the stretch. This is a case where I really feel it's going to come down to which visit impresses Hall the most.

4. WILLIAMS SETS VISITS
Four-star Jaylin Williams is a versatile and athletic combo forward who fits the current movement towards "positionless" basketball. He's started to take some steps towards making his decision.
Over the weekend, Williams locked in official visits with Auburn for the weekend of Sept. 14 and Georgia for the weekend of Sept. 28. Williams will also be hosting Auburn (9/10), St. John's (9/11) and Mississippi State (9/13) for in home visits.
Williams has yet to set any kind of decision date and should be locking in more official visits soon with others like Florida, College of Charleston and Cincinnati among those in the mix.

5. HOUSTON ADDS FORWARD WITH POTENTIAL
The addition of athletic forward J'Wan Roberts isn't going to make a lot of headlines nationally. But, when it's all said and done, he has a chance to be an outstanding under-the-radar pickup for Kelvin Sampson and Houston.
A thin Texan with plenty of athleticism and toughness, Roberts impressed mightily during the month of July with his activity and motor. Though he's not the size of your typical dominant rebounder or shot blocker, he does both at a high level and he's capable of switching up and down a lineup on the defensive end.
He may need a year or two in the Houston's weight room to really make an impact, but long term Roberts should prove to be a very nice piece for the Cougars.