Rivals Roundtable: Valuable PGs, big visits, commitment watch
This week in the Rivals Roundtable national analysts Eric Bossi, Corey Evans and Dan McDonald have a heavy focus on 2020 recruiting. Which available point guard is most crucial? Who has the most important weekend? And our discussion about who should be on commitment watch.
1. Which 2020 point guard is the most critical to the school recruiting him?
Bossi: I'm going to go a little down the list and go with R.J. Davis. He's down to a final four of Georgetown, Marquette, North Carolina and Pittsburgh (where he visits this weekend). The Hoyas have a pretty dynamic backcourt tandem in sophomores James Akinjo and Mac McClung, but Davis gives them deep shooting they lack. Marquette has to find a way to replaces Markus Howard, Pitt needs a shooter and UNC needs insurance for Cole Anthony's likely departure to the NBA.

Reading this one, I do think it's going to come down to Marquette and Pitt. For now, I'll give the slight edge to Jeff Capel and the Panthers, but if they can't lock him down this weekend, things get really interesting.
Evans: Oklahoma State and Cade Cunningham. Does the No. 2 player in America decide to join his brother in Stillwater, or does he throw a curve ball and head to one of his other finalists (Florida, Kentucky, North Carolina, Washington)? It is a complete guessing game as Cunningham will begin his visit tour again next week seeing the rest of his finalists after visiting the Cowboys two weeks ago.

Not only would Mike Boynton snag a complete program-changer in the five-star, but such others as Bryce Thompson, Rondel Walker, JT Thor and Jaylin Williams could be keen on joining Cunningham in Stillwater.
McDonald: I'd have to say Sharife Cooper for Auburn. They have been the perceived leader since the beginning of his recruitment and he's one of the top point guards in the country. Georgia and Kentucky have been rumored to be gaining some traction lately, but I'd still be surprised if he doesn't sign with the Tigers in the 2020 class.
2. Which program has the most crucial group of visitors this weekend?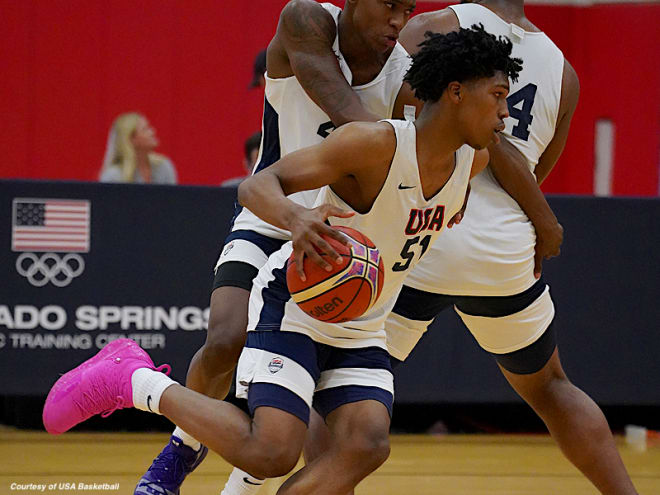 Bossi: I probably could have used combo guard Adam Miller for my answer to this week's first question. While he's just a single visitor to Illinois, I can't think of many more important visits going on this weekend. He's an in-state kid that Brad Underwood and the Illini have seemingly prioritized since he was in diapers and they figure to lose his former high school and summer teammate Ayo Dosunmu to the NBA Draft after this season. Arizona State appears to be major competition for them and they'll be hoping to top Miller's visit to Tempe.
Evans: It has to be North Carolina. UNC needs to get it going again and this weekend would be the perfect time to start. Caleb Love is not going to commit and neither is Walker Kessler, but I do believe that they have a lot going for them with both five-star prospects.

Love will visit Louisville next weekend and end things at Kansas next month. He is intrigued by the potential lead guard opening at UNC, but Missouri has done a great job of late, and KU and Louisville will definitely have a say, too. Kessler has a slew of blue blood and national entities to choose from but between the two, Love is the likeliest to pick the Tar Heels. Either way, the impetus is on Roy Williams and his staff to get the ball rolling again with its 2020 class.
McDonald: It's a huge weekend for North Carolina. Love and Kessler will both be in town and have become priorities for the Tar Heels. Love is a big need as Williams will need to replace Anthony after this year, while Kessler would give them another Luke Maye, a bigger inside-outside threat in the front court.
3. Who do you have on commitment watch?
Bossi: I always take notice of prospects who have a gap between visit weekends, especially when it comes after a visit to one of the schools in best standing with them. That's why I'm watching P.J. Hall very closely to see if he could go ahead and end things after this weekend's visit to Florida. The Gators have been considered to be in really good shape for him and he's already visited home state Clemson who is thought to be gaining ground.

After this week, Hall's next scheduled visit isn't for three weeks when he heads to Virginia Tech (Tennessee and Georgia Tech are after that). If he likes Florida as much as many believe and has a good weekend, it wouldn't surprise me at all if he never makes it to his other visits.
Evans: There is no one that exactly pops out, but AJ Hoggard will be done with his official visit tour this weekend and is expected to commit next month. Michigan State was the perceived leader, but things may have changed following his trip to East Lansing.

Also keep an eye on Andre Jackson who visits UConn this weekend, though he has another visit scheduled to Iowa next week; Javonte Brown who visits Texas A&M but is expected to visit Kansas next month before deciding; lastly, Brandon Angel will be done with his visits and could be ready to pop for Stanford, which would give the Cardinal one of the best frontcourt shot-makers in America.
McDonald: After this weekend, I don't think it will be long before a decision comes for Walker Kessler. I'd be a little surprised if he makes it to his scheduled visit to Gonzaga. My educated guess is he decides between Duke and North Carolina at some point in the next 7-10 days.