Rivals Roundtable: Transfers, Carter Bryant and live period prospects
WHICH TRANSFER THAT HAS FOUND A NEW HOME IN THE PAST WEEK DO YOU THINK WILL HAVE THE BIGGEST IMPACT ON HIS NEW TEAM?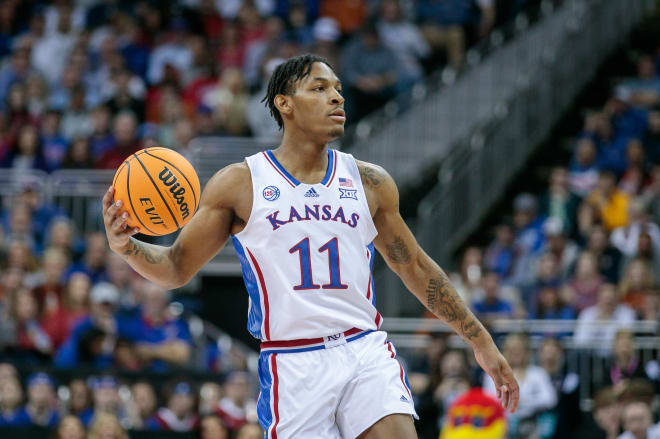 "Historically, arming Bill Self with experience spells trouble for Kansas' rivals, so the Jayhawks' addition of sixth-year senior Nick Timberlake feels like it could play extremely well in Lawrence. The Towson transfer is one of the best long-range shooters in the portal and will get plenty of looks playing for a KU offense that now projects to be long on veteran players that can pair with incoming freshman point guard Elmarko Jackson. Timberlake has already played more than 120 games in his college career and brings perimeter length along with the type of shooting the program lost when Gradey Dick declared for the NBA Draft. Timberlake feels like the perfect fit for a Kansas program that is being forced to replace nearly the entirety of its 2022-23 Big 12 Championship roster." – Cassidy
"MJ Rice to NC State is the name that sticks out to me. I said last week he'd benefit the most by stepping into a new situation, but he took it a step further and found the perfect situation. Rice grew up less than an hour from NC State's campus, and he favored Kevin Keatts and the Wolfpack out of high school before ultimately picking Kansas. Now, he's back home and stepping in for Keatts' leading scorer from a year ago, Terquavion Smith, with a new motivation to live up to – or surpass – his previous hype as a former McDonald's All-American. Rice has all the tools, and he should mesh perfectly with Keatts' free-flowing offense next season." - Jordan
*****
CARTER BRYANT IS SET TO CHOOSE LOUISVILLE OR ARIZONA ON APRIL 26. WHERE DO YOU THINK HE'LL LAND, AND WHY?
"This feels like Arizona to me for a couple reasons, not the least of which is how omnipresent the Wildcats have been at the top of Carter Bryant's list. Schools such as Gonzaga, Duke and now Louisville have felt like threats to snag Bryant at different times this year, but the U of A has been the one constant. Bryant's recruitment has been difficult to predict at times because he's felt close to a decision on multiple occasions over the last six months, but it always somehow felt like Arizona was the slight frontrunner over whomever the threat of the month happened to be. I think his relative proximity to campus, along with a longstanding relationship with Tommy Lloyd and company, will make the difference on decision day and allow the Wildcats to hold off Louisville." – Cassidy
"The backchannel conversations have pointed Bryant toward Arizona for a while now, and that messaging hasn't changed in the 11th hour of his recruitment. Even without that, you can read the tea leaves enough to formulate a strong guess that Bryant ends up with Lloyd. For one, Bryant has been there three times. Even with the closeness of proximity that's a telling fact. Also, he's built a deep bond with Lloyd over the years, and in my experience the emotional connection is always the greatest factor when it comes to landing or missing on a high-profile prospect like Bryant." – Jordan
*****
WHICH COMMITTED PROSPECT ARE YOU MOST EXCITED TO GET EYES ON AS YOU HIT THE ROAD FOR LIVE PERIOD THIS WEEKEND?
"I'll be at adidas 3SSB outside of Omaha, and Iowa commit Cooper Koch will be among the players I'm prioritizing. Koch, who plays for Indiana Elite, currently sits at No. 94 in our rankings based on former Rivals analyst Travis Graf's evaluation. My personal exposure to Koch has been limited, so I'm stoked to get eyes on him live because I've heard good things about the 6-foot-8 forward's ability to step out and shoot it from the perimeter. If he's added significant strength and developed as a presence in the paint his offensive versatility is wildly intriguing." – Cassidy
"Oh it's definitely North Carolina commit Elliot Cadeau for me. I watched him lead Link Academy (Branson, Mo.) to the GEICO Nationals title a few weeks back, and each time he stepped onto the floor he was the best player. In his team's quarterfinal win at GEICO he didn't score a single point until midway through the third quarter and he was easily the best player. His impact is so broad that it's nearly impossible to completely shut him down. Plus, he plays with the type of energy that is infectious. I'm most curious to see how that impact will carry over in his first full season in the Nike EYBL against the country's top floor generals." - Jordan